It was my privilege to lead the congregation in prayer this morning. Our texts for the day included Proverbs 3:1-8, 1 Peter 5:5-9 and Matthew 6:25-34. The song just before the prayer was a lovely arrangement of James' Ward's "Consider the Lilies," which is based on the gospel text of the day.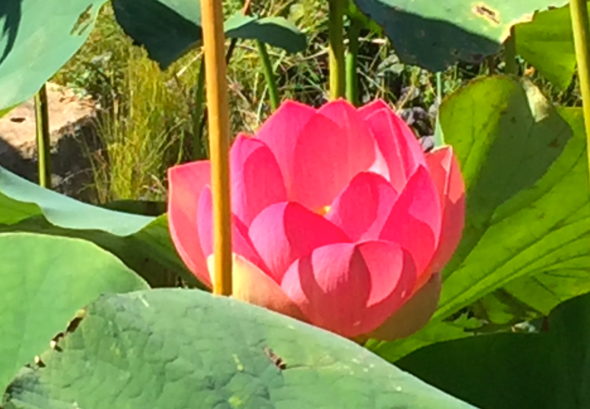 "Seek first the kingdom,
keep the righteousness of God in view;
(you better) seek first the kingdom —
he said, all of these things will be added to you."
                    (from 'Consider the Lilies,' by James Ward)
Such truth, Lord. Our songwriter this morning has borrowed the words of our gospel lesson and written truth. Good truth. Necessary truth. But such hard truth for us to live!
"Do not let loyalty and faithfulness forsake you," says the writer of Proverbs, "bind them around your neck, write them on the tablet of your heart . . . Trust in the LORD with all your heart, and do not rely on your own insight."
 Again, Lord. Truth. Good and necessary and hard.
And one more time today, we hear your word to us in Peter's letter: "Cast all your anxiety on him,  for he cares for you."
 We're gettin' it from all sides this morning, Lord God. It seems what it all comes down to is this idea of trust, isn't it? It's about getting our priorities in the right order, about paying attention to what we look at, it's about remembering who we are, and — most importantly — it's about remembering who YOU are.
Why is that such a tough thing for us to do? We are puzzling creatures, Lord, choosing, time and time again,
     to look in the wrong direction,
     to follow our worst instincts,
     to try like crazy to keep some kind of 'control' over our lives,
         our loved ones,
         our plans,
         our minds,
         our circumstances . . .
Yet what we really know to be true . . . what we really know is this: there is not much in this life over we which we have any real control.
You know us so well, don't you? You know our penchant for anxiety, our desperate need to hold onto the reins, our yearning for all those puzzle pieces to fit together perfectly.
And so you teach us this good, necessary and oh-so-hard truth over and over again:
Trust.         Let go.         Believe in your goodness.
Relinquish our conniving, and all our anxious plotting, and rest in the truth that YOU are the one who sees the end from the beginning. YOU are the one who cares for us, who promises to walk with us, no matter what life throws our way.
We lost a good friend this week, Lord. We loved Arvid and now he is gone from us. Too soon — at least to our way of understanding. And we have other friends who are walking through difficult times, facing things that are hard and that we do not understand. Maybe we ourselves are the ones hearing news we did not plan on and do not want to hear.
And, of course, everything we see in the media causes that anxiety level to mount, from the election carnage to the wars in the Middle East, to the storms threatening the west coast this week, and the continuing, deeply rooted and festering racial tension, prejudice, and fear that rise up like the sins they are and seem to shake the foundations of our union
When these hard things happen, our go-to mode is almost always exactly the opposite of what our song and your word are saying to us today. We do worry; we are anxious. We do forget to trust you, only you, to set things right with this world of ours.
Will you forgive us, please? Forgive our faithlessness and our disloyalty. Forgive us for allowing our fears to push us into trying to manipulate people and circumstances, to pull strings, to work behind the scenes in a feeble attempt to make everything turn out the way we think it should.
Hear our prayer, O Lord!
And help us to bind your goodness and your loyalty and your faithfulness around our necks, like a beautiful, shimmering shawl, one that can wrap our worried hearts and over-anxious minds in warmth and release. One that can help us learn to trust.
For Jesus' sake,
Amen.