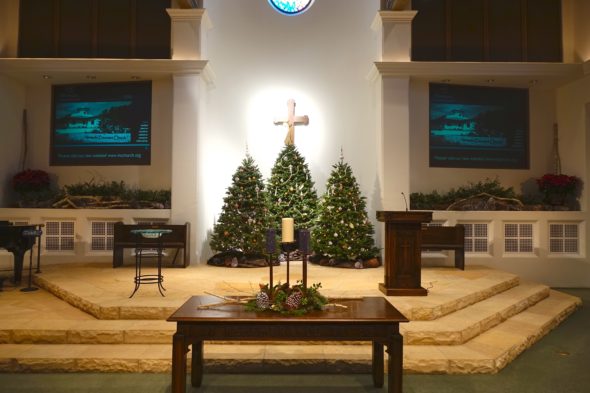 Luke 1:46-55
Isaiah 33:17-22
Revelation 22:6-7, 18-22
Luke 1:46-55

And Mary said,

"My soul magnifies the Lord,
and my spirit rejoices in God my Savior,
for he has looked with favor on the lowliness of his servant.
Surely, from now on all generations will call me blessed;
for the Mighty One has done great things for me,
and holy is his name.
His mercy is for those who fear him
from generation to generation.
He has shown strength with his arm;
he has scattered the proud in the thoughts of their hearts.
He has brought down the powerful from their thrones,
and lifted up the lowly;
he has filled the hungry with good things,
and sent the rich away empty.
He has helped his servant Israel,
in remembrance of his mercy,
according to the promise he made to our ancestors,
to Abraham and to his descendants forever."
What a girl she was! If I really think about it, I can't quite take it in. She wouldn't have been much more than 13 or 14, yet she was chosen for a task that would have toppled a woman of 'child-bearing age' in today's culture. An angelic visitation, a strange message, an arranged marriage to a man who was honorable but clueless, traveling late in pregnancy on the back of a donkey, over rough mountain roads, going into labor in a strange place, far from family and friends. How did she say yes? How did she do it? 
Her song tells us a lot about the 'how,' and also about the 'why.' Mary was a girl who paid attention to the teachings of her people. She listened when the family went to synagogue, even if she did have to sit at the back and cover her face. She listened to her parents and her siblings discuss the things of faith. And she somehow managed to develop a relationship with the Great I Am. 
She was chosen.
And so am I. So are you. No, not to carry the Christ child within our physical bodies. But yes, to carry the Christ, the Risen Christ, out into the world where we live and work, where we eat and play, where we listen and learn. I want to know enough to sing a song like Mary's  — a song about reversals, about surprises, about God upsetting the usual. 
Help me to borrow a little bit of Mary's courage, Lord. Just a little. Help me be willing to carry the gospel, the 'good news' of Jesus the Christ, wherever you lead. May it be so.