Today's post is a little bit different. I offered the prayer of consecration and supplication in  yesterday's worship service and am posting that prayer here. It comes out of the same set of readings we looked at yesterday and seemed an appropriate way to launch into this third week of Advent. We will be back on schedule with our daily readings/reflections tomorrow.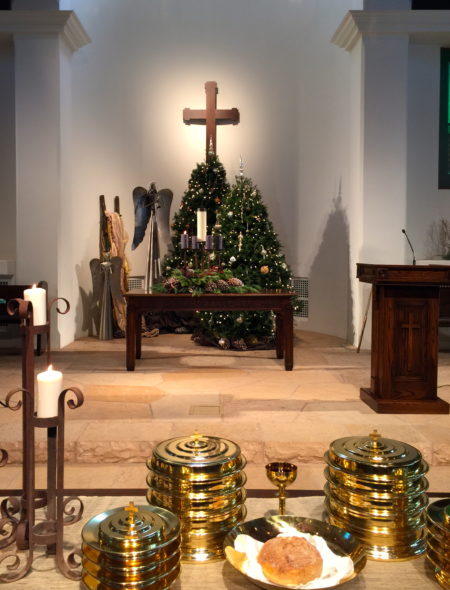 An Advent Prayer
2nd Sunday, December 4, 2016
Montecito Covenant Church
It's the Sunday of peace, Lord, and we gather now around your table
to remember how you chose to come to us,
as one of us,
to be our peace.
Yes, it is your death we remember
as we gather round today.
When we come to this table, we remember your sacrifice on our behalf,
and we thank you, with our whole hearts.
But on this particular Sunday of the year,
we also remember your life among us,
as one of us, and we remember it from that very first moment
when your mother heard 
a special word from your Father,
from our Father.
And oh, we thank you for that, too, with our whole hearts.
We also must admit that some of these hearts of ours
feel far from peaceful this morning, Lord.
Some of us are grieving the loss of a person we love very much;
some of us feel utterly exhausted — by school, by life, by illness;
some of us are worried about people we love; some of us are frightened about
something we ourselves are facing into right now.
In this moment of silence, we lift those concerns before you now.
— SILENCE —
And now, as we gaze on this bread,
as we consider this cup,
will you help us to remember
that this ordinary, torn-up loaf
and this common purple liquid
become something more, 
for us and in us, on this day.
We offer these simple things to you now,
and ask you to bless them, to set them apart,
and to make them uniquely beneficial to us, in body and in spirit.
May they become emblems of your love,
and strong, clear symbols of your Peace.
Even as Gabriel spoke to Mary those strange and wonderful words of invitation,
may you speak to us through
this time at the table.
Help us to hear you,
help us to be open to whatever invitation you are extending to us,
both individually and communally,
and help us to say a resounding,
"YES — let it be to us according to your word!"
And then, Lord, as we gather our belongings and turn to head out the back door into the sunlight and the friendly chatter of the patio, will you help us to remember that there are "Elizabeths" all around us today — male, female, young, old — all sorts of folks who have in some way or another experienced the reality that for you, "nothing is impossible."
Give us eyes to see and ears to hear
the miracle stories that are all around us.
No, not all of those stories have what we might label a 'happy ending' —
Mary's story wasn't exactly all sweetness and light, was it?
But all of us who have walked with you for a little while or for a lifetime —
all of us know
that your faithfulness can be trusted,
that your goodness is unassailable,
that your peace is ever and always available,
even when the tough stuff happens.
Help us to live those truths, those stories, out loud, Lord.
Help us to be encouragers in all our interactions with one another
and within the larger communities
where we live and work.
Help us, dear Lord,
to seek peace and to live it.
For Jesus' sake.
Amen.