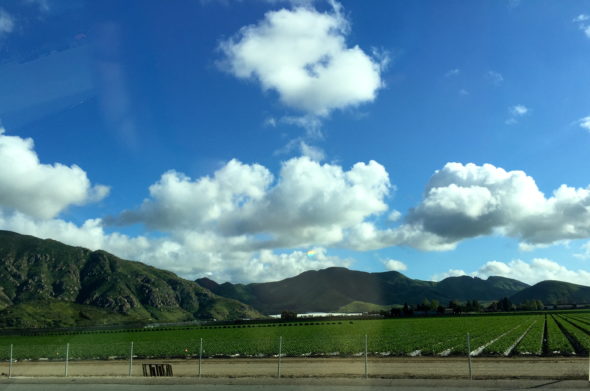 Luke 24:44-53

Then he said to them, "These are my words that I spoke to you while I was still with you—that everything written about me in the law of Moses, the prophets, and the psalms must be fulfilled." Then he opened their minds to understand the scriptures, and he said to them, "Thus it is written, that the Messiah is to suffer and to rise from the dead on the third day, and that repentance and forgiveness of sins is to be proclaimed in his name to all nations, beginning from Jerusalem. You are witnesses of these things. And see, I am sending upon you what my Father promised; so stay here in the city until you have been clothed with power from on high."

Then he led them out as far as Bethany, and, lifting up his hands, he blessed them. While he was blessing them, he withdrew from them and was carried up into heaven. And they worshiped him, and returned to Jerusalem with great joy; and they were continually in the temple blessing God.
Must have been some sky that day, right? We saw some glorious cloud formations while driving south to our daughter's last weekend for an early birthday dinner for my husband. I said to Dick as we drove, "That looks like a Montana sky over there," remembering our summer driving tour of national parks last year.
Right up until the last minute, Jesus was teaching, teaching, teaching. Explaining their scriptures to them in new and exciting ways, encouraging them to hold fast to who he was and what he said and did in their midst. 
He opened their minds to understand the scriptures.
That's my favorite line in this passage, at least for this reading of it. This is what any decent preacher prays for as he or she prepares Sunday's sermon — "open my mind, Lord. Help me to see and understand."
It's not an easy task, preaching. So be kind to your preachers, friends. Encourage them, ask good questions, engage in dialog if you don't completely understand, even if you disagree. Keep it earnest, but not derogatory, and above all, don't make it personal. I'm here to tell you, pastoring is not an easy gig. It's a very, very good one. But it is never easy.
And that is exactly what Jesus is doing with his faithful band — he is pastoring them, right up until his moment of departure from this earth.
Thank you, Lord, that you are our pastor, our shepherd. And thank you for the pastors that you've provided for us, in this time and this place. Today, I want to pray for them, that your Spirit would be very near, that parishioners would be kind and careful, that your gracious will would blossom in their lives and in their ministries. Amen.