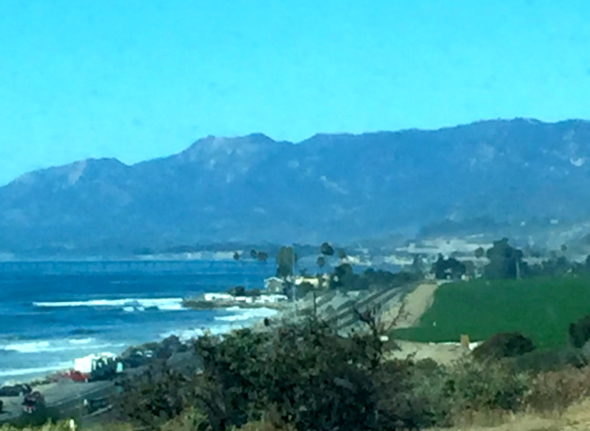 "Just follow the coastline north."
That's what I tell people when they ask me where I live. Drive up the 101 until you find the Pacific Ocean, then keep going for about 35 miles. We're right there!
I love to follow this particular road. This view shows you a corner of Highway One, down and to the left. The vantage point is taken from Hwy 101, which is much 'straighter' than the Hwy 1. Also? It's a freeway most of the way and the other is notoriously NOT a speed route. 
We've driven a lot of beautiful highways in this world, including along the coasts of South Africa, Italy, England, Scotland, Ireland and France. But nothing beats this route in California.
Right in this small, blurry snapshot, you can see a few of the reasons why — the mountains, which are always nearby the coast in CA. And the green fields of agriculture just below the roadway. More produce is grown in the state of CA than any other state in the union. Did you know that? This particular field is full of strawberries this year. We've seen green beans, and several varieties of flowers grown in this field. But strawberries seem to be the long haul staple.
And, of course, the ocean itself. You can't see the coast all the way along the 101, but you see it regularly. And each time, it's like a breath of fresh air, a beckoning to somewhere new and bigger than life. Oceans do that to a person!