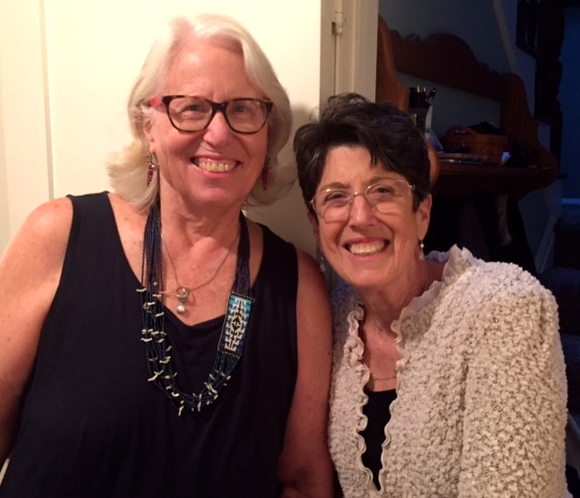 This photo was taken last Friday night, as I was leaving my friend Tonia's home after setting out catered food to feed about 50 out-of-town guests following her daughter's memorial service earlier in the afternoon. I was exhausted, ready for bed. She was grieving her girl AND still in recovery mode herself after a horrendous fall seven weeks earlier that caused her right leg to explode into a bazillion pieces.
She had a large plate, about 20 screws and six weeks of no weight-bearing behind her at this point. We are three months apart in age and were neighbors for 13 years, members of the same congregation for 21 years and Birthday Club sisters for about 35 years. When she sent me this picture on Sunday evening, I wrote her back and said, "Hey, we look okay for a coupla old broads, don't we?" She wrote back immediately and said, "We do! Love you!"
We are very different in many ways, but I consider her to be a heart friend, someone who has known me through thick and thin (quite literally, for me!), someone I can rely on and someone she can rely on, too. Together, we have overcome a lot of crap that life can throw our way and have lived to tell about it. And to testify to the power of grace, companionship and faith along the way. 
To tell you the truth, I don't think it's possible for human beings to overcome much without a good friend or two, do you?