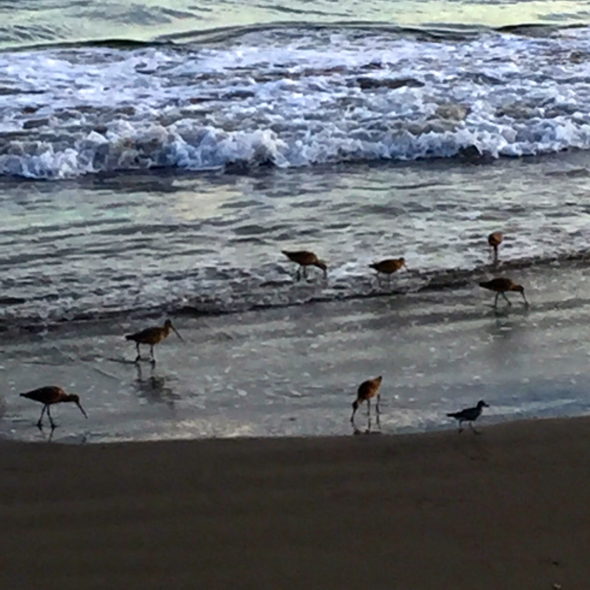 Psalm 85:1-2, 8-13, The Message

God, you smiled on your good earth!

    You brought good times back to Jacob!
You lifted the cloud of guilt from your people,
    you put their sins far out of sight.
You took back your sin-provoked threats,
    you cooled your hot, righteous anger.

I can't wait to hear what he'll say.

  God's about to pronounce his people well,
The holy people he loves so much,
    so they'll never again live like fools.
See how close his salvation is to those who fear him?
    Our country is home base for Glory!

Love and Truth meet in the street,
    Right Living and Whole Living embrace and kiss!
Truth sprouts green from the ground,
    Right Living pours down from the skies!
Oh yes! God gives Goodness and Beauty;
    our land responds with Bounty and Blessing.
Right Living strides out before him,
I do so love to discover what Eugene Peterson does with familiar passages! This is a glorious psalm, one of my favorites. And I love this version from The Message. This is a song of deep hope, based on the promises of God. And it paints a picture of the future that is delightful — living right, living whole, love and truth — they meet up and embrace/kiss each other! We're moving in that direction, friends. I know it doesn't much look like it at times — maybe, especially true in the times that are NOW — but it's coming. It is coming. And waiting for that time is a central part of this waiting we do during Advent — recognizing and celebrating that God isn't done with the world yet. Not by a long shot! Were heading toward heaven — 'the new heaven and the new earth' — where all the promises of this lovely song will be fulfilled. Thanks be to God.
Help me to wait well, Lord. Give me patience, the patience that can only come when I allow YOU to be my peace. Help me to rest in Jesus, to trust that though the process seems slow and arduous to me, when looked at in the light of eternity, I am moving toward that wondrous place in the time it takes me to blink!