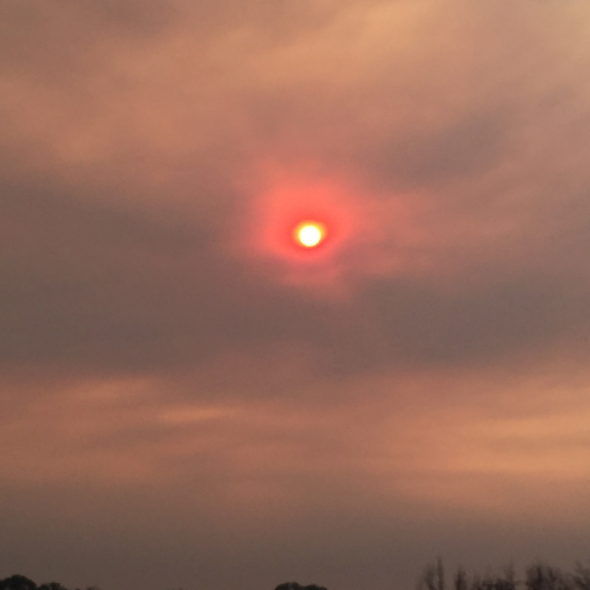 Hebrews 1:1-4, NRSV

Long ago God spoke to our ancestors in many and various ways by the prophets, but in these last days he has spoken to us by a Son, whom he appointed heir of all things, through whom he also created the worlds. He is the reflection of God's glory and the exact imprint of God's very being, and he sustains all things by his powerful word. When he had made purification for sins, he sat down at the right hand of the Majesty on high, having become as much superior to angels as the name he has inherited is more excellent than theirs.
Somehow, this photo seemed appropriate for the reading today. It was taken on the first day of the Thomas fire and has a slightly apocalyptic feel to it. And there is a very real way in which the first coming of Jesus into this world was its own kind of apocalypse!
Before Jesus, we had the prophets to speak of God to us. Now, we have Jesus, who IS God. "The exact imprint of God's very being," the author of Hebrews tells us. Could it be any more clearly stated? If we want to know what God is like, look at Jesus. If we want to know how we should live, look at Jesus.
Look at Jesus.
That's what Christmas, Advent, LIFE is all about.
Lord God Almighty, Father, Son and Holy Spirit — teach us to look to Jesus. Always and only. Amen.