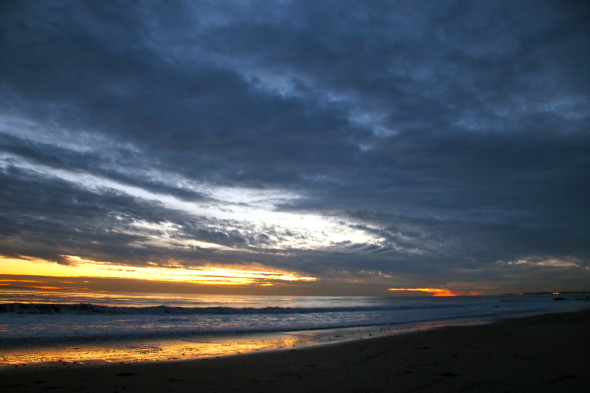 John 12:34-50, The Message

Voices from the crowd answered, "We heard from God's Law that the Messiah lasts forever. How can it be necessary, as you put it, that the Son of Man 'be lifted up'? Who is this 'Son of Man'?"

Jesus said, "For a brief time still, the light is among you. Walk by the light you have so darkness doesn't destroy you. If you walk in darkness, you don't know where you're going. As you have the light, believe in the light. Then the light will be within you, and shining through your lives. You'll be children of light."

Jesus said all this, and then went into hiding. All these God-signs he had given them and they still didn't get it, still wouldn't trust him. This proved that the prophet Isaiah was right:

God, who believed what we preached?
Who recognized God's arm, outstretched and ready to act?

First they wouldn't believe, then they couldn't—again, just as Isaiah said:

Their eyes are blinded,
their hearts are hardened,
So that they wouldn't see with their eyes
and perceive with their hearts,
And turn to me, God,
so I could heal them.

Isaiah said these things after he got a glimpse of God's cascading brightness that would pour through the Messiah.

On the other hand, a considerable number from the ranks of the leaders did believe. But because of the Pharisees, they didn't come out in the open with it. They were afraid of getting kicked out of the meeting place. When push came to shove they cared more for human approval than for God's glory.

Jesus summed it all up when he cried out, "Whoever believes in me, believes not just in me but in the One who sent me. Whoever looks at me is looking, in fact, at the One who sent me. I am Light that has come into the world so that all who believe in me won't have to stay any longer in the dark.

"If anyone hears what I am saying and doesn't take it seriously, I don't reject him. I didn't come to reject the world; I came to save the world. But you need to know that whoever puts me off, refusing to take in what I'm saying, is willfully choosing rejection. The Word, the Word-made-flesh that I have spoken and that I am, that Word and no other is the last word. I'm not making any of this up on my own. The Father who sent me gave me orders, told me what to say and how to say it. And I know exactly what his command produces: real and eternal life. That's all I have to say. What the Father told me, I tell you."
Well, there it is.
Plain as day.
There is no rejection
cast upon any of us
by heaven and 
its inhabitants.
No.
The rejection happens
in us.
We are the ones who say 'no.'
So yes, I think we will
be surprised.
And yes, we must walk
with the light that we have.
And that may be one of 
the biggest surprises of all —
just who has the light,
and how very little of it
is necessary to
reach our destination.
Time for another,
hallelujah!