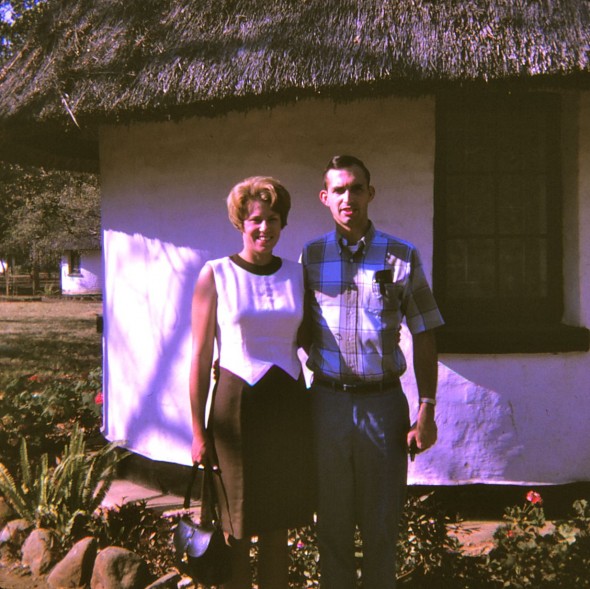 I was young. Really young. Married at 20, midway through my senior year at UCLA, planning a Big Trip soon after graduation. I looked forward to that trip with eager anticipation, eagerly awaiting a chance to Get Out, Get Away, Be On Our Own.
Actually, it was a bit more than a trip. It was a two-year commitment to live and work in a country far from our home in southern California, a two-year trek to a very different life, a very different place. I've written about it here (see the African Journey page up top to see those six posts) and I've mentioned it here and at other places around the web.
But I don't think I've ever talked about what it was like to come home again, to find my way back to the familiar, to re-enter our larger family circles, this time as a new mom and a more thoughtful and experienced world traveler.
It was good. And it was hard.
It was good because I desperately wanted our brand new, 5-month-old daughter to know her grandparents and other extended family. It was good because we were eager to see where God would lead us next. It was good because we both come from loving, involved family systems and we had missed that. A lot.
It was hard for many of the same reasons. Going away for two years was one of the best gifts we ever gave our marriage. Both number-one children, each of us deeply infected with perfectionism and performance pressure, it was good for us to move very far away, where there were no family resources to rely on, where we would be forced to rely on one another and to make our way into a complex, new-to-us cultural venue — or two. Zambian and missionary cultures presented two very different sets of challenges. 
The first two months back found us in my parents' small guest house — really my dad's study in their backyard — with no bathroom and no kitchen. For two l o n g months, while we waited out the job search and began to resettle into 20th century American life. Overall, it was a good time, a rich reminder of the blessings that were ours because of the families in which we grew up.
But it's always tough to move back in with your parents after you've left home, isn't it? And my relationship with my mom has always been fraught with multiple levels of complexity. We love each other very much, but I gotta tell you, there is no one on this earth who can get under my skin like she can!
I began a lifelong battle with my weight while we lived there for those two months. All of my growing up life, my mother worried about how I looked. She had me taking diet pills in high school, sent me with cottage cheese for lunch, worried that I'd be both too tall and too heavy to get a man. 
And once we came home from Africa, beautiful new baby in tow, almost her first words to me were, "Gettin' a little broad across the beam, aren't you?"
And I had gained a few pounds with that baby. A few. But I look at those pictures now and I wonder — what in heck was she talking about?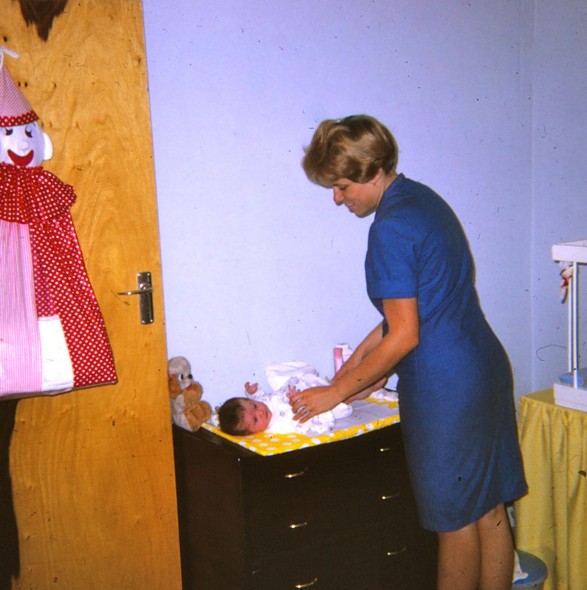 I've often wondered if my complicated relationship with food isn't directly related to that kind of offhand, semi-snide comment from my mother. Mom's fears about me took root and I responded in a strange and opposite way. I think maybe it was the only form of rebellion I could muster, because I was a very, VERY good girl while I lived in their home.
But once that baby was here — and another one less than two years later, and another one just 2.5 years after that? Well, let's just say, something in me — both physiological and psychological — shifted, and I began piling on the pounds.
Eventually, my mom seemed to find peace with the 'real me,' and now, in her dementing years, she cannot stop telling me how wonderful I look, what a fine person I am, how proud she is of me.
And how jealous she is of me, too.
That last one has been a stunner for me, a slice of real-life cognitive dissonance that I haven't yet fully internalized. We've been home for 45 years now — and I'm still finding my way.
Because coming home is hard to do. And finding home can take a lifetime. Emily Wierenga has written a brand-new memoir, releasing today, called, "Atlas Girl: Finding Home in the Last Place I Thought to Look." It's a rich memoir, laced with poignant story-telling and honest reflection. She, too, traveled far to find out that home was right where she left it.
I encourage you to read this intriguing story, to reflect with Emily as she discovers that her parents, whom she never felt loved her very well, truly do love her, with all their hearts.
Described as a 'travel memoir, this book is actually a beautiful story of two marriages, her own and her parents'. And the revelation that sang to me was this one: when her mom became so very ill that her father became a primary caregiver, Emily's parents found one another in ways both new and beautiful.
Emily has said elsewhere that her parents' changing marriage became the beautiful one that it now is because her sometimes acid-tongued mom began to submit herself to her husband's caring leadership. But as I read it, it seemed so much more than that. I saw a couple blossoming into newness of love because they each submitted to the other, in the process discovering each other all over again.
Emily and Trenton go through a long and often difficult process of rediscovery as well. And there, too, what Emily describes is a lovely journey for each of them, as they both learn to love and submit, love and submit.
It's a beautiful book, one I recommend to you for it's lyrical prose and it's heartfelt commitment to truth telling. I received an advanced reader's copy of "Atlas Girl," and am grateful to have read it and more than happy to review it. Reading it prompts a lot of personal reflection on the meaning of home and what it means to find home after a long season of wandering. I encourage you to read it yourself.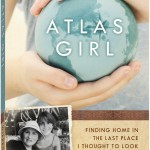 "Atlas Girl is more than a book; it's a journey in which Emily Wierenga takes you by the hand and invites you into the broken places in her life. She shares the unexpected beauty God has created in those places as he's made her heart whole again, and how he can do the same for you. If you've ever been hurt or gone through a hard time, this book will give you hope and a new understanding of God's love for you." ~ Holley Gerth, bestselling author of You're Already Amazing
"The best memoirs combine the storytelling elements of a novel–smart pacing, tactile details, people you care about–with the deep insights and spiritual takeaway of great nonfiction. Emily Wierenga deftly serves up that rich blend in Atlas Girl, a nonlinear, wholly moving account of her life's journey so far. Her honesty is raw, real. Her faith is hard-won. And when it finally pours out, her love–oh, her love soars off the page and makes a nest in our hearts. Brilliant and beautiful."~ Liz Curtis Higgs, bestselling author of Bad Girls of the Bible: And What We Can Learn from Them
"This isn't just a book, this is a journey. Of grief and wonder, loss and gain. Emily tells a world-spanning story that this world needs in Atlas Girl!" ~ Jon Acuff, New York Times bestselling author ofStart and Stuff Christians Like