This is a story that I've told pieces of before, but I've never told it at A Deeper Story. It's my turn over there today, so please follow the links to finish reading this post . . .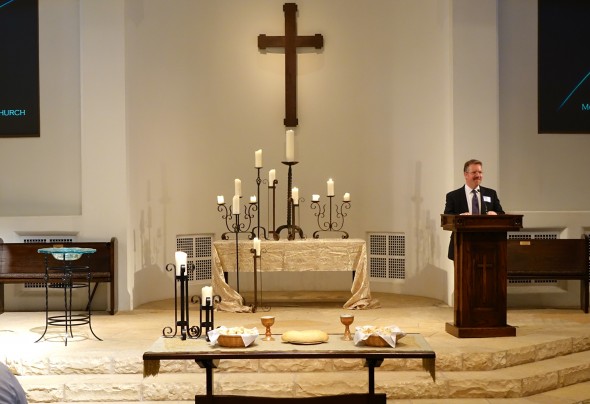 His name was Thomps. Tall, lean, always smiling, Warren Thompson was the kind of man who made you think of Jesus every time you looked at him. I don't think I've ever known anyone quite like him — and somehow, that makes me very sad. Seems to me there should be oodles of people like Thompsie. Seems to me that all of us who claim the title Christ-follower should look a whole lot more like Thomps than most of us do.
He came to faith in his 20s, soon after leaving the navy and settling into married life with his life partner, Nancy, in the foothills of Pasadena, California. I don't know much about his earliest days of faith because I didn't meet Thomps until he was in his mid 50s.
He wasn't a flashy guy. Far from it. He was almost shy, somewhat diffident, willing to stay in the background — emphasis on the word stay. That was the thing about this man — he stayed. He came to the mid-sized church we attended long before we did and very quickly offered his services as a volunteer with the youth. By then, he had a couple of little kids, a full time job and a heart that throbbed with an overflowing love for young adults.
So Thomps began to hang out with the teens. He showed up on Sunday mornings, he showed up on Wednesday evenings, he showed up on outings, he showed up at camp. Wherever they were, Thomps was there, too. He was willing to be the stooge, the guy in the skit who got shaving cream smeared on his face, the one who just loved seeing kids laughing and having fun.
More than their laughter, though, he loved their hearts, especially those belonging to young men. Every male student who came to youth group got taken out to breakfast. He'd drive all over town, picking kids up early in the morning, taking them — one or two at a time — to a local coffee shop. Together, they'd down pancakes and orange juice, and Thomps would ask them about themselves. "How's school?" he'd say. Or, "How's your prayer life?" he'd query. And always, he'd ask, "How can I help?"
And help he did. He went to sporting events, he listened to debates, he encouraged good study habits, he offered suggestions for devotional guides.
And he prayed. Oh, how he prayed.
 Please join me at A Deeper Story and tell me about a Thomps in your life . . .