Some days, nothing seems to work out quite as planned. Ever had one of those?
I had one yesterday. It seemed like everything was going all wrong, and yet . . . here's what I learned in the midst of a whole lot of frustration and anxiety: when the pressure mounts, I need a backroad. 
A few details:
I had a birthday party to go to, one that required driving my Honda CRV about 130 miles. Not just any party, mind you, but a gathering of about 100 friends, old and new, celebrating a woman for whom I once worked and who has remained a delightful, long-distance, seldom-seen, but always-loved friend.
During the years since last we met, a lot has happened in both our lives. She enjoyed a successful 30 year career in fund-raising, I had a small floral business, attended and graduated from seminary and served as a pastor for a dozen and a half years. Now, we are both retired and keep in touch primarily through Facebook, of all things.
But this lovely invitation arrived from her children: please come and mark a milestone at a garden party on a Sunday afternoon in April. My husband could not go (for reasons you'll understand shortly) and happily sent me off alone, knowing that I would pick up our middle daughter and take her along with me before spending the night with her family.
Of course, this was the first time ever that we had our grand-girls for the entire weekend! It was pure delight — but their pick-up time came a few hours after I was due south, so it was a solo trip this time around.
We loved having our only two girls with us! On Saturday morning, we went to our local zoo — a beautiful location not far from us, where we enjoyed watching two recently born giraffes, saw a gorilla stuffing her face and wondered about a couple of very anxious small foxes, pacing back and forth behind their glass gate. After a quick lunch,  we just made it to the matinee of "Cinderella," and surprised ourselves by actually loving the movie.
I will add here that each of our two nights with them brought 2:30 a.m. visits from the 5-year-old, who then slept with us in the middle of our king-sized bed, punctuating the next five hours with an occasional swift kick or sweet cuddle. 
All of it was great fun.
The undercurrent for the weekend, however, was this party, something I was curiously nervous about. It had been a very long time since I'd seen any of these people, it was very likely that the only people I would know would be her family and my own daughter, it was a long drive, there were too many details to pull together on top of caring for our girls for 48 hours, yada, yada, yada . .
I made pb & j sandwiches all around after we got back from church yesterday, loaded the car and backed out of the garage feeling tense and uncertain, pulling onto the freeway about 15 minutes later than I had hoped.
And then . . .
I hit a massive traffic jam about 25 miles out the door.
My anxiety level skyrocketed and I texted my daughter to have her husband check the traffic advisories for me (don't worry, I did it hands-free, via bluetooth). Then, up ahead, I saw the exit for a backroad to the second freeway I needed to travel, a road we used to take many years ago, and I quickly took a sharp right and headed off to Highway 118.
Of course, as I did so, I could look down from the ramp and see that the traffic was beginning to break up on the main highway and my SIL's text arrived telling me it would all dissipate and I'd have a clear shot.
But the die was cast and I just kept truckin', as they say.
And I'm so glad I did.
After about six long blocks of signals and small town traffic, I found myself on a long and winding two-lane road, cutting through orange groves, nurseries, low mountains and all-around lovely scenery. 
It was a beautiful afternoon, and as I gazed out the windows, I could feel my shoulders unkink, my arms relax and my back settle more kindly into the seat.
I breathed a sigh and said, "Thank you, Jesus."
I enjoyed every minute of that 18 mile detour, reveling in the beauty all around me, the somewhat slower-than-freeway speed of the traffic and the promise of what lay ahead.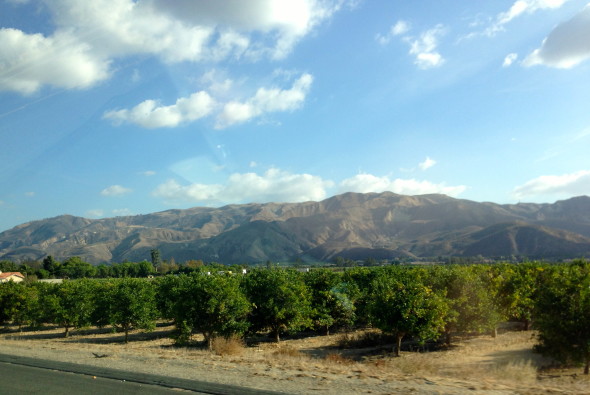 Just changing speed and direction helped me to shrug off the worry and embrace the anticipation, to offer a prayer of thanks for my friend and the kind invitation of her family, and rejoice that my girl was willing to go with me.
I stopped and changed my clothes at our daughter's home, she came out to greet me looking adorable and then so kindly assured me that she knew exactly how to get there. And we were off!
We handed over our car to the valet (now be honest here, friends: how many times do you go to a private party where there is valet parking?) And as we filled out our name-tags, I watched my beautiful daughter connect with my friend's adult children. They made us feel so welcome! Any remaining worry or uncertainty just melted away, I finished the relaxation process begun on that backroad, and we both enjoyed the entire event.
It was a sunny, gently breezy afternoon and evening, beautiful hearty appetizers were served, everyone was friendly and kind. And the house was beautiful — complete with large koi pond, an outdoor kitchen, pool and hot tub and a divine patio area where we chose to sit down and eat a light supper comprised of truly well-prepared food.
Both of us were glad we came.
Sometimes, what we really need is a backroad, you know?
Sometimes, we need to pull out of the traffic, change the view, allow our bodies to unwind and our minds to re-charge. Sometimes we need to take that detour, disconnect from the usual, maybe even give in to the inevitable.
I know that what I most needed on that long drive was to re-learn this truth: hard-charging, over-anxiety is never a good thing. Never. 
There's a reason the most frequent words out of the mouth of God in scripture are: "Be not afraid." All along life's way, I simply have to remember to trust: to trust the goodness of God, the faithfulness of friends, the beauty that is so often most present in the details.
I had not seen Lyla or her kids in nearly 25 years, yet they greeted us as dear friends. We began to catch up and even to make connections for the future. I also saw a few other old friends, enjoying brief conversations with each one.
Big social events are not my 'thing.' But you know what? This one was. 
And all it took for me to discover that . . . was a slight detour on a beautiful backroad.
Linking this with Laura Boggess's "Playdates with God," Lisha Epperson's "The Sunday Community," and Kelly's "Small Wonders" series.