When I see the wonderful themes that come from the fine people at SheLoves each month, I am always surprised at what comes to me. This one is no exception. I'm not writing about my mom too much in public these days, but here are the most recent reflections. You can start here and follow this link to finish this piece and join the conversation. Please do!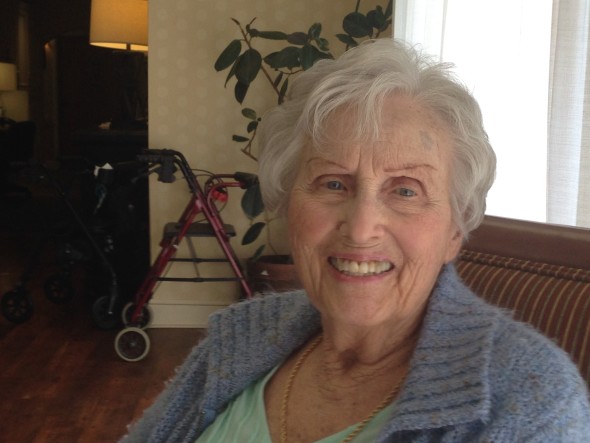 The part of my life that needs me to be 'easy' right now happens to be the hardest one ever. My mother lives within five miles of our home and turns 94 this month. She loves it when I drop by, she smiles right through the telephone when I call her, she tells me I'm the most wonderful of God's creatures, even though she is not entirely sure who I am.
Because my mother, in addition to being one of the loveliest women I've ever known, also has dementia. Her brain is deteriorating, week by week. She has lost most of her memory, including all 63 years of her marriage to my father, has only very limited mechanical ability of any kind, and more and more often, leaves her sentences hanging in the air after about three words, leaving me to wonder where in the world she was headed. When I am with my mother, what she most needs me to be is relaxed, present, patient, slow.
Too much of the time, I am NONE of those things.
Loving a person with severe dementia means you continually live with a large load of cognitive dissonance. In my head, I know that she cannot understand, cannot remember, and cannot move quickly, either physically or mentally. But with my heart? I want her to be as she once was: fast-witted, funny, vivacious, interesting, well-read, deeply spiritual.
Who she is now. . . is slow. Her brain is losing itself, day by day. Scientists do not yet understand all the complicated mechanisms that make this true, but this much we do know: the part of her brain that remembers things is disintegrating. The part of her brain that understands how things works, how time happens, what she said 30 seconds ago is almost entirely non-functional.
So when I hand her a napkin at lunch, she has no idea what to do with it. I say gently, "Put it in your lap, Mom." And she moves to pick up the knife and fork that were just wrapped in that napkin, sending them to her lap.
Because she has always had a gift for sociability, and is a natural extrovert, she has maintained a semblance of those characteristics. She has a 'routine' that she follows when we are together. Ten times in ten minutes, she asks the same set of rote questions: How is your family? Have you found a church you like? Where is your husband? And the biggest one of all, ever-present: Do you ever think about moving?
"No, Mom," I always say. "I like it here. We plan to be here until we die." And some days, I swear to you, I want her to hear and understand that verb. I want her to grasp that she is dying, that I am dying. We are all dying. Most of the time, she hasn't a clue. . .