I am hanging onto worship these days. In as many ways and places as I can find. The older I get, the more intrinsic it becomes to who I am. I think that's how it's supposed to happen, to tell you the truth. We're slow learners, we human creatures. It takes us a lifetime to realize who we are and to whom we belong. As I move through my days, I am more aware than ever of the presence of God, maybe most especially in the details and the humdrum of life. But also, of course, where you might expect to find God.
For me, a primary place is at the Table, in the eucharist. I dearly wish we were part of a community that celebrated the Lord's Table every week, but since we are not, I relish that first Sunday experience. I am particularly drawn to communion by intinction — going forward to receive a piece of bread and then dipping it in a shared cup. Something about the movement brings a deeper level of worship for me — an involvement of all the parts of me, I guess.
Most weeks, the music of our Sunday services is also a primary point of connection for me, a time of worship that moves me to a different place somehow. Again, I think it's because of the body involvement. We stand for a lot of our singing and that gives us a bit more freedom to move gently with the rhythm or to lift hands with the words (though not many of us do that; we do have Swedish roots in our denomination, after all). I had someone say, almost snidely, that most of the time an opening set of songs is designed to make us 'feel good.' I beg to differ. I think music can bring us to worship faster than words. And when you combine good melody and rhythm with good words — well, then — what's not to love?
I also move into worship quite naturally when I'm at the beach, looking at the water. The ocean has always spoken to me of God, invited me to 'bow the knee,' and express both my gratitude and my awe. As long as I'm able to get there, I want to see the ocean every week — preferably more than once in a week!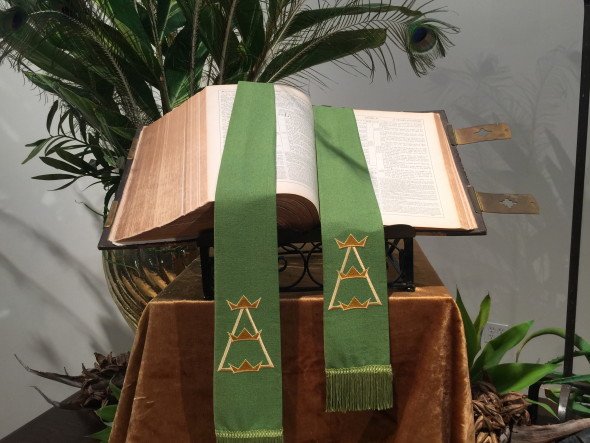 The Word is a place where worship happens, too. Both the word written and the word spoken. But maybe most of all, the Word as a living, breathing presence in my thoughts and actions. The Spirit is that Word for a Christian, bringing to mind written words, ideas, groans. And faces, names, situations for whom I need to be praying. And prayer for me does not look like it once did. I talk some. But I listen more. And I visualize more. I also do a brief examen, or praying backwards through my day, as I drift off to sleep. All of that, as well as the time I spend reflecting on directees before I meet with them, the times I say 'thank you' for the gifts that are mine, the times that I am obedient to that nudge inside that says, "write her a note," or, "call that one and go to tea," or "find a way to say you're sorry." All of that is communion, which is one of the dearest kinds of worship for me.
And, of course,  I am hanging onto those morning walks which bring me directly into the presence of our God with each step, no matter how hard I'm breathing as I climb those hills! I took this shot of the sun just peeking over the southwest coastline today, at about 7:10 a.m. And here's what I love about it. I was standing here — in the middle of a very steep, vacant lot, chuck full of gopher holes and weeds.
Unsightly, rough, and yet . . . the place where I breathe in the beauty of our new neighborhood more fully than almost anywhere else. The place where I pause to worship every day. Go figure.
Worship can happen anywhere, can't it?
Where do you worship most freely/easily?