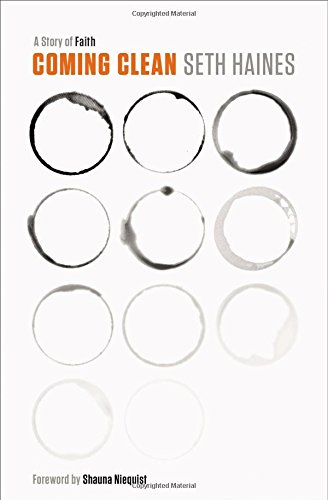 This year, I have said 'yes' to too many friends about reading and reviewing their books. I love doing it, I do. But suddenly, at this point in the year, I am feeling overwhelmed, more than a little bit guilty, and very, very late. Seth's gorgeous book debuted at the end of October.
Sigh.
And I LOVED it.
Sigh, again.
So . . . better late than never, right??  RIGHT??
This book, this amazing book — "Coming Clean, A Story of Faith" — is its own strange and wonderful animal. Part memoir, part journal, part devotional, ALL honest and true. And so very, very good. In fact, this is one of the best books I've read. Ever.
And I've read a whole lotta books.
Seth has really important things to say and he says them so well. He had me at the preface, which contained this gem of a chunk, to which I wrote a very large, very red YES in the margin:
"Read this less as a book about alcoholism and more as one about the pains and salves common in every life. My alcoholism is not the thing, see. Neither is your eating disorder, your greed disorder, or your sex addiction. Your sin is not the thing. The thing is under the sin. The thing is the pain. Sin management without redemption of life's pain is a losing proposition.

"There is an antidote for the pain. It was taught to us, commanded of us. It is simple in word and sometimes impossible in deed. It is free, but it isn't cheap.

"Are you ready to explore with me? Are you ready to find the medicine?

"This is an open invitation to come clean." (pg. 14)
And the book continues to unfold exactly what he means by these words. Journeying through it is at one and the same time delightful and exquisitely painful. Why? Because I recognized myself on almost every page — and I have never had an entire drink of alcohol in my life. "My alcoholism is not the thing, see." 
Oh, yeah. I see. I see.
The pain became overwhelming for Seth when his youngest son Titus was critically, unexplainably ill. Going from doctor to doctor, hospital to hospital, finding no answers. None. They watched this beautiful little boy slowly wasting away. And to stop the pain, Seth began to drink, finding in alcohol a friend and a comfort and a salve, albeit quite temporary, for the ache inside.
Seth is a thinking Christian, an intelligent man and a loving one, and as he walked this hard road, he began to wrestle with the things he had always believed. He saw no sign of an active God in his world or anywhere else. He knew that his own personal battle with the bottle would not be a welcome topic of conversation in most church gatherings — sad, but oh-so-true, I am sorry to say. And he began to journal. Early in that process, he found one person who was safe, a person who had walked the road to sobriety before him, and with her gentle help, Seth slowly began to turn in a different direction.
Here's what I love about this story. First of all, it is masterfully written. Seth has taken his journal entries from the first 90 days of his 'coming clean' journey, edited and thought about them and created a small work of art in these 219 pages. Just for the language choice and the thoughtfulness, this is a worthwhile read.
In addition, he has told the truth as he was learning it. He asks the right questions and he wrestles hard with the answers, freely admitting that he cannot always find them. The journal moves into memoir when he writes of his early life, especially of his early faith, of meeting and knowing God in the sound of wind through the mesquite trees of his Texas childhood. He remembers his own early feelings of tranquility and assurance that all is right with the world because there is a benevolent God present in it. 
Thirdly, he frankly admits and swears by the therapy he received in this process. I am a big believer in good therapeutic intervention, having found it to be life-changing, maybe even life-saving. And Seth writes it true, true, true. A good therapist asks the right questions and listens beyond listening, getting to the heart of things in ways most of us either cannot or do not. An encounter with a faith-healer in childhood, and the skillful way in which his therapist wove together technique and prayer to help him understand why that experience was so deeply formative, is a wonder to behold and a critical piece in Seth's recovery process. I believe that reading some of these scenes in a group setting could be liberating and life-changing for many, and I was delighted to read that this book will be part of a group study in an Indiana prison.
That's  the kind of book this is, my friends. An instrument of grace, a means of revelation and a call to honesty, openness and hard, personal work. Read it.
And then do it.
You won't be sorry.