You know, it's just lunch. Simple, right? I get in the car, I drive over to Mom's care facility, I punch in the magic code to open the door, I gather her up, confused and beautiful as she is, I open the door so we can both go out into the sunshine.
She says, "Do you really want to bring this old thing?" pointing to her walker.
Every time, she asks me this question.
EVERY TIME.
"Yes, Mom. You can't really walk well without it and it fits right into the back of my car."
I settle her into the front seat, lock the seat belt around her, nudge her gently to move her feet completely inside the car. I load the walker in the back and come around to the driver's door, belt myself in and begin to drive out of the residence area.
"What a good driver you are. What a nice car this is — so smooth!"
"Thank  you, Mom."
I hear these two sentences EVERY SINGLE TIME WE GO OUT, which is every 3 to 4 days. But 3 to 4 days is an eternity to someone whose brain is full of holes. 3 to 4 minutes is an eternity. Somedays, 3 to 4 seconds.
"Now tell me your name again and why you came over to get me today?"
And we're off. The litany begins.
Again.
And again.
"Do you have children?"
"Do you live nearby?"
"What do you do?"
"Where are we going?"
"Why are you being kind to me?"
"Now tell me your name, please."
"Do you know my family?"
Round and round we go, the same set of questions, the same set of answers.
Today we went to a place we have not visited often. She is, however, convinced that she has been here, "many years ago." Often, this is at least partially true. Not today. We've been here exactly twice in the last 3 3/4 years.
The sun is warm, but the restaurant, located directly on the sands of Ledbetter Beach, acts as a wind tunnel for the ocean breeze. She is immediately shivering, despite being fully covered with two layers of clothing.
So I return to the car, get my wool shawl and my wide-brimmed black hat with the droop-down brim and wrap her up as much as I can. She continues to hold down the brim of the hat or to place her hand over her ear during the entire meal, despite the fact that she is no longer in direct contact with any kind of air movement whatsoever. Once cold, always cold, I guess.
I order her a diet Coke and get a glass of water for myself. We sip quietly as we wait for our lunches to be delivered — a kid's sized grilled cheese with fries for her, a salad with grilled salmon for me.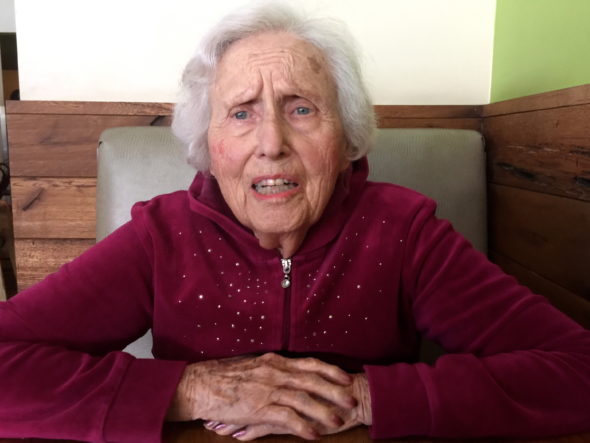 "Here, don't you want some of this?" she asks.
And she asks.
And she asks.
AND SHE ASKS.
"No, Mom, " I tell her each time. "That is your drink. See, I have one of my own. I don't need yours."
When lunch arrives, she relishes each bite. But begins immediately with the same, recurring question/statement: "Oh  my, this is delicious! I am so happy, so happy, so happy! Here, take some of this. It is really good."
She seems to be unable to see that I am already eating from a very full plate. I tell her exactly that, every single time she invites me to eat her lunch. "No, thank you, Mom. I have my own lunch. I don't need to eat yours. Please enjoy your meal and stop worrying about me — I am doing just fine."
"Well," she says timidly, "I surely do not want to ever seem to be selfish."
"You are not being selfish, Mom. You're enjoying your lunch, which is yours, all  yours. Please enjoy it!"
After I finish my salad — which I always do, LONG before she is halfway through her own plate — I begin to take a French fry or two from her plate. And she is ecstatic!
"Oh, here! Have some more!"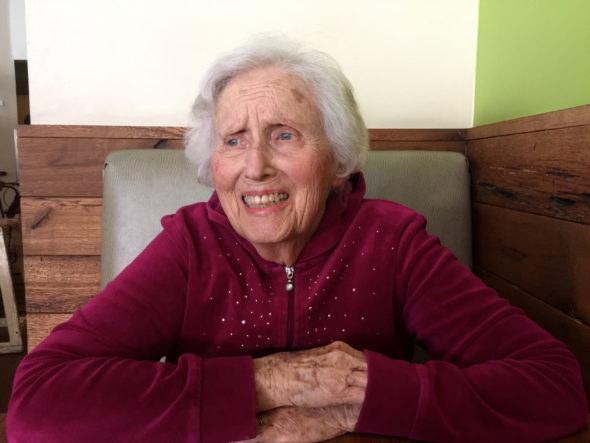 I cannot even begin to put into words how deeply enervating I find these outings. I love that she loves to go. I love that she finds happiness in simple things. I love her. But being with her is the most exhausting thing I do these days.  
And there is no end in sight.
I heard a bit of a cough today and, God help me, I found myself wondering if this might possibly progress into something serious, something that might help her transition to that place where she will once again be able to think and remember. 
That is not likely. She is 95 years old, can't see, can't hear, can't remember, can walk short distances only. But otherwise, her health is excellent. Her mother lived to be 101. Her mother's sister to 102. So chances are, she'll be with us physically long past the time when what remains of her mind has completely left the building.
I give thanks daily for her life. I see the beauty shining out of her face, the unceasingly cheerful spirit that is indomitable and gracious. I enjoy her occasional attempts at humor and the increasingly rare flashes of that mom-that-used-to-be insight and self-deprecating trash talk. (Today for example: "I imagine those children I hear are looking over here and wondering what strange sort of woman is sitting there under that hat!")
But I am tired. I am tired of continually telling myself to keep my ever-present impatience at bay, to respond with kindness to the 20th version of the same comment/question, to smile, to hug, to touch, to encourage. I do it, yes, I do it. But sometimes it feels forced, even phony, and I don't like that part. No, I don't like it at all.
So I am weary at times. Today is one of those times. I returned her to her room a bit earlier than usual, settled her into that recliner chair in the corner, the one by the window that looks out onto the patio with bright red geraniums. I kiss her and tell her I love her and that I'll see her next week. I find someone on the care team to tell them she is back in her room.
And I exit the building as fast as these aging legs of mine will carry me, willing myself not to cry out, "How long, O Lord!! How long?"