I snuck in through the back gate, carefully closing it so that the family of deer grazing nearby could not enter the enclosed garden. Miraculous rain had fallen during the night and the air was crisp and cool, with a slight breeze from the west. The small labyrinth on the grounds of Mater Dolorosa Retreat Center was my first target that morning — I love to walk and pray, and if there is a dedicated pathway for such walking and praying, I head straight toward it. These deer were just to the east as I slowly wound my way to the center of that stone-marked pathway and back out again. They were lovely – young, strong, alert.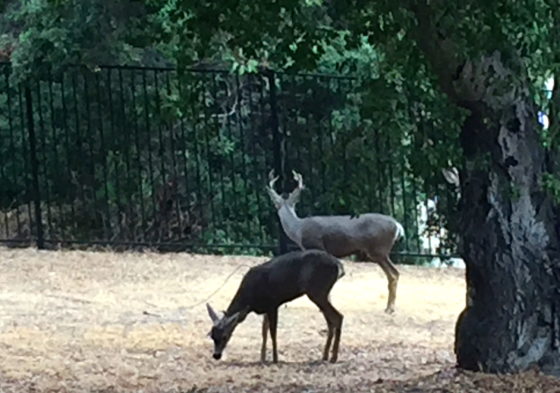 The garden site took me to an entirely different place, one of tears and remembering, of death and dying, though there was beauty to be seen on all sides. The wisteria arbor pictured above was the first thing I saw as I clanged the gate behind me. Stretching out on both sides to form a circle, the entire 15-feet wide pathway fully enclosed a special, set-aside space: The Garden of the Seven Sorrows. This is a space marked for contemplation on the sorrows that Mary carried throughout her life as a mother, an idea new to me, and a surprisingly welcome one.
We Protestants don't often think about Mary, do we? We tend to forget the depth of her spiritual maturity, her shocking availability to God. Would you be so open? Would I?
There are six niches around the circle, each with an exquisite and colorful mosaic depicting the sorrows that are mentioned in the gospel narrative. There are benches, a variety of both green and blooming plants, a fountain in the center, and a striking bronze statue duet, life-sized and haunting in its detailed depiction of mother and son locking eyes as Jesus drops the cross on his way to Calvary. That statue represents the seventh sorrow, and I saw it first from the back.
I walked around, under the arbor, to begin my pilgrimage at the beginning, stepping into each niche in turn and then returning to the center magnificence to further contemplate that bronze tableau, this time from the front and from the side. I invite you to come along with me as I walk, enjoying a more distant view and then a closeup of each sorrow in turn. Take a moment to savor the detail, to reflect on the moment captured by the artwork. See what rises in you.
It began in the earliest days of her motherhood experience, didn't it? Taking her new little boy to the temple for blessing and dedication, Simeon had a hard word for her
". . . and a sword will pierce your own soul, too."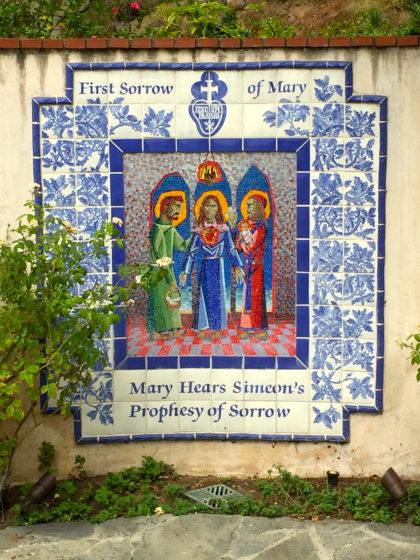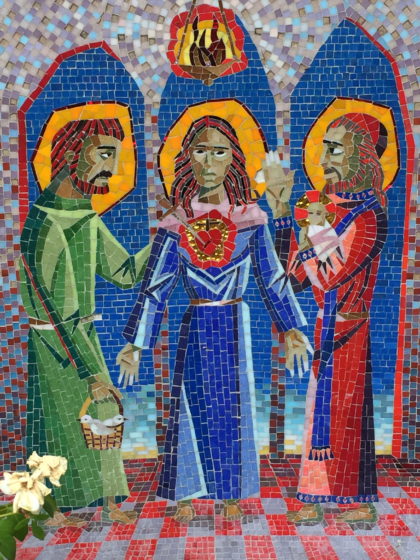 Joseph holds the infant Jesus and the heart of Mary beats almost out of her chest at Simeon's heavy words. Eight days old and her heart is filled with foreboding.
The Second Sorrow focuses on the flight into Egypt. With a toddler in tow, Mary and her husband were forced to flee their homeland, not knowing exactly when they might return. This is, to me, a poignant picture of the plight of so many refugees in our world today — forced out, running away to a foreign place, uncertain about the future, wanting protection and safety for their family.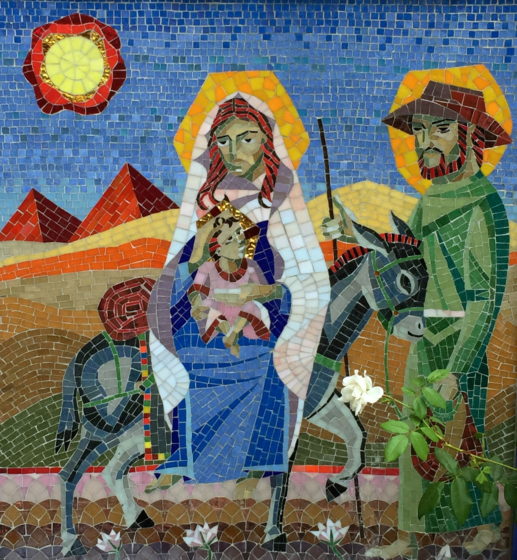 Sorrow Three comes twelve years later, when Jesus remains in the temple, worrying his parents by his absence, and then by his response: "Didn't you know, Mother? Didn't you know where I would be?" 
Do we know where our children are? Can we?
The artist has managed to capture Mary's pain and confusion, using just small pieces of colored ceramic. Jesus is rapt, his hand raised and open. Always, his hands were open.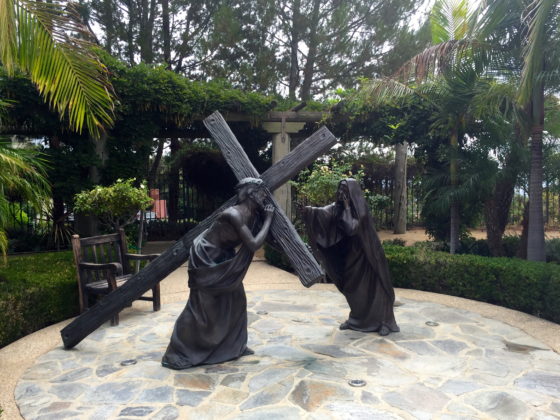 And this is Sorrow Four — the only one not specifically recorded in scripture, but one that surely could have happened — Mary meeting her son on the road. I do not know who the artists were, for either the mosaics or the sculpture, but I am grateful for them and to them. This is one of the most moving sights I've ever experienced. Contemplate the detail on their faces with me, won't you?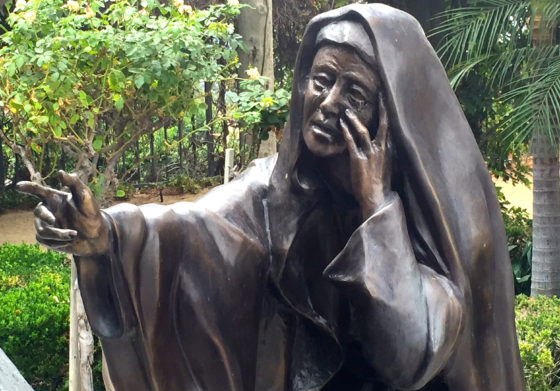 Deep grief marks a person in every way — physically, emotionally, spiritually. Her tears elicit my own.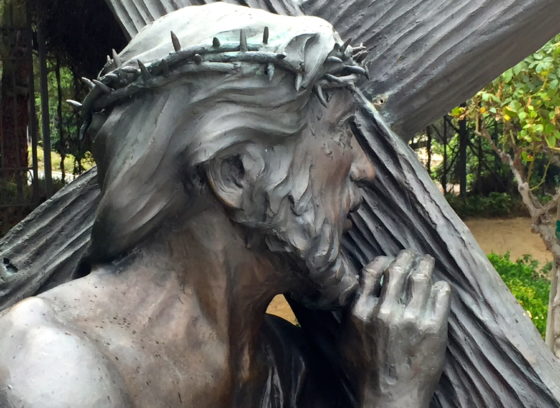 And Jesus turns to look at his mother, his mama. How difficult this entire event must have been for both of them. The gospel writers give us tiny glimpses; artists take those glimpses and give us wider, deeper vistas.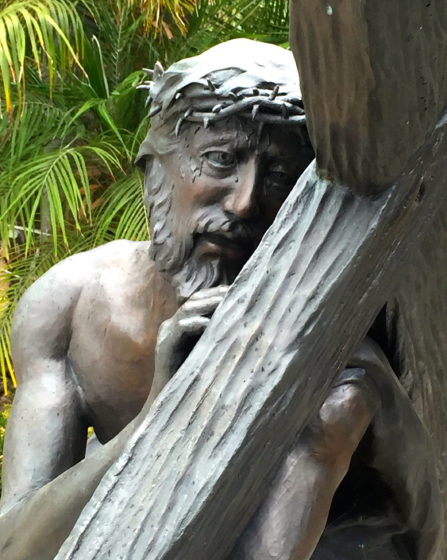 I think he must have been a strong man — I like the musculature outlined here. But he was also a very weary man at this point in the journey, a heartbroken man. And all of that shows in that face. All of it.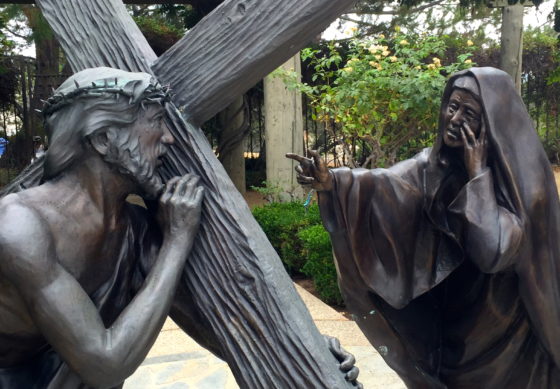 Though I do not subscribe to the Catholic doctrines about Mary, I completely understand how they developed. The mother-son bond is a strange and wondrous one, and like it or not, we moms are of primary importance to and a strong influence on our children, daughters and sons alike. While I believe the Catholic church has overplayed the importance of that bond, I fear we Protestants have seriously underplayed it.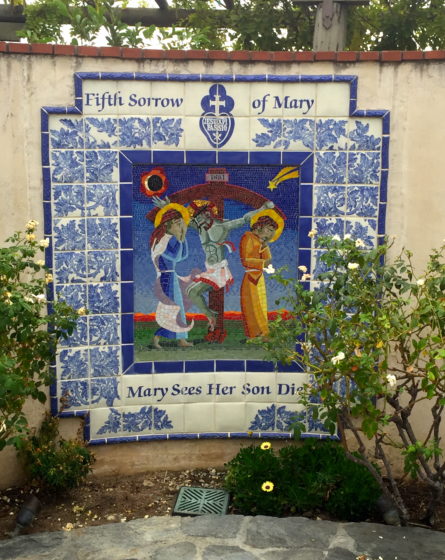 And here is the one we are probably most familiar with — Sorrow Five — Mary watching her beloved son die on that tree. The apostle John appears to the right, turned away from the sight; Mary looks, but weeps. What must that have been like?
The Sixth Sorrow is the one made famous by Pietas across the ages — Mary holding her son as he is taken down from the cross. "Has there been any sorrow like unto my sorrow?"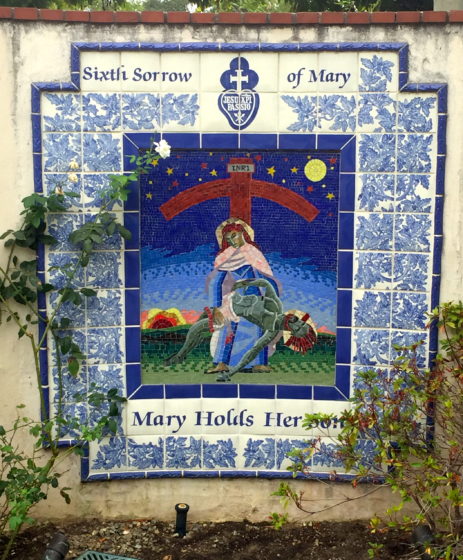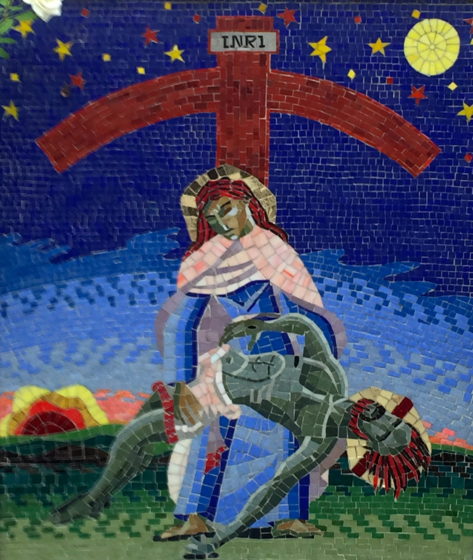 The final sorrow comes at the gravesite. The women are all there and it is hard to know which one is Mary. Who do you think it is?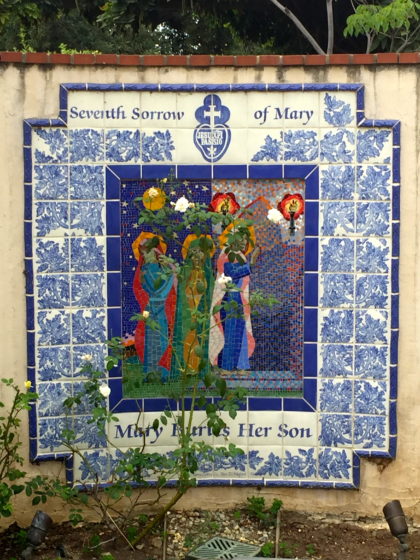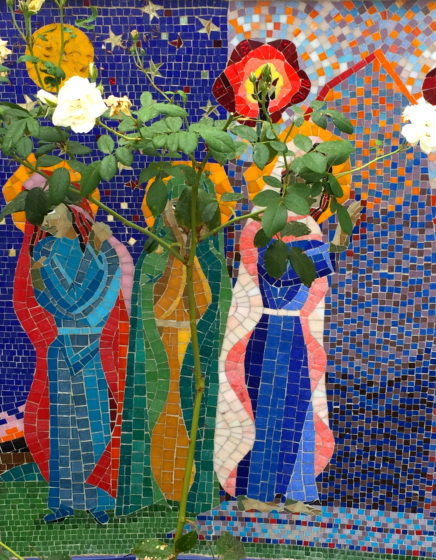 The rose bush effectively hid all of their faces, but I snuck my camera around the blooms and thorns and got each of them: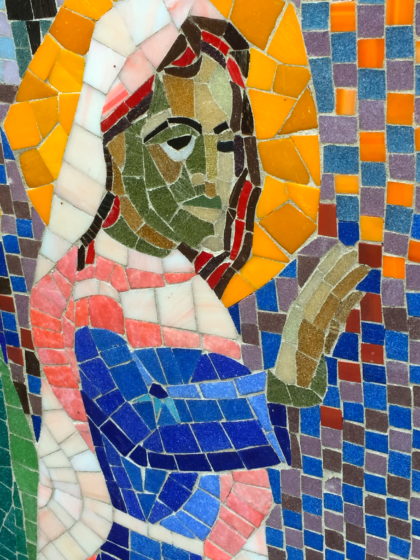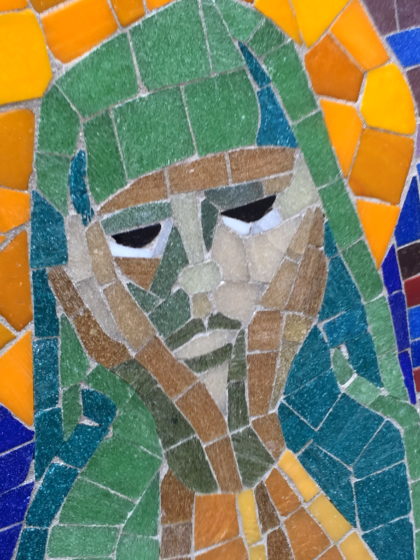 As I walked this beautiful, yet somewhat strange new circle, I found myself saying, 'thank you,' over and over again. Thank you to the Son, yes, of course. Of course. But also — thank you to the mother, the dear mother, the one who said 'yes' to the mystery, who opened herself to unspeakable pain, who loved her child with her whole heart. She was not perfect, but she was deeply good and I am grateful.
As I turned to leave this glorious space, I noticed a flash of color just off to my right. Two colors, to be exact — two colors of the church year, in point of fact: red (this one was pinkish) and purple — red for sorrow and purple for royalty. Seemed fitting, somehow. Perfectly fitting.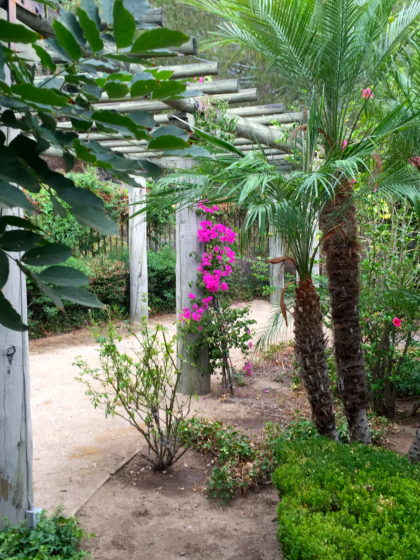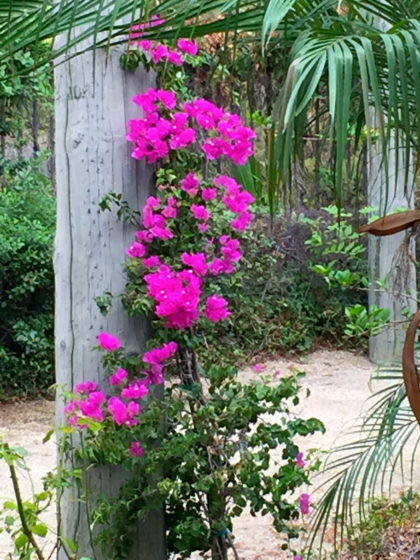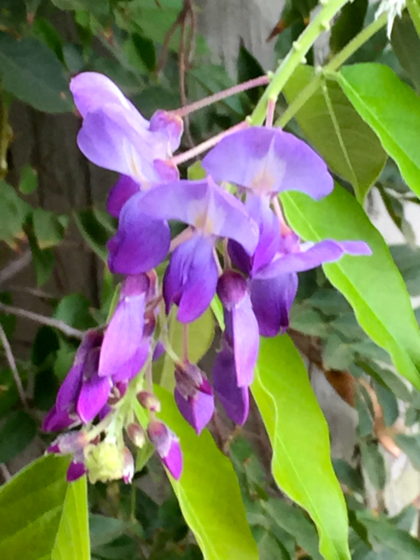 We will return to this same retreat center in 18 months. You can be sure that the Garden of the Seven Sorrows will be a part of my own meditative experience in 2018. It will be springtime then. How lovely!