The silence at this blog has been rather deafening thus far in 2017. Part of the reason for that is the event described in this essay. I wrote it for SheLoves, that special place on the internet where I am privileged to write once each month. Please start here and then follow the links over there to join in the conversation.
The rain falls steadily, beating against the translucent plastic of the skylight across the hall from where I write. A drumbeat that reminds me that fruitfulness requires dark, wet days. Lots and lots of dark, wet days.
Life continues to teach me that there is no resurrection without the darkness of death, there is no rising without first being down. Sometimes that down-ness is imposed on us — by life, by circumstance, by some kind of struggle, which we did not deserve or earn. Other times, we trip and fall, choosing unwisely or forgetting what we know to be true. No matter what has brought us low, however, the truth of it remains: there is nowhere to go but up.
 I am watching closely as my mother winds down for the last time in her long life. We moved her this week — again. Fifteen years ago, we moved her and my dad from their lovely retirement home in Orange County CA to a smaller, 2-bedroom apartment in a senior community nearer to family. Three years later, after my dad's death, we moved my mother to a 1-bedroom unit in the same facility. Eight years after that, we moved her across the street, into an assisted living studio. One year later, we moved her 120 miles north, to a single room with bath, inside a dementia unit, minutes from our home.
Now, four years further down this journey toward death, she is in a still smaller room, one with a hospital bed and an RN down the hall. We moved mama into skilled nursing last week, sorting through the debris of her life one more time, parsing her existence into smaller and smaller pieces.
I hoped she would be oblivious to this change. So much of her cognition is gone, so many pieces missing from the beautiful puzzle that is my mother. But she knew. And she was frightened and confused, wondering why 'her family' wasn't nearby. Though she couldn't tell you a single name, she somehow knew the residents and the caregivers in her 16-bed assisted living wing. Now she is part of a much larger space, with many more people, many more wheelchairs, longer distances to travel from bedroom to activity center to dining room. . .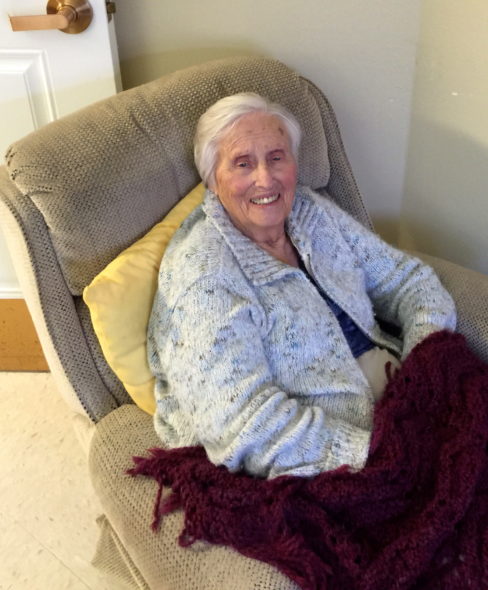 Yes, it's been a tough few weeks, friends. We're at the last bend in the road. Please do come on over to SheLoves and read a bit more about this journey.