It's been a rough week. A niggling ankle injury turned out to be a seriously shredded tendon, which may require surgery next month. In the meantime, I'm wearing a boot to try and immobilize it and encourage healing.

My mom took a nasty fall, splitting her fingers apart and bruising herself all along one side of her body. Fortunately, nothing was broken, but she is tired and more confused than ever.
My husband and I tend to take our worries out on one another, at least initially, and so we've been doing more than our share of sniping and growling. We're moving back to center again, and I am glad.
I sit, with my foot iced and propped, encased in a serious boot, surrounded by too.much.stuff, all of which needs sorting. I wonder how and when to set aside enough time to do more than the basics. Meal prep, laundry, keeping appointments, writing – these seem to fill all the blanks on the calendar — and in my spirit — and there isn't much room left. 
I went to worship almost reluctantly yesterday. We'd missed the week before and I came close to missing again. I was tired, anxious and sore, not eager to make conversation with anyone, unsure about a lot of things.
Which, of course, is EXACTLY when I need to be there, sitting and standing with the community, offering praise to God in the middle of the mess and listening for the Spirit's breathy voice in the midst of the sanctuary.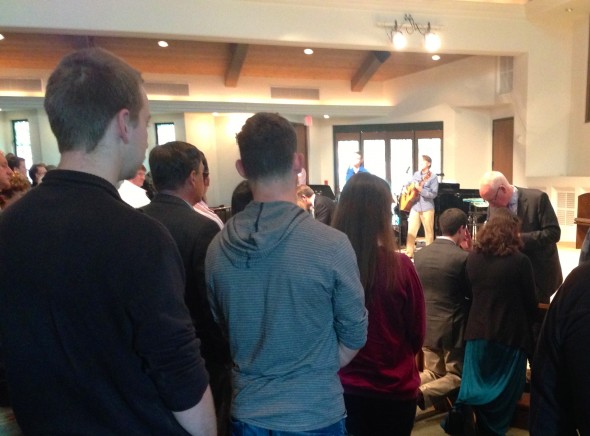 As I perused the bulletin before the service began, I saw that there would be space this week for prayer and anointing. This is not a usual occurrence for us, but as soon as I saw the words, I knew why I was there.
Turns out, a lot of people had the same response.
Even after all the years that church has been part of my life, even after almost 20 years of professional leadership in the church, I am still amazed at how and when the Spirit blows across a room full of people. It stuns me every time.
And every time it happens in this particular community of believers, there is something sacramental happening in the service. Eucharist, baptism, renewal of baptismal vows, anointing.
These physical signs of spiritual truths, these tactile things — they are the pieces that the Spirit of God uses in our midst to move us, shake us out of the pews, stir our hearts. I don't understand it, I just recognize it when I see it.

It's a powerful thing to see people streaming down the aisle to be touched by a pastor. We encourage prayer for healing after every single service, and very few people take advantage of those opportunities. But add oil? Make it part of the service itself?
They came by the dozens. And I went right up there with them.
The sermon leading into this event was built around a text in John 12, Mary pouring a large jar of pure, perfumed oil, spreading it lavishly all over the feet of Jesus. Pastor Don asked us to think about fragrances, how powerful they can be — for both good and ill. And the communion table featured trailing vines of jasmine, sending sweetness into the first few pews.
This is a story close to my heart. The very first sermon I ever preached in my life came from Mark's version, and I preached on John's text last year. (I wrote an abbreviated reflection on it during Holy Week.) And the closing line of my own reflection was right in line with yesterday's theme: ". . . the surest sign of a true disciple is the delicious aroma that permeates every corner of the house."
We had two kneelers in place, two pastors with vials of oil, and we sang. Oh, how we sang. "Holy Spirit, Come," as printed on the screens and one or two others that rose spontaneously as we listened to that Breath of Life within us.
One of the joys of our worship is the participation of lay people in the service each week — in the reading of scripture and the offering of community prayer. Yesterday's prayer was written and offered by one of our resident poets, Professor Paul Willis, whose words always slow me down and make me think. The ones he chose yesterday were strong, muscular, maybe even hard to hear at points. But they were exactly what we needed. 
I invite you to pray them along with us as you read, because this prayer walks right with us, from the sanctuary of togetherness to the sanctuaries that we inhabit all around the city in the days between our gatherings. And those sanctuaries — our homes, places of employment, dorm rooms, school classrooms — these are reminders, too. Reminders that we are, indeed, a sacramental people, body, soul and spirit. . . of a piece.
Lord, so often we are satisfied with mere deodorant
to cover up our stinking selves. 
What would it mean to learn a new fragrance,
to be a new fragrance,
to offer that fragrance to you? 
What would it mean to take pure nard
from the farthest reaches of the Himalayas
and to pour it lovingly over your feet—the feet of our Savior? 
What would it mean to bathe ourselves from head to toe
in the fragrance of our Savior's blood?

Lord, make us each,
remake us each,
into that aroma which will consecrate us,
each one,
into that individual fragrance of holy service
you have uniquely set out for us,
each one of us,
a path of service and holiness
that you have marked out for each of us,
whether that path lead into the High Sierra
or into the lower East Side of Santa Barbara,
whether it lead to the front of the classroom or to the back,
whether it lead to changing laws in the legislature
or changing diapers in the nursery.

Lord, right now we're stinking it up. 
We always have been. 
Fill us with your redeeming fragrance,
and let us offer it back to you. 
Amen.
            — Paul Willis, February 9, 2014
Sunlight through the poppies when we had lunch with 'the moms' after church.
Linking today with Michelle, Laura, Jen and Jennifer