We flew the coop yesterday.
Took off for parts north, ready for a break in the usual,
needing some beauty to refresh, to encourage,
to ready us for what comes next.
Worship was exactly what we needed,
a good send-off for four days away.
We have clearly moved into summer mode
at Montecito Covenant Church, 
with a more relaxed feel, a slight decrease in 
the numbers as college students return home, 
and vacation season begins.
Pastor Jon talked about hospitality,
about creating welcome,
about being the gospel for one another.
And about how our Good Book
paints a long series of pictures
to try and help us understand what it means
to be one who welcomes.
And every one of those pictures
centers on a table,
on shared food and drink,
on feasting and partying and living life fully.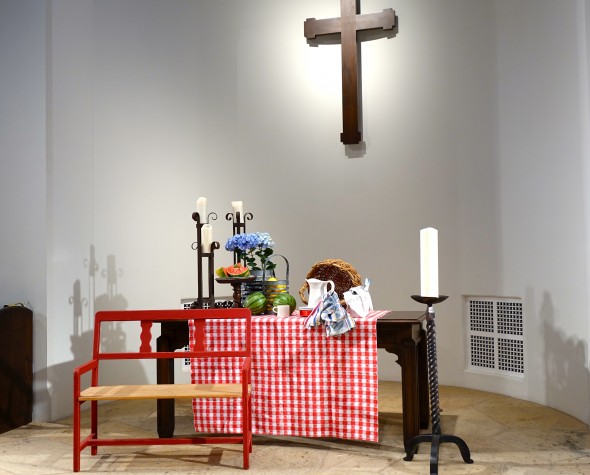 The delightful altar piece brought back strong memories.
In the 1980's, I served as the first chairperson of a newly created
Worship and Arts Committee at our home church in Pasadena CA.
And for a similar service about hospitality,
I had created a table scene for worship,
and that was almost 30 years ago now.
I am so grateful for those years,
for learning and growing,
for the freedom to try new things,
sometimes succeeding, sometimes failing,
but always hearing words of gratitude and encouragement. 
Those dear friends in that dear place welcomed me,
they lived out the truth that Jon spoke in and around and throughout
his excellent sermon yesterday morning.
The truth that,
"Salvation is not a task to be done,
but a meal to be shared and enjoyed,
a delight, not a duty."
It is so easy to forget this,
to fall into the sinkhole of works righteousness,
or to forget to be on the lookout
for 'angels unaware,'
as our text for the morning reminded us.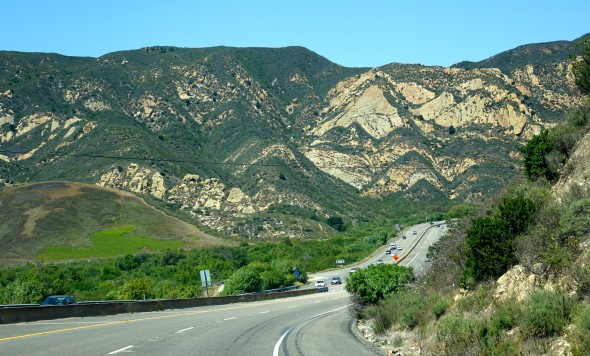 We lunched with "The Moms,"
our practice on Sundays,
smiling and soothing,
encouraging and entertaining.
These good women are among those
with whom we try to practice hospitality
these days. 
And then we began the drive north,
enjoying what's left of the green-up brought
by rains in April but fading fast in the
extraordinary heat of May. 
There are almost as many vineyards as oak trees now,
covering the hills with their sinewy spring growth,
their geometric precision in such sharp juxtaposition
to the wildness of oaks and chaparral.
This is a favorite drive, bringing to mind
our monthly treks north for me to meet with Abbot David,
and how much I miss that man. 
We both acknowledged that
this a trip we needed to take.
I can feel the tension flowing out my husband's fingertips
as he steers the car on these familiar roads.
And as we lug our stuff into our home for the next few days,
we are reminded again of why we do these things,
why we love to travel together,
why getting-away-from-home,
even a home we dearly love,
is good medicine.
We sink with gratitude into the deck chairs
on our small balcony,
breathing in the salt,
and the sea,
and the shoreline.
And we remember.
We remember that marriage is also
a delight, and not a duty.
That traveling through life,
with all its circuitry, its ups and downs,
is richer because we do it together.
We watched the sun setting on the sand,
enjoying an order-in dinner,
settling into this space-away,
welcoming one another.
And it was delightful.
 Joining this one with Kelli Woodford, who has kindly taken over from Michelle DeRusha's weekly check-in, with dear Laura Boggess, and with Jennifer Dukes Lee's Tell His Story, and for the first time, with Holley Gerth's link up, which I just discovered.
And one last time with the wonderful Jen Ferguson and the Soli Deo Sisterhood.