For nearly two years now, it has been my joy and privilege to write once a month for one of the finest and most honest websites in the Christian blogosphere – A Deeper Story. I've got a reflection over there this month that came as a result of so much angry talk out here during this hot and sultry summer. Please follow the links here and at the end of this post to read the entire piece: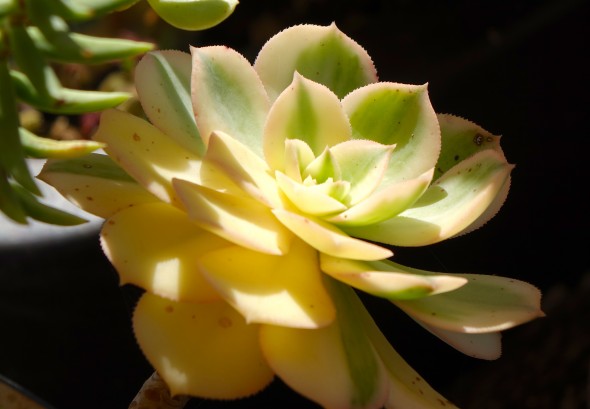 "One thing have I asked of the LORD, one thing will I seek: to live in the house of the LORD all the days of my life, to behold the beauty of the LORD in his temple." (Psalm 27:4, NRSV)
Every day. Honest to God, every single day, it is beauty that brings me back from the brink. Some days, it's the single strongest strand in the invisible net that keeps me from sinking beneath the waves of agony that overwhelm our world on a regular basis.
This life we live can sometimes bring us to a desolate and frightening place. Human beings can be filled with so much hatred and ignorance; the work of the natural world can impinge upon our safety and our peace of mind; racism and sexism and ageism and every other ism you can name — well, they show up in all kinds of ways, both blatant and subtle. There are days when it all feels claustrophobic, paralyzing, too much.
I think that's why I've chosen not to watch the news very much. We don't take newspapers anymore, either. Maybe I'm like the proverbial ostrich, sticking my head in the sand, falsely believing I'm safe, while the ugliness continues to swirl around my very exposed hind parts.
All I know is, I have limits.
I do not like admitting that truth, I'll tell you that. Most of my life, I've worked very hard to push through perceived limits, pushing to excel at whatever I'm doing. Why? Because I really, really don't like limits that are imposed upon me by others, which is at the heart of all those isms I mentioned above, isn't it? Racism, sexism, ageism — one group of people imposing limits on another group of people. And those kinds of limits, I do push back against, gently but firmly.
But I have other limits, ones that I'm discovering in my spirit, in my soul, and they seem to become more and more pronounced as the years add up. There are limits to how much ugliness I can take in, how much vitriol I can absorb. So I generally do not read comment threads that move from discussion to disagreement to name-calling. And I do not follow Twitter fests that quickly degenerate into small bites of not-knowing-much. There are exceptions to this, I know. But for this old broad, the speed and agility with which so many choose to speak is simply beyond me.
In the blogging world, and even on Facebook, I find that I am grateful for friends who can speak back to the ugly, and I try to lend my support with a gentle comment or two, or a Facebook share. But I am discovering that I don't have what it takes to enter the fray and slice through the verbiage with a carefully aimed retort. For most of the last four years, I've been okay with that, grateful to be an encourager and a supporter, a cheerleader on the sidelines, gladly giving way to quicker minds and more articulate voices.
Today, however, at this end of these four years, I wonder: is it enough? Am I doing enough? Do I need to speak up more, maybe even shout more? This has been a matter of prayer and much inner seeking and searching into the depths of my heart and the limits of my courage. . .
Please click here to follow me over to A Deeper Story. . .