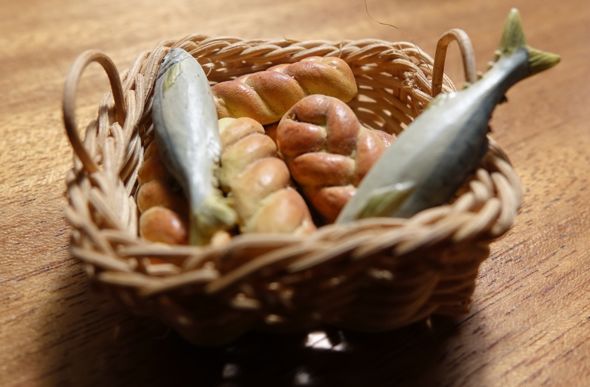 I wrote about these small things in the same post I linked to yesterday. This basket is about two inches square. Two inches. And it contains seven items I chose myself, at a small store that features lots of miniature things.
Can you see what they are? Five loaves and two fish. Exactly the amount of food that the troubled disciples brought to Jesus when the 5,000 were seating themselves on the grass that late afternoon. 
Just a little lunch basket's worth, that's all. Five loaves and two fish. And yet . . . there was enough. More than enough.
I find myself feeling like those disciples way too often. Doubting the Lord's goodness, doubting the Lord's willingness to 'feed' me, doubting the Lord's power and ability to provide what I need. Maybe you do, too.
I bought this little set just a few months into my job here in Santa Barbara. I was feeling overwhelmed by all there was to learn, all there was to do. And I needed a visible, tactile, small reminder that God is faithful. That little basket is one of my favorite possessions. God has used it to remind me, over and over again, that there will be provision. Maybe not exactly as I dreamed it or thought I needed it, but there will be. 
How do you remember the faithfulness of God?