It was a privilege and a joy to rejoin our home church yesterday morning as the preacher for the day. This is the place where we raised our family, where we are known well. They find themselves in another interim period and there was one text among all four for yesterday that just seemed perfect for this time of transition they find themselves in.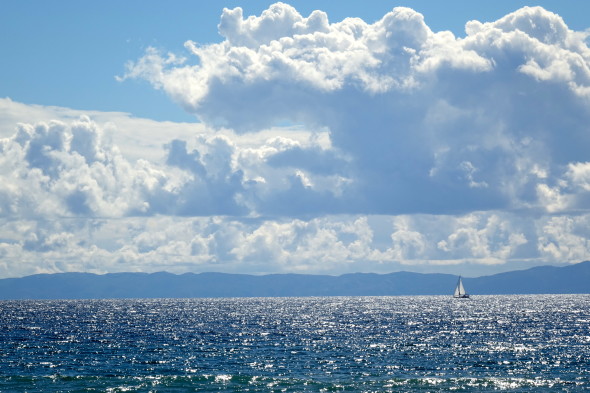 "Telling It Backwards and Forwards"
Hebrews 11:29-12:2
Preached at Pasadena Covenant Church
August 14, 2016
Diana R.G. Trautwein
Listening to the lectionary texts for this week, you might think that today's sermon would be full of doom and gloom! Jim read for us some pretty discouraging words from the prophet Isaiah, words about God's Vineyard. Even the gospel reading Melissa did for us sounds a bit harsh to our ears, those particular Jesus-words from the gospel of Luke.
The vineyard of ancient Israel, God's hand-picked beacon of a people, was disgustingly low on fruit, and God has had it up-to-here with them. Pretty bad news.
And our gentle, peace-loving Savior — talking about bringing swords and fire and all kinds of muck and mayhem. I'm guessing this one is not anybody's favorite gospel passage. Again, sounds a whole like bad news.
And then, there's the bad news all around us, all the time, as we look at the world we live in today — which, in reality, is pretty much like any other 'day' in history you might choose, I suppose. We're not likely to see a lot of good news out there either, are we?
It seems that we human creatures have this knack for messing things up, sometimes in spectacular ways. And if the Spirit had pushed me to consider any of the other three texts for this morning, I have a hunch the sermon you're about to hear would be different from the one that came to me in pieces over the last couple of weeks.
Before my husband and I left on what turned out to be a strenuous (but incredibly beautiful) 18 days of vacation, which took us out of state for most of the month of July, I selected the New Testament epistle reading as the focus for this morning's primary truth-telling time.
I chose it for a couple of reasons – first of all, I chose it because it is not radiating with what sounds like bad news, though it doesn't shy away from the realities of life in any way. I don't know about you all, but I, for one, am more than a little bit tired of the bad news we hear so much about, every minute of every day, in this negative campaign season we are slogging through. It seemed like the words of The Preacher to the Hebrews might provide a bit of a different worldview from what is being televised, broadcast, texted and tweeted on all sides these days.
So that's one of the reasons for this choice today. But the primary reason I chose this text is because . . . I love it — it's one of my favorite sections in all of scripture and it has been for a long time. So let's dig into it, okay?
The book of Hebrews is a curious one. Folded in with the epistles at the back of our New Testament, it reads more like an extended sermon, one written for a congregation going through a tough time. This sermon-in-13-chapters was probably delivered in a pretty narrow time frame, with some scholars guessing at 64 to 70 A.D. The original readers were part of a church of Jesus located somewhere east of Jerusalem and they were experiencing a virulent wave of persecution, with no end in sight.
These Hebrew believers were wondering if it was worth it to hang in there, to 'keep on believin.' Maybe it was time to just fold their tents and quietly slip away into the gathering darkness. Maybe it was time to give up the faith.
NO, says the Preacher. No. Remember where you came from, concentrate on where you're headed, and run the race.
 Run. The. Race.
Despite what some quarters of the church might wish us to believe, we here in the United States of America are not in any way, shape or form being tortured for our faith. Yes, indeed, there are some decisions, values and attitudes which can make us feel sidelined, maybe even occasionally discriminated against — but, in truth, compared to these 1st century believers, we are persecution-free.
Yet, we 21st century believers still struggle, don't we? Sometimes we, too, wonder if it's worth it to hang in there, to keep walkin' the talk. Life can be challenging — and the journey is not guaranteed to be pain-free. In fact, all of us — every one of us in this room — knows what it feels like to be discouraged, to feel weighed down by the cares and concerns of this world, to wade through the morass of personal grief and loss, to wonder if we can actually put our foot out there again, the one that needs to take the next step in the road.
So, despite the differences in our settings, I think this congregation of believers in downtown Pasadena needs to hear these words every bit as much as those wonderers and strugglers somewhere in the ancient middle east.
We step into this written sermon very near the end of it. The Preacher has been doing some heavy-duty teaching about the connections between the Old Covenant and the New, pointing out the remarkable ways in which Jesus Christ is the fulfillment of God's plan to rescue humankind from our own brokenness and sin.
As the chapter which contains our reading begins, our Preacher gives us a beautiful definition of what the word 'faith' means. It's found in verse one:
"What is faith?" he asks. "It is the confident assurance that something we want is going to happen. It is the certainty that what we hope for is waiting for us, even though we cannot see it up ahead."
What follows from that definition is a veritable roll call of people from Jewish history. It's a specific and fascinating list, containing both men and women, scoundrels and saints, almost all of them introduced by one word in the Greek: pistei – which means, 'by faith . . .'
Our text for the morning picks up at verse 29 and continues through the 2nd verse of chapter 12. If you have your Bible, please turn and follow along with me. I will be reading from the New Living Translation"
29 It was by faith that the people of Israel went right through the Red Sea as though they were on dry ground. But when the Egyptians chasing them tried it, they all were drowned.30 It was by faith that the people of Israel marched around Jericho seven days, and the walls came crashing down.31 It was by faith that Rahab the prostitute did not die with all the others in her city when they refused to obey God. For she had given a friendly welcome to the spies.

32 Well, how much more do I need to say? It would take too long to recount the stories of the faith of Gideon, Barak and Samson, Jephthah, David and Samuel and all the prophets. 33 By faith, these people overthrew kingdoms, ruled with justice and received what God had promised them. They shut the mouths of lions, quenched the flames of fire, and escaped death by the edge of the sword. Their weakness was turned to strength. They became strong in battle and put whole armies to flight.35 Women received their loved ones back again from death. But others trusted God and were tortured, preferring to die rather than turn from God and be free. They placed their hope in the resurrection to a better life. 36 Some were mocked and their backs were cut open with whips. Others were chained in dungeons. 37-38 Some died by stoning and some were sawed in half; others were killed with the sword. Some went about in skins of sheep and goats, hungry and oppressed and mistreated. They were too good for this world.39 They wandered over deserts and mountains, hiding in caves and holes in the ground. All of these people we have mentioned received God's approval because of their faith, yet none of them received all that God had promised.40 For God had far better things in mind for us that would also benefit them, for they can't receive the prize at the end of the race until we finish the race.

12 Therefore, since we are surrounded by such a huge crowd of witnesses to the life of faith, let us strip off every weight that slows us down, especially the sin that so easily hinders our progress. And let us run with endurance the race that God has set before us. 2 We do this by keeping our eyes on Jesus, on whom our faith depends, from start to finish. He was willing to die a shameful death on the cross because of the joy he knew would be his afterward. Now he is seated in the place of highest honor beside God's throne in heaven."
The word of the Lord
 If I didn't know better, I might suspect that this preacher had some training in the African American tradition. Did you hear the cadences? The rhythms? The litany, the roll call, starts slow, then picks up speed and finally just seems to cry out for a little call and response, don't you think?
Verse 29 starts out with specific names and events — and I want you to notice a few things about those specific names. Do you recognize them all? Well, David, for sure. Probably Samuel, and if you have a Sunday School background, you've likely heard of Sampson and Gideon.
But Barak? In that particular story – at least as I remember it — the hero is a woman, a judge named Deborah. And Jephthah? That guy who made a foolish vow, one that God never asked him to make, and then had to put his gorgeous daughter to death as a result? Yeah, that's the one.
And then there's the prostitute on the list! Rahab is also listed in Matthew's gospel as part of the genealogy of Jesus. No way does Matthew talk about her history of prostitution, however! Yet this preacher takes pains to remind us of that truth. Why do you suppose that is?
Well maybe it's to remind his listeners that nobody's family tree is perfect. We've all got some wacky cousins out there somewhere, don't we? And we in the church are no exception. Truth be told, we're all a little wacky, in our own, unique way, aren't we? BUT no matter how wacky we may be, every one of us is given the same gifts of grace, every one of us is invited to follow in the footsteps of Jesus, every one of us has a part to play in the telling of this amazing story we cling to.
Dick and I were an active part of this body of believers for 21 years. We've been attached to some of you for another 20 years, always happy to read the list of prayer requests, coming to as many memorial services as we can manage, praying for you all regularly. And this last week, we began to make a list of all the wonderful and wacky saints whom we know from this community who are now a part of the 'cloud of witnesses' described in this passage. I know we've missed a lot of people on our list, so I want to invite you, right now, to help us fill in the gaps. I invite you to call out names of those who've moved from this life to the next, women and men who were a part of this family of faith. Let's see how many we can come up with in a minute or two:
(Names rang out from all around the room and I very quickly read through our list.)
Now stop for just a minute.
Stop.
Hear those names ringing around this room. Close your eyes and see those whom you know and love, see them living their lives of faith, wacky and weird and wonderful as they each were. Breathe in deeply. And say 'thank you, thank you, thank you,' for the glorious truth that we — those of us in this room, at this moment in time and history — we had the privilege of watching each of these people live out their faith, imperfections, mistakes and all. These dear people are our witnesses, ones who tell us the story of faith from our past, ones we carry around with us every minute of every day until we are reunited with them in the New Creation. Thank you, God. Thank you!
I want to invite you back into the text now, and point out that after this specific list of witnesses from the past, this list of those who were faithful, the sermon shifts gears a bit and becomes much more generic — no more names, just situations from our shared history as followers of Israel's God. And then, there is another dramatic shift, and this is an important one — there is a shift from positive outcomes of faith to negative ones. And the contrast is stark.
No more battles won, flames extinguished, the dead brought back to life. No. Now we hear of death and persecution, of torture and hunger and pilgrims wandering the world in abject poverty and disgrace.
Both outcomes are possible, friends. Both. There are no guarantees of a suffering-free life to be found anywhere in our gospel. In the reading from Luke, Jesus tells us that truth, too. As we heard, Isaiah the prophet warns Israel of bad times to come.
Even the psalmist in Psalm 80, which is also on today's lectionary list, asks a heart-rending question, one that feels familiar to all of us on some days:
 "O Lord God of hosts,
    how long will you be angry with your people's prayers?
5 You have fed them with the bread of tears,
    and given them tears to drink in full measure.
6 You make us the scorn of our neighbors;
    our enemies laugh among themselves."
There is no room here for health-and-wealth, prosperity-gospel, the power-of-positive-thinking. There is not. But, oh, friends. There is room for joy. There is room for purpose.There is even room for contentment, no matter what the particular circumstances of our lives may be at any given moment. And we find that room in the last transition of the passage before us today. Chapter 12 takes us there, with power and with hope. "Therefore," the preacher cries out.
Oh, what a powerful word! Therefore, because we have this 'cloud of witnesses,' these people from our past who speak to us of faith and endurance, of commitment and completion, we ourselves can enter the arena of life and run the race that is set out before each and every one of us. He's told us the backwards part of this race — the human foundation upon which we stand, the storyline that is uniquely ours.
Now, he says, enter the fray, secure in your unique place in the line-up of God.
Yes, life can be discouraging, even frightening. Suffering is real and pretty much guaranteed to every member of the human race, but . . . there is a hope which keeps us going. There is a scarlet thread, a bright cord — to borrow the image from the story of Rahab — there is a lifeline. We find it when we turn always and forever toward the future that awaits us. And the best way, indeed, the only way to make that turn is to turn our eyes upon Jesus.
The old gospel song got it right. It's an oldie that I sometimes sing with my mom, who is 95 years old and suffers from severe dementia. She is nearly blind, almost deaf, hasn't a clue who I am, beyond the fact that she loves me and enjoys going out to lunch when we load up her walker and head out twice each week. It's been a tough thing to watch her disappear, and yet . . . there are such lovely pieces remaining. One of them is her deep faith in Jesus, and one of them is music. She remembers the 1st verse and chorus of lots and lots of old hymns! And this one is a favorite for both of us. Maybe you know it, too? Sing it with me . . .
"Turn your eyes upon Jesus,
look full in his wonderful face.
And the things of earth will grow strangely dim,
in the light of his glory and grace."
Pretty much exactly what the preacher is talking about in 12:2, don't you think?
We need to tell one another the stories of our past, oh, yes, we do. But even more than that, we need always to turn our eyes forward, toward the Savior who beckons us, to look at the One who went before us on this journey. Jesus, who endured such suffering and shame, and yet who radiated the love of God everywhere he went.
Henri Nouwen's words came into my inbox every day and this last week, these particular ones went right to the center of me:
"Jesus is the savior of the world.
We are not.
We are called to witness, always with our lives and sometimes with our words,
to the great things God has done for us.
But this witness must come from a heart that is willing to give
without getting anything in return.
The more we trust in God's unconditional love for us,
the more able we will be to proclaim the love of Jesus
without any inner or outer conditions."
 Something about that little paragraph makes me wonder if the 'entangling sin' the preacher talks about in that last verse of our text today might be something like this:
an unwillingness to believe that God loves us, exactly as we are, and to trust that God is continually at work within us to form us into whole, healthy, loving, giving people who bear a striking resemblance to our Elder Brother, whose name is Jesus.
We are admonished to 'strip down' in these last verses. And if you take all the extras away, that, for me, is the GOOD NEWS in a nutshell:
God loves us as we are, God is at work within us to form us into our truest selves, which will look more and more like Jesus himself. Now WE are called to be the love of God at work in the world.

We are called to live loved.
That's it, the stripped down version, the ready-for-the-race truth of it all. The best news I know anything about.
It is Jesus himself who leads the way into that stadium, my friends. The ones we love who've gone before us are important parts of our story and it is oh-so-good to remember and celebrate them. But it is Jesus who is the pattern, Jesus who is the forerunner, Jesus who is the Savior.
And together — all those who've gone before us and all those who will come after us — together, we will be saved, we will be safe, in the best and most ultimate sense of that word.
Because Jesus' entry into history marks the biggest transition ever recorded anywhere by anyone. Slashing through space and time, our Divine Visitor came to call us home, and with his life, with his death, with his resurrection, he showed us how to get there.
Don't give up, the Preacher tells those 1st century believers! It's gonna be scary, it's gonna hurt, its gonna be hard. But don't give up. "Look at Jesus," he challenges them. Remember his life of love, remember how he endured such shame and torture for you, remember how he loves you. Remember that he prays for us, sitting now at the right hand of the Father. Remember that he roots for us as we run the race before us.
Keep telling the story, Hebrew believers.
Keep telling the story, Pasadena Covenant Church.
Yes, tell it backwards — remember who you are and where you've been. Celebrate all of it. Give thanks for all of it. And then, tell it forwards. Look to Jesus to lead you, to set the pace, to take you the distance. You find yourselves in an in-between time . . . again. And that's a hard place to be. But it won't be forever. The story is not over.
Look!
The crowds are cheering! There are hundreds of us, thousands of us, believing in Jesus and believing in you. God is not done with storytelling through this congregation, not by a long shot. And I can't wait to see what the next chapter of that story looks like in this good place. Can I get an amen?
Amen!