I want to begin by saying that I am FLABBERGASTED by and deeply grateful for the response to last Friday's introductory post in this . . . shall we call it a series? I want to call it a conversation, one in which we can share questions, ideas, concerns, without ever doubting anyone else's sincerity or questioning one another's commitment to growing in grace. I also want to state very clearly (and undoubtedly, will do so again) that I do not pretend to have answers to All.The.Questions. I don't think that is possible or, quite frankly, even desirable.
We are works in progress, designed by God to search and seek until we are found. I hope you will consider this space a safe one for exploration, wondering and discussion. And I'm pretty sure that those of you who are here are not interested in argument, in fact are exhausted by it. So. . . may this be a place for stories, for honest questions, for differing opinions . . . but not a place for theological arm-wrestling. We're all pilgrims on the way, and it's good to walk that way together, don't you think? I have barely scratched the surface of this week's topic, and I will be looking at it again in this conversation, I'm sure!
Next week's question?
What's with this 'more of Jesus, less of me' stuff?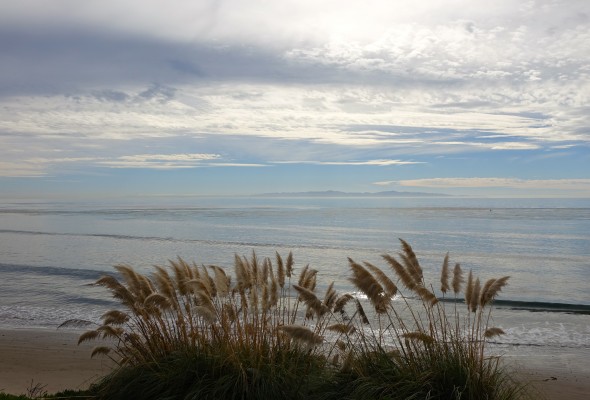 Surf's up! And the water looks great. So grab your board, find a trail down to the beach and let's venture out into the deep, blue sea.
Safety first, however.
Remember that the ocean is vast, extends way beyond our view, is deeper than we can imagine and can sometimes prove treacherous. Even if we're waiting right next to each other for a new set of waves, each of us will have our own experience.
We'll use the same general skill set, grapple with similar pieces of equipment, and wave at one another when the next swell rises. But when we catch that ride, we're on our own, finding our way back to the beach.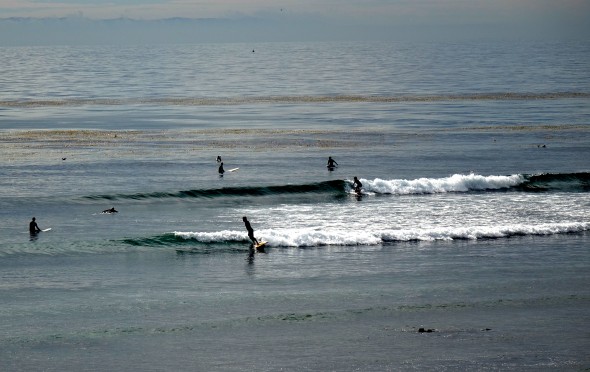 We can share with one another helpful hints, scary stories, good (or bad) memories of past ventures out into the deep. And that's a very good thing, that sharing. We can teach each other, learn together, experience the rolling of the water as a team. But what we cannot do is make assumptions or hold onto unrealistic expectations about any of it. We're all finding our way. And by the grace of God, we'll discover reservoirs of courage and grace we didn't know were possible.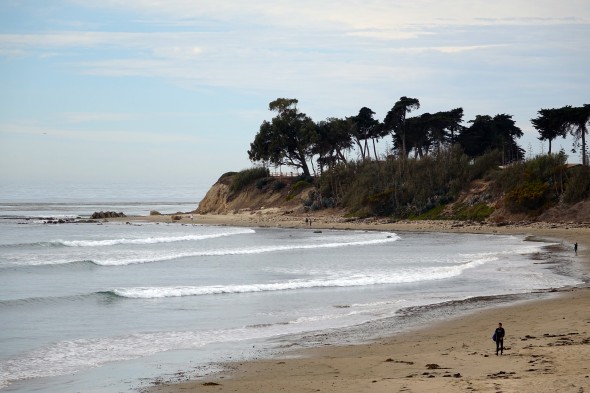 So, bearing all that in mind, let's push our way out into the deeper water for a while. 
Earlier this month, I wrote a one-word post for 2014, bemoaning the fact that the word I was given is NOT a favorite of mine. It's a word that carries piles of negative freight, instills fear in the hearts of toddlers, and frustration in the minds of most adults. It flies in the face of what we believe is the highest value known to humanity: freedom. 
My 2014 word is this one: obedient.
I've wrestled with this word for most of my life, my rebellious heart resisting the very sound of it. Strangely enough, however, I have lived my life in an outwardly obedient way. I never did anything as a teenager that brought angst to my parents. Yes, I was outspoken, given to crying jags, and beginning to pull away from a wonderful but sometimes invasive mother. Still, I was a good girl.
A very good girl.
There was a problem with that, however, and it took me a long time to figure out what that problem was. Yes, I was obedient to the 'rules,' both written and unwritten. The rules of my family, my culture, my church environment. I was downright dutiful in many ways, helpful around the house, caring for my much-younger brother, getting good grades in school, not experimenting with anything. I learned to conform, to live up to the expectations of all kinds of others, and I worked hard to be pleasing, lovable, accepted. I had a clear picture of right and wrong in my mind and I toed the line conscientiously. Sometimes too conscientiously.
Yes, indeed, I was obedient.
But I don't think I had a clue what that word meant. In fact, I'm still learning, unpeeling layers, redefining terms. I had internalized a long list of rules as a young kid, and that list just kept getting longer as I moved through high school and college. A few of those rules are part of my life today — I've learned that boundaries and limits can sometimes be gifts, giving shape to life, and hope in the midst of confusion.
But the problem with a too-long list of rules is that it can become like that many-headed water monster of old, the Hydra, the one that grew two heads for every one you cut off. Before you know it, you can find yourself gasping for air, the very life sucked out of you as you frantically try to contain all of life's contingencies in their own secure, little boxes.
Here is just one, small example. Very personal to me, not necessarily applicable to you.
I began teaching Bible studies when I was 14 years old, immersing myself in devotional reading, prayer, journaling. And I kept teaching Bible studies, off and on, for the next fifty years. FIFTY YEARS. And I loved it. For one thing, it kept me 'in the Word,' which had been drilled into me as the most important rule of all, to be in that Word every day of my life. I am grateful for the depth of my own experience with scripture and I love it dearly.
But a funny thing happened when I retired from pastoring: I stopped doing daily devotional reading. And you want to know something even 'funnier?' I believe I was being obedient when I did so.
Okay. Now catch your breath, close your mouth and relax.
I still read the Bible. I still love the Bible. I even still study the Bible, though not as often as I once did.  But I know now, three years into this strange land called retirement, that daily reading had become a 'list' item for me, one that had to go, at least for a while. Why? To draw me deeper into the heart of God, that's why. To teach me — again — that obedience is not about adhering to a list, not about earning my way to grace, not about proving myself worthy.
For hundreds of years, people followed Jesus with their whole hearts without ever — EVER — holding a Bible in their hands and reading from it by themselves. Sometimes we forget that truth. I do not mean to diminish the remarkable gift that is ours in this book we call holy — it is the very breath of God and a primary means of encountering God in this life. I am grateful for it every day of my life.
But following a reading plan, in obedience to some inner call to toe the line, be a good girl (or guy), to check those fifteen minutes off the list, to prove to myself, or heaven help me, to God, that I am worthy of love and grace? Not good. Yes! The discipline of reading the Word is important, especially in the earliest years of faith commitment. But doing it in response to an internalized list of rules does not necessarily lead us into God's heart. 
And that's where this word 'obedience' can get tricky, isn't it? Obedience to what? To whom? To an ever-growing external or internal list of acceptable behaviors? Or does it look more like this: learning to listen to the voice of Love within, and to follow where Love leads.
This is where Jesus tells us we are to look, this is how we're called to listen: to love God, and to love others as we love ourselves. Our dear Lord took the shining sword of his own sweet tongue and sliced through the multitudinous lists of the professional religious folk all around him when he said this: 
"'Love the Lord your God with all your passion and prayer and intelligence.' This is the most important, the first on any list. But there is a second to set alongside it: 'Love others as well as you love yourself.' These two commands are pegs; everything in God's Law and the Prophets hangs from them." – Matthew 22:37-40, The Message
Now that is a very short list.
So this is how this small facet of obedience is unfolding in me at this juncture of my life, at this end of fifty years of immersing myself in the Word of God. Over those years, I memorized some good-sized chunks of God's word. And much of it, I still remember. During these last three years of digging deep instead of spreading wide, I've been grateful for that memory work. Most days, I chew on phrases — sometimes just a single word! — from that memory bank, and I ponder them while I walk, focus on them when I sit in contemplative prayer. I think I spent about four weeks just holding the word 'glory' in my mouth and in my heart, amazed at all the ways in which I could see it shimmering all around me.
Being obedient to this strange new call has brought profound reminders of who I am and who God is. I am grateful that as I move into the next decade of my life, I am slowly re-learning that God calls us to relationship, not a head trip; to transformation, not information; to love, not lists.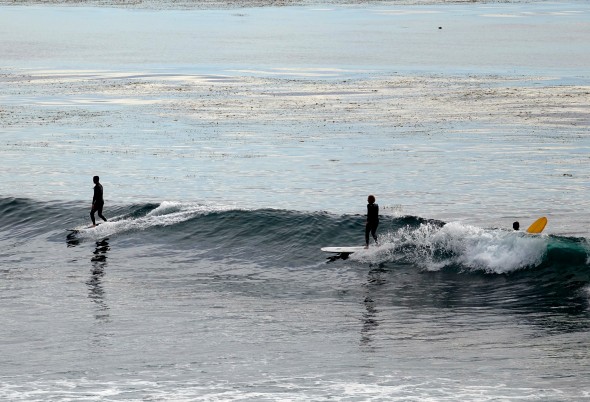 So, you over there, the one riding the board next to me? What is God teaching you about obedience these days? What further questions are being raised as you think about it, or as you read my thoughts? Share in the comments OR join your own blog post about this question by linking up below.
Next week's question, for Friday, January 24th:
What's with this 'more of Jesus, less of me' stuff?
And here, thanks to the hard work and creative genius of my friend Lyla Willingham Lindquist, is your choice of a button or two to put on your own blog as we walk through these Q & A times together: