So. It's been quite the weekend. Beautiful weather on Saturday, with a little fog wiggling its way along the shoreline, clearing to bright blue skies above city and mountains. A drive by the Old Mission reminded me that spring has indeed sprung, with the Mission rose garden sending glory sparks all round. Brilliant blooms, redolent and heavy with sun and scent.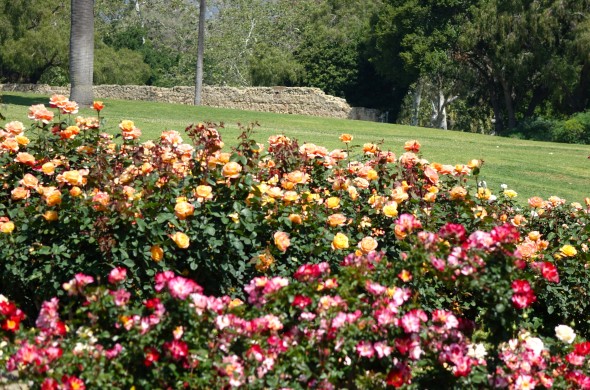 And Sunday morning began, as it usually does with pre-worship on the bluffs. This week, there were dolphins. Dolphins! Creatures who speak to me of God with their beauty, grace and sense of fun. I loved catching this glimpse of a shiny tail, splashing the surface.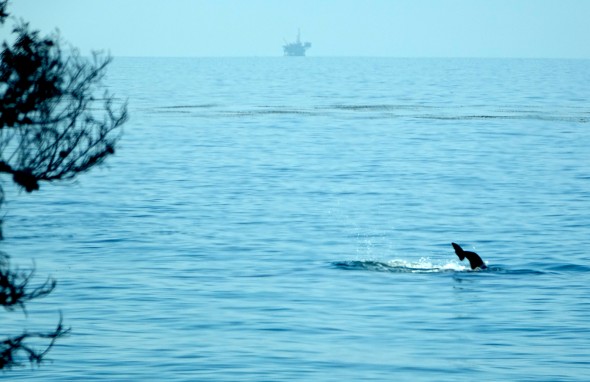 Turns out, there was an entire pod making its way south, rolling and skimming along. As I watched them frolic, I had quite a lengthy conversation with God (courtesy of my iPhone notes app) about my own struggles right now. And for the second time during this Lenten season, I was reminded that sometimes resurrection requires death, healing needs a kind of dying first. Not exactly the answer I wanted to hear, but I tried to take it in with a semblance of grace and acceptance.
Just before I left to drive up the hill for worship, an acorn woodpecker dropped onto a low-hanging branch and tapped away. His cheerful topknot doesn't show against the intense morning sun, but I caught glimpses of it a few times. Woodpeckers don't usually come so low, so close to the ground and us human creatures. They're notoriously shy, despite their noisy presentation, so I was glad to see this guy at eye level.
The sanctuary had been transformed for our Palm Sunday celebration. The dry branches of Lent gave way to deep green palms, potted plants, lighted lanterns, setting the garden scene beautifully as we walked into the sanctuary.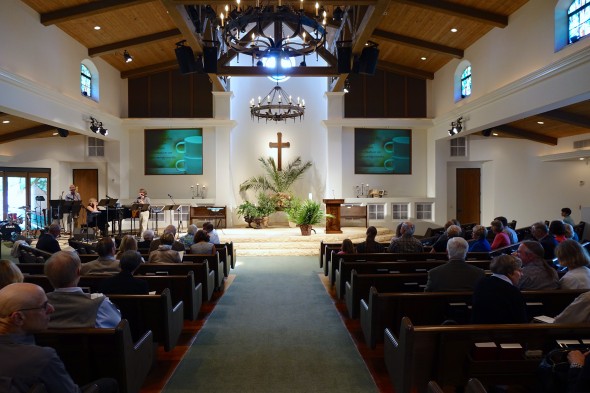 We've been creating our own lectionary this year, moving through the gospel of John since last September. John doesn't tell the story of the triumphal entry; he enjoys playing with the timeline, shifting the emphasis, creating a beautiful, literary, deeply theological gospel. He puts the table-turning — an event which follows right after the palm procession in the other gospels — way back in chapter two, establishing early the picture of a muscular savior, moving steadily towards his final glory, on that hill outside the city gate.
This week, this beginning of Holy Week, we were at chapter 18 and standing with Jesus in the garden. That garden of prayer and betrayal and arrest, a scene painted in strokes of agony and grief and failure by the other story-tellers in our New Testament. But John? He gives us such a different picture! Jesus has prayed for all of us in the preceding chapter, a prayer for his friends and for us. So there is no praying in this garden scene. Instead of sweating-drops-of-blood, we meet a take-charge Jesus, a man who knows his destiny and strides toward it with commitment and energy. 
It's a seminal moment, this meet-up between Jesus and the soldiers. The soldiers who were led there by one of Jesus's own. And Jesus meets them head-on, asking a clear question: 
"Who are you looking for?"
Two times he asks. And two times, they answer, "Jesus, the Nazarene." Each time, he says clearly, "I am he." The second time, he even adds these words: "If it's me you're after, let these others go. . ." releasing his disciples. In John's version, they do not flee, they are set free.
They are set free!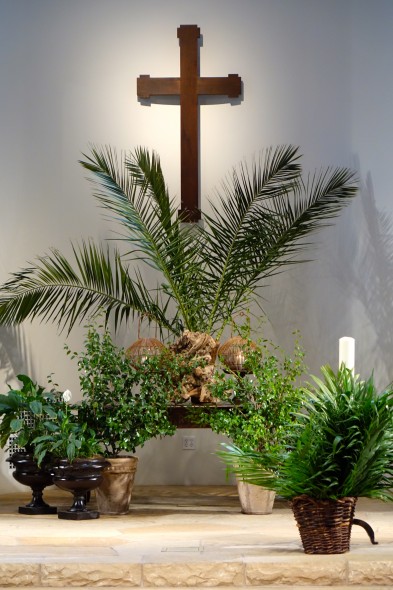 Peter — of course,  it would be Peter! — whips out his trusty sword and cuts of the ear of the servant of the Chief Priest. And Jesus will have none of it. NONE. He turns and says ferociously, "Do you think I will not drink this cup? This cup given by my Father?"
This is one strong dude here. A man who sees his future clearly and embraces it, suffering and all. Not because he is a glutton for punishment; not because the Father is a sadist of some sort; not because the forces of Rome and religion are victorious and he is a loser. NO. 
Those who arrest him, even he who betrays him — these are not the enemies in John's rendition. They are the necessary implements who put God's redemptive work into action, the players who take Jesus down that road to the cross and eventually, to another garden. The EASTER garden. The one where we learn the powerful truth that we are indeed free. Free at last!
In John's telling, Jesus is Christus victor, the one who triumphs over sin, death, the grave. Over brokenness, betrayal, pain. Over anxiety, depression, illness of all kinds. Over it all. 
And he does it without flinching, without second-guessing, without question. 
For me, this year, this is the picture I need. It is yet another reason why I am so deeply grateful for all four of our gospel accounts, for their unique vision, purpose, structure, story-telling.
Some  years, I need to read about Gethsemane — to weep with Jesus, to pray fervently, to try to stay awake, to be faithful.
But this year?
This year, I need to hear Jesus say, "Who are you looking for?"  And I need Jesus to tell me I am released — I am set free, I am blameless. And I need Jesus to model for me courage and commitment and unflinching resignation — no, scratch that. Unflinching welcome of the pain that lies before him.
An embrace of the dying that is to come, looking ever forward to RESURRECTION.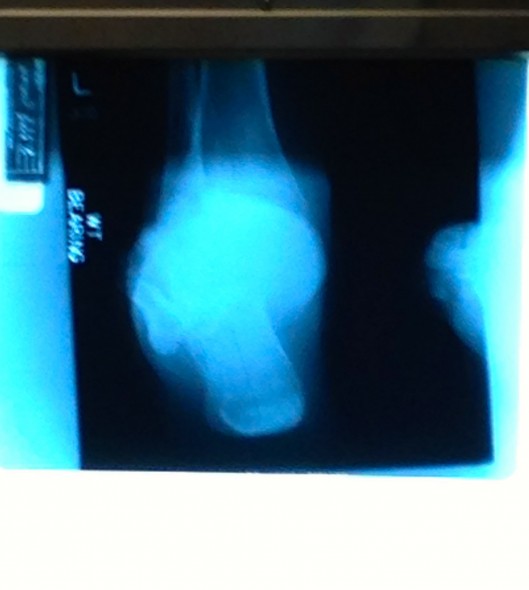 Headed into surgery on this foot in early June to repair (hopefully) a badly torn tendon
and to break and reset a congenitally off center heel bone.)
I need to hear the "I am," the clear, calm cry of identity that John puts into the mouth of our savior at least eight times throughout his gospel. "I am" — he tells those who will listen — I am the living water, the bread of life, the light of the world, the gate for the sheep, the good shepherd, the resurrection and the life, the way the truth and the life, the vine.
And here, right here in that last garden?  "I am," says Jesus. "I am the one you seek." 
That old, strong, breath-filled name that the God of Israel gave to Moses. That name that could not be spoken, but only breathed. That name, that name. "I am."
Oh, Jesus.
Be the "I am" in my life!
Stride right through the pain and confusion, the uncertainty and the fear, the injury and the hard work of breaking and mending. Help me to see you, strong and steady. Help me to hear you, clear and calm. Help me to know you, to know you.
To see and remember the beauty of the roses, the joyous abandon of the dolphins, the cheerful tapping of the woodpecker, the green beauty of the palm fronds, the flickering lamps of the soldiers, and your gift of freedom and release to those who are your friends.
Thank you that you call me exactly that, your friend. I'm counting on that.
My deep thanks to Don Johnson, Jon Lemmond, Bob Gross, Martha Johnson, Jeanne Heckman and every member of the worship team and the office/administrative staff who contributed to yesterday's celebration. I look forward to the events of this whole week because of your dedication and creativity.