The title of the post comes from this idea in the historic church:
"The image of Christ and his disciples in a boat is traditionally used
for the symbol of Christ and His Church.
In Latin the word "navis" means ship from which derives the word for the Nave of the Church."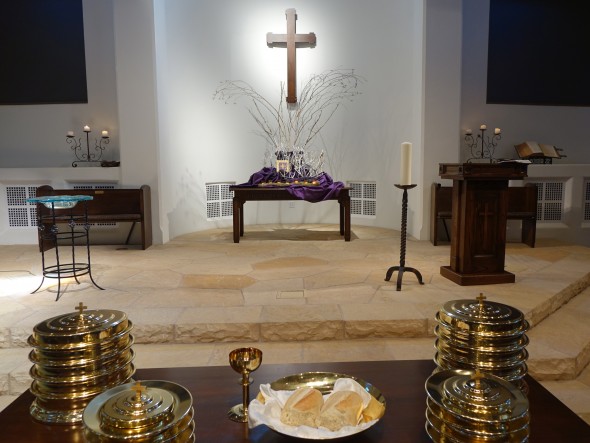 We flipped things around in worship last Sunday.
Communion came first, sermon came last.
For me, that change turned out to be a powerful,
thought-provoking exclamation point to a lot of things
that have been churning around inside me
for the past couple of weeks.
We passed the trays on Sunday.
Not my favorite way to participate in this sacrament,
but the instructions included something new,
something that made this time-honored,
possibly-more-convenient,
definitely-less-messy way of celebrating the Lord's Supper
a little bit more palatable for me.
We were invited to say the words to one another.
This is not something we normally do,
so right out of the chute, we were experiencing
a little cognitive dissonance,
a gentle stirring of the usually placid waters
that mark our times of community gathering:
We went to the table first, instead of last.
And each one of us was asked to say,
"The body of Christ,"
"The Blood of Christ,"
to our neighbor.
Coming out of the last two weeks on the Christian internet,
those two small changes spoke volumes into my soul.
Why?
Because way too many of us have lost sight of the big picture,
the glorious, beautiful, flawed but remarkable
Big Picture.
And this is it —
WE BELONG TO ONE ANOTHER.
Every one of us who calls upon the name of Jesus,
who chooses to follow in the footsteps of that
strange and wonderful rabbi,
is part of ONE family.
ONE.
We may not agree on every point of doctrine,
we may enjoy differing worship styles,
we may live in wildly divergent cultures,
with very different standards of living,
lifestyle choices,
abilities and disabilities,
preferences and political parties and points of view.
But we are ONE.
The Body of Christ.
The church.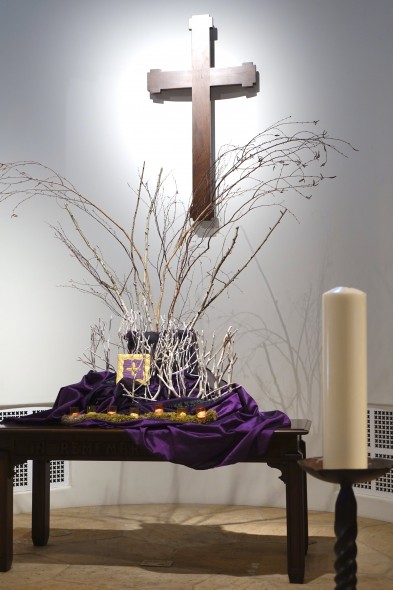 And when we begin sniping at each other,
undercutting, criticizing, taking sides, name-calling
for any reason —
any reason —
then we have missed the boat,
refused to see the Big Picture,
and engaged in thinking, talking and doing
the very things that Jesus himself prayed we would not.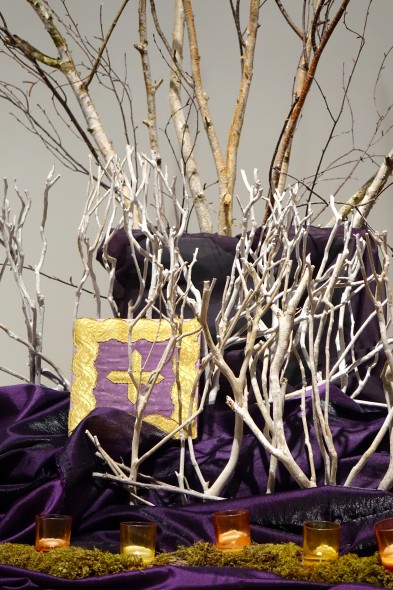 Our text, both Sunday morning and Sunday evening at our monthly Taize Service,
was taken from the 17th chapter of John's gospel, verses 20-26:
 "My prayer is not for them alone.
I pray also for those who will believe in me through their message,
that all of them may be one,
Father, just as you are in me and I am in you.
May they also be in us so that the world may believe that you have sent me.
I have given them the glory that you gave me,
that they may be one as we are one–
I in them and you in me–
so that they may be brought to complete unity.
Then the world will know that you sent me
and have loved them even as you have loved me.
"Father, I want those you have given me to be with me where I am,
and to see my glory, the glory you have given me
because you loved me before the creation of the world.
"Righteous Father, though the world does not know you,
I know you, and they know that you have sent me.
I have made you known to them,and will continue to make you known
in order that the love you have for me may be in them 
and that I myself may be in them."
Jesus was praying for us that night,
all of us.
Our pastor reminded us that the opening verses of this chapter
contain Jesus' prayer for his circle of friends, 
those whom he had called to be with him,
walking those roads,
seeing those miracles,
hearing that voice.
But in this last segment of the prayer,
he prays for ALL of us — 'those who will believe. . .'
And dear friends in Jesus,
that means
EVERY SINGLE ONE OF US.

There are lots of people writing on the internet,
serving Jesus in a variety of capacities,
offering hope and healing through a long list
of charitable and church-based organizations.
Many of those friends would not see eye-to-eye
with me on a long list of topics.
But on this one thing,
this one central thing,
we are ONE:
Jesus is LORD and JESUS is the hope of the world.
And each one who hangs their life on that sentence
is a 'relative' of mine
and of yours.

It's not easy, sometimes it's not even pretty.
But it is TRUE.
And here's what else is true — the way we are one,
now hear this, please —
THE WAY WE ARE ONE
IS HOW THE 
MESSAGE OF THE KINGDOM OF GOD
IS CONVEYED TO THE WORLD.
Did you catch that in the beautiful prayer-words of our Savior?
The way in which our unity reflects the unity of the Trinity
is exactly the way in which the love and grace of God Almighty,
Father, Son and Spirit,
is transmitted most effectively into the world
that does not yet know about it.
"Then," Jesus says,
"Then the world will know
that you sent me."
Can it be any clearer than that?
 I can think of no more powerful symbol of this unity 
than sharing bread and cup at the Table of the Lord.
And that is why our Sunday experience spoke so strongly
right into my troubled and tired heart.
WE ACTED IT OUT, you see.
We acted it out even before we heard the word preached,
before we passed the plate,
before we read the scripture or prayed our community prayer.
And somehow, acting it out helps me to catch a glimpse of
The Big Picture a little bit more clearly.
It helps me to catch, rather than miss, the BOAT.
It reminds me of how vitally important it is for us to 
love one another as God has loved us.
When my muscles move,
and my mouth speaks,
when I receive table gifts from the hand of another,
when I speak words of life to yet another,
"I REMEMBER.
AND WE ARE RE-MEMBERED.*"
And I know once again, that
WE BELONG TO ONE ANOTHER.
*My thanks to a long-ago story from Madeleine L'Engle for these lines.
Joining this one with Michelle, Laura, Jennifer, Jen.