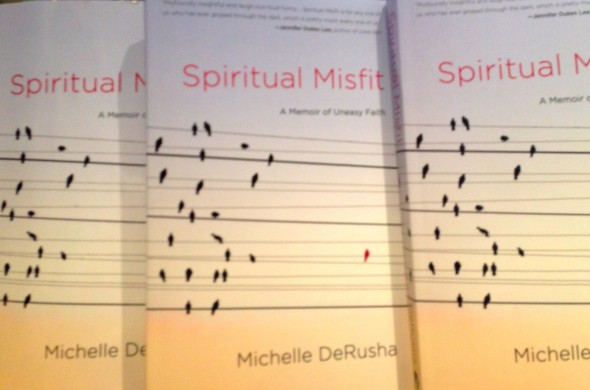 There are a whole lotta ways to write a 'come to Jesus' story. Strong stories of dramatic conversions are always around — usually quite popular, in fact. And they are often told in lurid detail, outlining the horrors of drug abuse, or alcoholism, of sexual misconduct or abuse, telling tales of wild living and rough edges. LOTS of very rough edges.
When I was an adolescent and young adult, I used to quietly envy anyone with such a story. Why? Because mine was so ordinary – my life was pretty much drama-free. I never got 'saved' from anything horrific, so I had no redemption story worth telling. As I got older, however, and began having and raising children, that envy just dissipated and was blown away by the sweet breeze of grace. In truth, that old envy morphed into a deep well of gratitude. I am grateful for the story that is uniquely mine to tell, uniquely mine to live.
As I lived into my own life, I began to realize that ordinary no longer looked so bad. In fact, ordinary began to take on all kinds of layers, colors, even edges. I slowly came to understand that God works in all kinds of ways, his children to redeem. All kinds of ways. For some, that may mean drama, and lots of it. For others of us, those grace-breezes are gentler and more subtle. There is no one-size-fits-all when it comes to redemption stories — everyone has a story worth telling, and ANY story of grace-at-work is a story I want to hear.
Or read.
And believe me when I tell you this, Michelle DeRusha has told us a corker. This is, hands down, one of the best spiritual memoirs I have ever read. It is honest, hysterically funny at points, gracious and gratifying and gorgeous. It took seven years for this beautiful gem to come to light and the wait has been so worth it. SO worth it.
Michelle tells us how her particular childhood experience of church did not lead her to an understanding of grace. So instead of looking to God for help, she focussed all her considerable energy and intelligence on taking charge of her own life, choosing to believe there was no God. She grew up and went to college in New England, working in NYC for a while. During graduate school, she met and married her husband, Brad, whose personal faith was strong and steady and whose heart welcomed Michelle exactly where she was. Together, they moved to the midwestern state of Nebraska, welcoming one little boy almost immediately and a second, several years later.
Their Nebraska adventure became Michelle's faith adventure and the story is told in crackling prose, filled with descriptions that bring both belly laughs and tears of recognition. They began attending a Lutheran church because apparently, EVERYONE in Nebraska goes to church. Brad felt right at home and Michelle managed to 'cough' her way through the Nicene Creed for the first few years! Slowly, but surely, the beauty of the gospel began to seep into her spirit, however, and her big questions began to subtly change. Instead of, "Why believe in God?", she began to ask, "Why not believe in God?" 
Michelle's story is quite different from mine. I've known and believed in Jesus for as long as I can remember, and despite occasional bouts of what Madeleine L'Engle used to call 'viral atheism,' my faith has always been a part of my story. Michelle came to Jesus later in life, as a young mom in her 30s, carrying a long history of disbelief and disconnection from faith. And yet, I resonated so strongly with this book. Why?
Because I am a misfit, too. Not in the same ways that Michelle believes she is — after all, I know the lingo, right? I'm familiar with the Bible, I know a lot about church history, biblical studies — you know the drill. But Michelle puts her finger on something very, very important in this book: the truth that most of us don't 'fit' in one way or another.
And also? The bigger truth that it doesn't matter that we don't fit. Because being a misfit — well, that's what makes us who we are. And Michelle, misfit though she may be, speaks for all of us as she writes about doubt, flashes of insight, small gifts of grace in the middle of daily living.
Because this is our story, too. This story of not fitting in, not having all the answers, not getting it. What she — and we — come to realize is that all of that is okay. It is more than okay — it is the way in. The way in to a vibrant, day-to-day relationship with the living God, the way in which a spiritual misfit becomes God's Beloved Misfit. "We are all walking around shining like the sun," Thomas Merton says (and Michelle quotes on page 98). ALL of us, dear friends, beloved misfits, shining like the sun. Wow.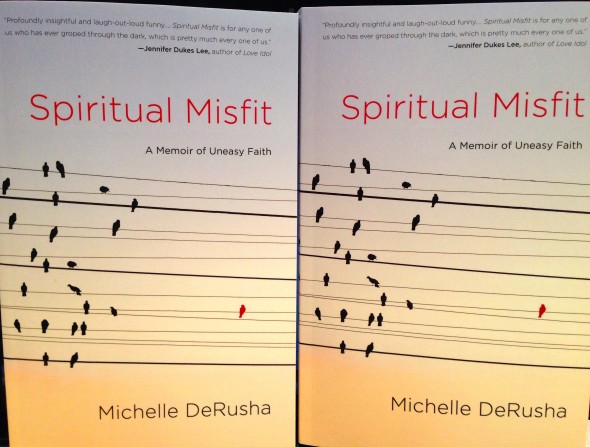 FRIENDS! I have TWO copies of Michelle's beautiful book to give away! All you have to do is tell me you'd like a chance to win one and, if your name is drawn, I'll be delighted to send you your very own copy. Put a word in the comments and I'll have my granddaughters draw a name on Easter Sunday. Winners announced next Monday!