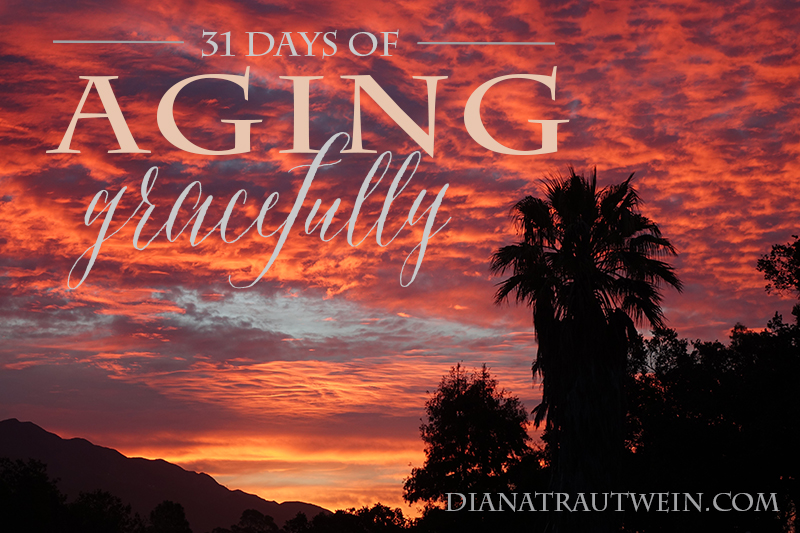 2015 marks year 4 of the 31 Day Writing challenge for me. First was 31 Days in Which I Am Being Saved by Beauty (2012), then there were 31 Days of Giving Permission (2013), and last year, it was 31 Days of Looking for the Little.
This is a year of facing into reality for me. I turned 70 in January, I landed in the hospital in February and again, at the end of April. I traveled to Kauai in July with our entire clan to celebrate FIFTY years of marriage, and in August, my husband and I moved, downsizing after 18 years in a much-loved larger home with a huge yard.
Yeah, it was time. It IS time.
I am old and getting older by the minute, and if I'm going to have even a tiny chance of doing this aging thing well, I want to be intentional about it. So that is what I've chosen to write about for the next 31 days.
I'm nervous about this, to tell you the truth. I happen to find myself at a somewhat painful juncture, realizing I am beginning to be invisible in some ways. Do you know that about getting old in this culture? Elders are not always seen, even in their own family setting. I'm not sure this is intentional, but it surely is reality. Maybe it's because we've been around so long, we've become part of the furniture, always available. Maybe it's because we serve as somewhat painful pointers to the future for those who are younger. Maybe it's because as we age, we tend to slow down a bit, to measure our words more, to give up the drivenness and hungry ambition that are so much a part of mid-life in 21st century western culture. Whatever the reasons, I am choosing to step out of the invisibility cloak this month and put some words out into cyberspace about how I'd like to live these last years of my life.
I am hoping that these reflections will be both highly individual — reflections on my own aging process and what I'm learning — and at that same time, universal in their application. After all, none of us gets a 'pass' from this stuff, do we? If we're fortunate to avoid accident or early terminal illness, we all must face into the reality of bodies that grow old and weary, of choices becoming more limited. And hopefully, of enjoying the benefits of wisdom gained, gratitude grown, joy multiplied, insights deepened. 
I've got a list, and will do my best to work ahead a little. I'm hoping to have a post up every day, but if I miss a few here and there, extend a little bit of grace, okay? After all, I'm OLD. (said with a smile)
In the meantime, please grab my button and follow along!