If you prefer to listen to sermons rather than read them, you can find a downloadable audio version here. It starts in the middle of a sentence, but you do hear the Readers' Theater version of the scripture reading of the day.

John 10:1-42
with Ezekiel 34:1-12, Psalm 23
A Sermon preached at Montecito Covenant Church
by Diana R.G.Trautwein
January 26, 2014
The reading of the passage from Ezekiel began this preaching time.
Thank you, Bruce, for reading what amounts to the bad news for this morning. That prophetic voice in Ezekiel, calling out the leaders of the Jewish people as 'bad shepherds,' downright lousy leaders. This is an important passage to bear in mind as we dig into the wonders of our passage from John's gospel this morning.
For our second reading, we're going to turn to the OT testament once again, this time to hear about the best kind of leader, the best kind of shepherd. But instead of reading it, we're going to do something a little different: we're going to sing it.
I first learned this call-and-response hymn at the memorial service for a dear friend and mentor about three years ago. My husband and I were both moved to tears by the way in which the composer took such familiar words and reworked them into poetry that was beautiful, both musically and literarily. The song is called, "Shepherd Me, O God," and it's a paraphrase of Psalm 23, perhaps the most well-known chunk of scripture anywhere in the world. In fact, this is the psalm that was read responsively last Sunday, so you've heard it recently.
But there was no way I could preach on John 10 this morning without somehow visiting this beautiful picture of the Good Shepherd, so today — this time –we're going to sing it. We'll learn the words to the chorus first, because that's the part that we will sing. Then the worship team will sing the verses. And, at the end of each verse,  we'll chime in with our sung response; it will be the same every time. Simple, right?
 Shepherd me, O God, beyond my wants,
beyond my fears, from death into life.
God is my shepherd, so nothing shall I want.
I rest in the meadows of faithfulness and love.
I walk by the quiet waters of peace.
Shepherd me, O God, beyond my wants,
beyond my fears, from death into life.
Gently you raise me and heal my weary soul,
you lead me by pathways of righteousness and truth,
my spirit shall sing the music of your Name.
Shepherd me, O God, beyond my wants,
beyond my fears, from death into life.
Though I should wander the valley of death,
I fear no evil, for you are at my side,
your rod and your staff, my comfort and my hope.
You have set me a banquet of love in the place of hatred.
Crowning me with love beyond my pow'r to hold.
Shepherd me, O God, beyond my wants,
beyond my fears, from death into life.
Surely your kindness and mercy follow me
all the days of my life.
I will dwell in the house of my God forevermore.
Shepherd me, O God, beyond my wants,
beyond my fears, from death into life.
— words & music by Marty Haugen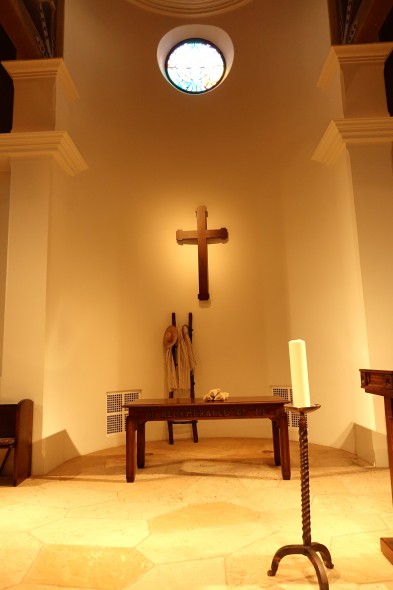 Thank you, Bob and team, for learning this song and then teaching it to all of us.
And as we turn to our text from John's gospel this morning, that is my prayer for all of us — that we would invite the Good Shepherd to carry us beyond our wants, beyond our fears, from death into life.
We come to our text for today with two pictures in our minds – the Good Shepherd, whom we've just sung about, and the bad shepherds that Bruce read about earlier. In that passage, the prophet Ezekiel rips into the kings of Israel, who were given the task of shepherding the national flock. And God, the Holy, Righteous God, tells those shepherds, in no uncertain terms, that they have failed to do their jobs well, utterly failed. Therefore, they are out!
Instead, in a beautiful prophetic view of the future, we learn that the Lord Himself will 'search for my sheep and look after them.' God will be shepherd for his flock, his people.
So now, with both of those pictures in mind, we come to the tenth chapter of John's gospel. Allow me to set the scene for you, before I invite some friends up to help me read this long passage.
First of all, the setting: Chapter 10 picks up right where chapter 9 leaves off – with lots of red letters. Jesus is addressing the Pharisees, the same Pharisees who have thrown the blind man out of the synagogue. You remember him from last week, right? The man, blind from birth, whom Jesus healed by mixing spit with mud and coating those eyes, eyes that had never seen anything, ever.
That remarkable miracle that got everyone jabbering. Remember? And the man at the center of all the buzzing, that blind man didn't quite know what hit him. All he knows is that a man named Jesus made it possible for him to see – by offering mud and spit and a command to "go wash." And the man who once was blind says that anyone who could do that is no magician, but a messenger straight from God.
And for that little statement, he gets thrown out. And Jesus, hearing this news, comes to the one he healed and asks a critical question in the closing verses of chapter 9: "Do you believe in the Son of Man?"
And yes, the blind man truly sees Jesus, and worships him. The Pharisees who were watching, however, do not get it. The ones who claim to see, to understand God and God's ways, turn out to be the ones who are blind, indeed.
So that's what has brought us to this big chapter, this turning point chapter numbered 10 in our Bibles. It contains the last set of public teachings in the entire gospel, the last time Jesus wanders through the streets of Jerusalem and the temple courtyards before the events of Holy Week.
This is a watershed moment, these 41 verses, and the work Jesus does here, the teaching and the arguing, and the accusing, and the claims he makes — these are pivotal and worth our careful attention today.
Greg and Janet Spencer have agreed to help me read for you John 10:1-41. I invite you to listen with your Bibles open in front of you, because we're going to be going back to various parts of this long reading later in the sermon.
READING [This was a very fun Readers' Theater for Three Voices that I suggested and my friends agreed to, with Greg re-working the verses into a much-appreciated dramatic format. 41 verses in 1 voice can be deadly. But 3 voices, reading dramatically? Everybody paid attention.]
The Word of the Lord.
Thanks be to God.
Thank you, Spencers, for your fine reading skills. I am grateful for your help.
There is a lot going on here, isn't there? A lot of red letters in this chapter, a lot of Jesus-words. But also a lot of push-back, argument, anger, enough anger to threaten stoning. And all of it coming from a simple story about sheep and shepherds, about thieves, and hired hands and wolves and gates.
Well, maybe it's not so simple after all. Our altar piece indicates this is far from a simple story with just these few pieces, doesn't it? The staff, hat and cloak of a shepherd. And a handful of stones spread across the table. No, it's not simple. But it is rich.
So to delve into that richness, I want to take just a few key phrases out of all these words and focus on those with you this morning. I want to try and distill the goodness for us, by reflecting for a few minutes on these ideas:
                                    He calls his sheep by name.

                                    My sheep listen to my voice.

                                    Believe the works.
I think it is important for us to understand that this chapter is integrally connected to the healing of the blind man in the chapter before it. Why? Because healing is at the heart of all that Jesus came to do and all of who Jesus is, for us and for the world.
Whether we always recognize it or not, each one of us yearns to be healed, to be whole — to have our blindspots washed away, to have our hearts comforted, to know that we are seen, that we are heard, that we are loved. And, as he so often does, Jesus chooses to teach us about what our own healing looks like by telling us a story. Twice.
In the first telling, Jesus claims that he is 'the gate,' the place of entry into the safety of the sheepfold. And in the second, he says, "I am the Good Shepherd." Two strong statements about who he is, using terms and images that were familiar to his listeners. Everybody knew about shepherds. So many of the villages and towns that comprised ancient Palestine bordered that great wilderness area that covers thousands of miles across the Middle East, all of it populated by herds of sheep, each one with its own shepherd.
But at another level, everyone also knew about the repeated use of shepherd imagery to describe leaders, both human and divine. Like our Ezekiel passage, like the 23rd psalm. That image of the strong, brave, selfless shepherd was used to describe ancient kings, religious leaders, even Almighty God.
It quickly becomes clear that in Jesus' story, there is only one shepherd who truly cares for the sheep. And it ain't the religious leaders, who were so quick to toss out a miraculously healed, blind-from-birth, gospel-witnessing recipient-of-grace back there in chapter 9. No. Jesus himself is the true shepherd, the one who knows each sheep by name.
There's something special about hearing your name spoken out loud by a caring voice. I think that's why those of us who own names that are closely related to other names make a big deal about others getting ours right.
My dad debated a long time before he put that 'a' on the end of my name. And, to tell you the truth, it took me a while to grow into it. I wasn't so sure I liked it growing up. But as I listened to my dad, this man who loved me so well that I could understand all of the Father imagery for God in scripture without a moment's hesitation — I began to appreciate the gift that this name is in my life: my dad picked it. And he put that 'a' on the end.
Diane is a fine name – I like it a lot. But it's not my name, you know? So when you keep that 'a' in place when you talk to me or write to me, that tells me that you see me, you care enough about me to get my name right.
Jesus knows my name. All my names, the ones I've been given through birth and marriage, and the ones I sometimes call myself, too. And those are not so pretty. I'm betting that each of you knows something about those kind of names, too: "clumsy"  "stupid"  "foolish"  "lazy"  "ugly."
But hear me when I tell you this: those are not your names, nor are they mine. If we look to Jesus as our Good Shepherd, these are our names: "safe"  "loved" "fed"  "rested"  "led to green pastures"  "anointed"  "blessed."
The Good Shepherd knows our name. Our truest name. He calls his sheep by name. And. . .My sheep listen to my voice.
There are six different places in chapter 10 where Jesus makes reference to listening, more specifically, listening to his voice, the voice of the Good Shepherd, the voice that knows our names. Six times. That tells me that the whole idea of listening is central to everything that's being taught here.
Listening is tough to do. And it's getting tougher. There is so much noise in this world! And sifting through it to find that still, small voice . . . well, it's not easy. It takes intentionality. And it takes time. Both of which are often in short supply. The Pharisees in this chapter are a case in point. They heard Jesus, but they weren't listening. And there's a difference.
My husband gets frustrated with me because I often don't listen very well. I hear him, I hear a voice saying words, but I'm not listening. I'm distracted. I'm reading. I'm thinking about something else. I'm physically present, but aurally absent. I'm working on it, but sometimes it's a tough go.
And listening to the voice of the Shepherd? If I'm not intentional, if I'm not quiet for at least a few minutes each day, if I'm not developing the habit of 'praying without ceasing' (which to me means keeping the channel deliberately open all day long, tossing up breath prayers in and around all of my thinking/reading/ writing/talking out loud) — if I'm not prayerful, then how can I possibly be listening?
As part of my training to become a spiritual director, I had to do several different listening exercises, the most excruciatingly difficult one was this. We were assigned to groups of six and each person was to bring a pre-written life story to read and share with the rest of the group. The rest of us were told to listen as carefully as possible and then. . .to simply reflect back what we heard.
Think about that! No asking questions. No giving advice. Nothing but evidence that we had indeed been listening to what was read.
Man, that was tough. But it was so important. What it did was to teach us to listen well to one another, but also, at the same time, to listen to the voice of the Spirit within. Which is, in sum, what the work of spiritual direction is all about: listening to the other, seated across from you, and listening the whispers of the Spirit at the same time.
Whether or not I'm ever able to facilitate anything of value in the life of those who meet with me, those exercises were in many ways life-changing for me. They helped me grow my inner listening skills. Like anything else, good listening takes practice.
And I'm guessing that my husband would probably appreciate it if I'd pull those skills out a little more frequently in our day-to-day life, too!
Lastly, this phrase from the second half of long this chapter: Believe the works. It comes in the discussion late in the chapter, when everyone is in Jerusalem for a time of celebration, The Festival of Dedication, remembering the time when the temple was restored to the people of Israel 200 years earlier, when the foreign idols were thrown out, and the beauty of Jerusalem's centerpiece was once again vibrant and real.
Into the midst of this celebrating, Jesus strides along Solomon's porch, a covered portico with pillars 38 feet high, a place where Gentiles were welcome, where wintertime gatherings were a little more comfortable.
And, once again, He is immediately surrounded by angry Jewish religious leaders. "How long will you keep us in suspense?" they shouted. "Tell us now, tell us clear: are you the Messiah?"
The more times I read through this scene, the more I sense that these over-anxious Jewish leaders were baiting Jesus, snarling at him, pushing him to declare himself. And Jesus' response? "I've already told you who I am. But you choose not to believe me. I've told you by what I do as much as by what I say." And every one of them immediately picks up a stone, making ready to heave them at Jesus.
Several verses later, Jesus continues to say, "Do not believe me unless I do the works of my Father. But if I do them, even though you do not believe me, believe the works, that you may know and understand that the Father is in me, and I in the Father. Believe the works."
You know, this just slays me. It becomes pretty clear that all the talking in the world is not going to convince these dudes of anything. Jesus even does some pretty nifty biblical interpretation in there, and he talks about his unity with the Father. He consistently reminds them that HE is the Good Shepherd and they are not. He uses his words, over and over again.
And they will have none of it.
And yet. . . right here in Solomon's Porch, Jesus still gives them every opportunity to step through the gate of the sheep, doesn't he? "Believe the works. Even if you struggle with what I say, even if you can't quite believe I am who I say I am, there is room for you with me, if you will look at what I do, and see that it can only be from God. Believe the works."
Friends, when we find ourselves in places where we simply can't take in the words, when we find it hard to believe that Jesus is all he claims to be, when we're not sure what to believe, then it's time to believe the works.
Do we see evidence of Jesus' healing work in us and/or in others? Do we see people acting with love and concern? Do we experience unexplained urges to do something good and kind that we might not ever think to do in our own steam? Can we look around our world and see the occasional spark of beauty, the rare moment of understanding, the surprising acts of kindness?
Believe the works.
They may be few and far between. The ugly things may seem to be in the ascendency, the darkness may loom. But are there flashes of light? Do we see beauty in the face of someone who is suffering? Can we find examples of healing and grace and laughter and light?
THINK ON THESE THINGS
Believe the works.
But these angry men cannot hear, and they cannot see. In chapter 9, the false shepherds are blind, though they claim to see. And here in chapter 10, they are deaf, though they claim to hear. And once again, they circle round him, furious, trying to grasp him, seize him.
The time is not yet, however. The time for grasping Jesus will come, but not today. And he slips away.
So at the very end of chapter 10, we find Jesus back where he began. He went 'down by the river to pray,' right back to where John had baptized him when he began these years of preaching and teaching and healing.
And note this, too. The healing continues. Next week, we'll read about the biggest miracle of all, the raising of Lazarus.
As we finish our reflection on John 10 today, I am wondering, where do you need to find healing, wholeness, safety today?
Do you need to remember that Jesus knows your name?

Do you need to find more space for listening to the Shepherd's voice?

Do you need to look for and then believe the works?
As we sing that sweet chorus we sang in the opening set one more time, will you look inside and see what it is you're longing for today?
I have a Maker
He formed my heart
Before even time began
My life was in his hands

I have a Father
He calls me His own
He'll never leave me
No matter where I go

He knows my name
He knows my every thought
He sees each tear that falls
And He hears me when I call
—  music & lyrics by Tommy Walker
If you are unfamiliar with the songs that were woven into this sermon, here are a couple of decent YouTube versions for your listening and worship: