Welcome to Q & A, a weekly series of 'living the questions,'  questions that we often struggle with as people of faith. You are invited to read along, to comment with as many words as you like (just keep them in a conversational tone, without sharp edges, please), and/or to write a reflection of your own and link it back to this conversation. Each week the linky will be open from midnight Thursday/Friday until 4:00 p.m. on Monday (PST), allowing time for weekend wondering and writing. Then, each Tuesday, I'll attempt a wrap-up post, with links, to help us begin to 'live into the answers.'
This week's question: "What's with all this talk about 'sin?'"
Next week, we'll wrestle with this one: "Is there room for my tears here?"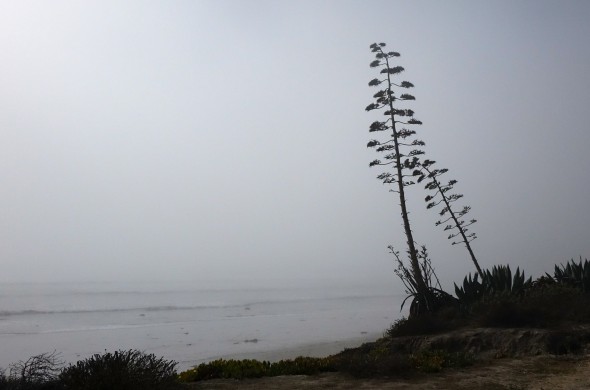 Interesting surfing weather this week. I took another trip out to Coal Oil Point and discovered that the entire coast — and at least 200 feet inland — were shrouded in fog. The sun shone through it, which actually made it more difficult to orient myself, as the light bounced around the thick air. As I walked that gravel path, I thought to myself that the entire experience was akin to trying to write the essay for this week. SIN is a huge topic. An important one, and for most of us, absolutely central to our understanding of who we are, who God is, why Jesus came to earth, and what the cross means. So wading out into this particular topic is a whole lot like wading out into the fog. It's harder to see what's coming at you, it's tough to find your fellow travelers, and it feels decidedly more scary than the exact same water does on a sunny day.
In my introductory post for this series, I featured photos taken at the exact same spots along the path that you'll see here. They look decidedly different today. This weather feels slightly threatening, even a bit frightening and pretty much mirrors my feelings as we delve into a discussion about sin this week.
So . . . here we go.
Remembering back to my earliest years in Sunday School, at about age 4 or 5, I can see a little booklet. It had no words, just different colored pages, and the teacher used it to tell the gospel story. I don't remember all of the pages and their contribution to the overall narrative, but I do remember these: a deep black double page to represent the state of my small, 4-year old heart, completely darkened by something the teacher called 'sin,' then a bright red page which represented the spilt blood of our Savior, then a white page, to indicate my now-clean heart if I said 'yes' to Jesus, followed by a shiny gold spread, which assured me of my eternal destination.
Oh, I loved that book! And I loved that story. And I wanted that white heart, yes I did. And I definitely wanted that shiny gold future. This little tool was meant to be a good, simple means for helping children begin to understand some of the truths of the Christian faith. I'm not sure, however, that those truths actually sank into my little heart as intended.
And here's why:
Children that age are just beginning to understand about good and bad behavior; they have no real concept of 'sin.' I think I internalized the message this way: Jesus wants me to stop doing bad things; if I don't stop doing bad things, I am a bad person and I cannot get to heaven. So, as I mentioned in an earlier post, I worked very, very hard for a very, very long time to be a very, very good girl. 
And I began to believe that my sinful self was the most important thing about me. Otherwise, why did Jesus come? Why did Jesus die? 
Because I am a sinner. Everybody is a sinner. And that's all that matters about us: we are sinners.
I had a sense of diligence, of always working hard to be better, of trudging through life, walking the straight and narrow  I was a church girl — and I loved church, don't get me wrong. I was a church girl in conservative southern California (and no, that is not an oxymoron. . . there was a lot of fundamentalism in CA in the mid 20th century). And every single invitational sermon I ever heard in the first twelve years of my life was centered around how sinful I was and how much I needed to be assured of a place in heaven someday. So by cracky, I'd better raise my hand, walk down that aisle and say 'yes.'
I overstate. A little. But I think you catch my drift, right?
Then we moved and began attending a different church, one where I came to know Jesus in a much different way. The central truths were the same; it was the presentation that differed. More layers were added and the story of salvation took on deeper, richer hues. There began to grow in me the sense that maybe there was something more to be found in Jesus than forgiveness.
Forgiveness is powerful, wonderful stuff – and it is so very important. BUT. There is also Restoration. Empowerment. Redemption. Transformation. And I was deeply moved by the stories of Jesus I read in the gospels, the way he moved to the edges, called out the best in people — even people the rest of society had already written off, like Mary Magdalene, the Samaritan woman at the well, Zacchaeus.
Jesus saw something else in them that no one else seemed to see: he saw something worth his time, worth his goodness, worth his invitation. He saw them.
He also, of course, saw their sin. And he did not ignore it — he exorcised, he healed, he questioned, he called for newness. But here's what I began to understand during my adolescent years and then reflected on more and more in my 20s and 30s:
Jesus saw beneath their behavior, beneath the swirling demons, beneath their bad reputations. He saw something else, something real and true and more important, even than their sin: he saw God's image in them, and God's design.  And then he reached right in and pulled that beauty out so that others could see it, too!
Take a look at these two photographs for a minute.
When I put my camera up to take this shot, I saw only water with my naked eye. My camera, however, showed me — ever so dimly — that there were surfers out there! At least four of them! And then, I hit the 'enhance' button in iPhoto and voila! There they were, in sharper contrast and detail — four strong surfers, doing their thing, despite the messy day.
God can see us, my friend. He can see us beneath all the fog of sin and brokenness.
Not only that, God LOVES what he sees, desperately, passionately, eternally. God hates sin, that is true. God hates anything that cuts us off from relationship, from 'walking in the garden' together. That for me is the clearest, simplest and best definition of the word — 'sin' is anything that separates us from God.
But God loves us. And that means that sin is NOT the most important thing about us. Our created humanity is. That's what needs rescuing, that what's needs saving, that's what needs restoration, that's what needs transformation. 
And that's why Jesus came as one of us: to show us what it means to live a fully human life, with all of its ups/downs/struggles/joys/questions/answers. And to show us that neither sin, brokenness nor death has the last word. The cross followed by the empty tomb become the place where heaven and earth meet, where God shows us what it means to be a 'king,' where power and authority (and forgiveness and redemption) are redefined forever.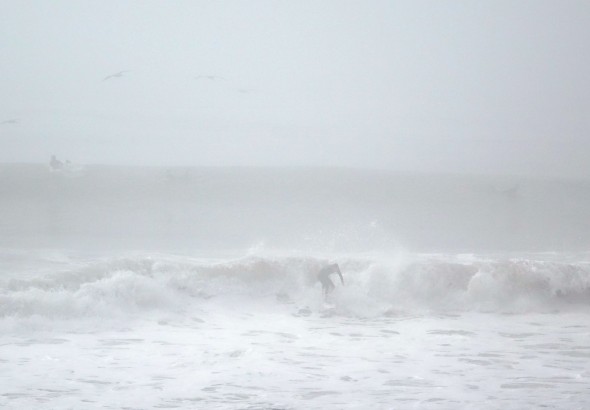 I'm not sure how or why the dominant picture of the atonement — what happened in the incarnation/death/resurrection — became sin-centric in the last few hundred years. It has not always been so. Scripture teaches us that many things happened with the Great Event of Jesus.
Indeed, we do need to grapple with, understand and relinquish our inner 'bentness,' our direction-toward-sin, and we need to do that each and every day. Confession is good for the soul, and by that I mean it is good for the soul. It reminds us that God is God and we are not.
But. BUT. When we focus so much of our attention, our study, our prayers, our worship, our conversation on what a mess we are (even though we are, indeed, very messy people!), we take the focus off of God's ongoing work of redemption and transformation within us. We lose sight of our utter loveliness to God, despite the messes we make, despite our proclivity for willfulness and idolatry. 
LOVE COMES FIRST. And if we can allow ourselves to be loved, without apology or hesitation — well, the earth moves,  you know? Read the story of the Forgiving Father in chapter 15 of Luke's gospel. Read it through carefully and prayerfully. The father loves that boy long before he sees him coming down the road. Long before the boy repents of his sin. Long before anything.
Love comes first.
 "To God be the glory, great things God has done!" 
I look forward to your comments and any reflections/responses you'd like to link up to this week. Even through the fog, there are great rides to be had! I am grateful for all the ways you are choosing to 'live the questions,' and then 'live into the answers.'
Next week, we'll wrestle with this question: "Is there room for my tears here?"