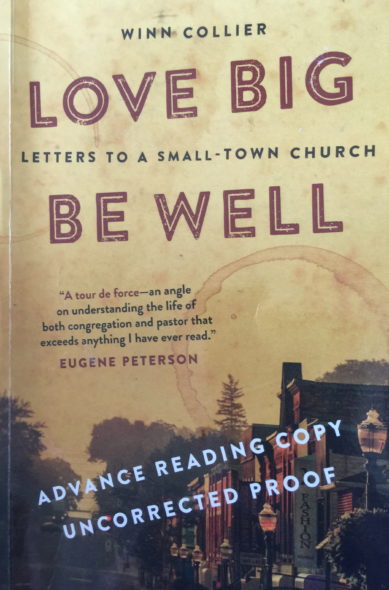 Admittedly, I am way behind on my book-reading and reviewing. Some of that is due to illness, a whole lot to long-term grieving, a smidge or two to laziness. 
But this book, I read.
In one sitting.
And so did my husband.
This is, hands down, my favorite book about church, people, love, living life well and true, community, belonging . . . you name it. I read a lot of non-fiction, good books, finely written books, some of them written by friends of mine. Not one of them comes as whisker close to truth as does this fictional compilation of letters. Maybe it's because our church was going through its own search for a new pastor at the time I received this slender tome. Whatever the reason(s), this one struck a nerve. Better, it struck THE nerve, that one that goes to the core of who we are and begins to resonate when we find true north.
I cannot recommend this book highly enough. I simply cannot. It is tender, true, sensitive, heart-warming, and yet challenging, in the very best of ways. Is this the kind of pastor I have been? And want to continue to be, in the limited ways that remain available to me? Is this the kind of congregation my community is, or wants to be? Are we wrestling through the hard questions well? Are we welcoming others — all kinds of others?  Are we listening to the Spirit, together?
Built around the seasons of the church year, these 165 pages consist entirely of letters, most of them written by pastor-to-be, then new-pastor, then seasoned-pastor-approaching-his-first-sabbatical-leave Jonas McAnn. It is what is known in the trade as an epistolary novel and it is a hum-dinger. Herewith a sample — then get yourself to your favorite bookstore (clicking on the picture should take you straight to Amazon) and order up a copy . . . or two or three. This would make a perfect gift for every single member of a search committee or a church leadership board.
Maybe these words from the opening letter, written by a crusty woman member of the search committee to all potential candidates will give you a glimpse of the power and beauty I'm talking about. This one was signed by the entire committee (all 4 of them) after several frustrating months. The one candidate who answered honestly is the one they called:
"We do have a few questions for you. Perhaps we're foolish, but I'm going to assume you love Jesus and aren't too much of a loon when it comes to your creed. We want theology, but we want the kind that will pierce our soul or prompt tears or leave us sitting in a calm silence, the kind that will put us smack-dab in the middle of the story, the kind that will work well with a bit of Billy Collins or Wendell Berry now and then. Oh, and we like a good guffaw. I'll be up front with you: we don't trust a pastor who never laughs — we'll put up with a lot, but that one's a deal-killer.

"Here are our questions: We'd like to know if you're going to use us. Will our church be your opportunity to right all the Church's wrongs, the ones you've been jotting down over your vast ten years of experience. . . Is our church going to be your opportunity to finally enact that one flaming vision you've had in your crosshairs ever since seminary, that one strategic model that will finally get this Church thing straight? Or might we hope that our church might be a place where you'd settle in with us and love along-side us, cry with us and curse the darkness with us, and remind us how much God's crazy about us?

"In other words, the question we want answered is very simple: do you actually want to be our pastor?

"I'm trying to be as straight as I know how: Will you love us? And will you teach us how to love one another? Will you give us God — and all the mystery and possibility that entails? Will you preach with hope and wonder in your heart?

"Will  you tell us again and again about the 'love that wilt not let us go," not ever? Will you believe with us and for us that the Kingdom is truer than we know — and that there are no shortcuts? Will you tell us the truth — that the huckster promise of a quick fix or some glitzy church dream is 100 percent BS?" — pp. 5-6
See what I mean? Thank you, thank  you, thank you, Winn Collier for telling it true. And beautifully.