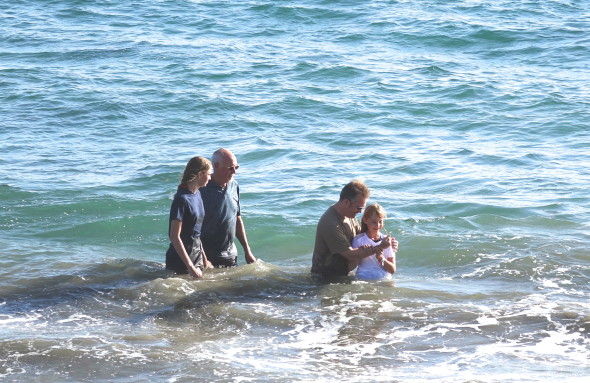 1 Peter 3:18-22, The Message

That's what Christ did definitively: suffered because of others' sins, the Righteous One for the unrighteous ones. He went through it all—was put to death and then made alive—to bring us to God.

He went and proclaimed God's salvation to earlier generations who ended up in the prison of judgment because they wouldn't listen. You know, even though God waited patiently all the days that Noah built his ship, only a few were saved then, eight to be exact—saved from the water by the water. The waters of baptism do that for you, not by washing away dirt from your skin but by presenting you through Jesus' resurrection before God with a clear conscience.

Jesus has the last word on everything and everyone, from angels to armies. He's standing right alongside God, and what he says goes.
Here's a powerful word:
baptism.
No, I'm not a Baptist,
but I am a big believer in
baptism.
For any age, stage, situation.
It is a picture for me,
a powerful,
tactile,
incarnational
picture.
When the babe is doused,
or the youth immersed,
or the old man sprinkled,
we are offering our
own bodies
to the story-telling
we all do.
We tell our story with our bodies,
you see.
We eat and drink,
and we get wet.
We celebrate Truth
with all of who we are.
There is a dying,
and there is a rising.
There is darkness,
there is light.
And so we keep
the story going,
we tell it in our way,
in our time,
in our selves.
Please consider subscribing to this series by subscribing to the blog — the box is in the right sidebar. That way, these daily devotionals will show up in  your inbox each day of Lent, right up until Easter.