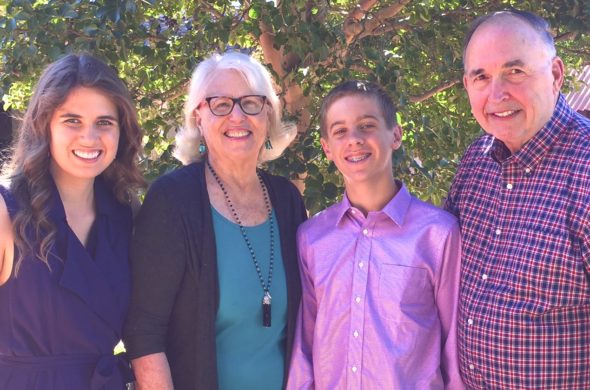 It's been a heckuva coupla months. I promised this post almost one month ago and have just today found space to sort it out and edit it for this space. I took a month off from my commitment at SheLoves and my next post there will go live on Saturday of this week — I'll be back here to set up a linking post later in the week.
But I wanted to get this one done first because that crazy weekend in May was a rich and important one. We said farewell to my mother on that Saturday, with a service, a reception and a dinner at our home, which I wrote about here. The next morning, I led in worship and preached for the first time in a while, although the sermon was more of a homily due to the demands of that particular Sunday in the ongoing life of our community.
We call it Promotion Sunday now — it used to be called Confirmation Sunday, but we added in recognition of all children and young adults making transitions over the summer to a new grade/stage of life. It was rich and wonderful and L O N G, so the sermon, by necessity, was short. The picture above shows off our single confirmand this year, Tyler H, 3rd from the left. And that is our Director of Student Ministries, Anna Beebe on the far left. She has been a spectacular partner to Dick and me as we stepped in to teach 9 students this year. Such a joy that has been for us in a year of change and tumult; we are humbled and grateful to have had this opportunity.
Our Rite of Confirmation includes the reading of a paper by the confirmand(s) on any of the 26 "Building Blocks" in their workbooks. These are the traditional Q & A from the Luther Catechism and Tyler chose to respond to the question: Who is God? He did a wonderful job! Then the confirmand replies to three questions about their faith, kneels to receive a blessing as his family surrounds him. He/she is given a taste of salt and a lit candle as a reminder that they are called to be the salt of the earth, the light of the world. Then a very personal prayer is prayed over them before the charge/homily is given to the entire class. It has long been one of my favorite Sundays of the church year.
There is a video for the song I mention in the opening paragraph of this homily at the bottom of this inset and the lyrics are posted above it. It's a wonderful and unusual hymn, absolutely perfect for this Sunday or for any baptism or infant dedication service.
"I Was There to Hear Your Borning Cry"
— written by John Ylsvikar

I was there to hear your borning cry,
I'll be there when you are old.
I rejoiced the day you were baptized,
to see your life unfold.

I was there when you were but a child,
with a faith to suit you well;
In a blaze of light you wandered off
to find where demons dwell.

When you heard the wonder of the Word
I was there to cheer you on;
You were raised to praise the living Lord,
to whom you now belong.

If you find someone to share your time
and you join your hearts as one,
I'll be there to make your verses rhyme
from dusk 'till rising sun.

In the middle ages of your life,
not too old, no longer young,
I'll be there to guide you through the night,
complete what I've begun.

When the evening gently closes in,
and you shut your weary eyes,
I'll be there as I have always been
with just one more surprise.

I was there to hear your borning cry,
I'll be there when you are old.
I rejoiced the day you were baptized,
to see your life unfold.

This video was produced by a fellow Covenant pastor and worship leader and reflects his mostly white congregation. It is beautifully done — I wish it were a bit more ethnically/racially balanced, but it is lovely, nonetheless.
Let Love Overflow
Philippians 1:1-11
A Homily for the Confirmation Class
May 20, 2017
Diana R.G. Trautwein
Montecito Covenant Church
That's a really unusual song we've just sung, isn't it? It's one I happen to like a lot and so I requested it for this morning's service. Why? Because this is a special day in the life of our community and somehow, the words of this song touch on some of the reasons why.
Promotion Sunday is a day when we celebrate who it is God is forming us to be — all of us, from little to young adult to mid-life to old age. We're in this thing together and today is a day for remembering that and celebrating it! We belong to God and we belong to one another.
That's one of the reasons we include the Rite of Confirmation in a Sunday morning service of worship rather than doing it in someone's backyard after dinner – because it's important for the community of faith to celebrate together. It's a good thing for all of us to affirm the work these young people have done in beginning and in completing this two-year course, this intentional time of learning more about what we believe as followers of Jesus Christ.
Rituals, with set words and actions help us to mark out special events, to set them aside and say, "This is important and we want to remember it." We mark lots of life's important moments with rites and rituals, don't we? Baptism, marriage, ordination, death.
Yesterday, we held a special service called A Witness to the Resurrection, a memorial service for a Christian who has died. This one was for my mother, who left this earth last month. These young people right here in front — there were 8 of them for most of the year — they have walked with me on this journey. They have prayed for her and for me, they have asked me how she was doing, how I am doing, they have shown me understanding and grace in so many ways. Teaching them in this class all year has turned out to be one of the greatest gifts during a difficult time in my own life and I am deeply grateful to each and every one of them.
So it is with joy and an extra measure of satisfaction that I offer a few words to them this morning. A charge, if you will, a brief homily that is directed primarily to this small band in the front of the center section. The rest of you are warmly invited to listen in, of course, but these words are for them.
Dylan read a passage for us just a few minutes ago, way back before we acknowledged the graduates and before Tyler was confirmed. It's from a small letter in the New Testament called Philippians. Eleven verses only, but eleven verses that contain pretty much EXACTLY THE WORDS I would like to say to each of you today.
One of the loveliest things about this small letter is the overall spirit of it. Those of you who have done the New Testament year in Confirmation might remember that there are a bunch of letters in the that part of the Bible, many of them written by a man named Paul. Some of those letters sound a bit angry at times; some of them are intent on working through some of the more complicated parts of what the newly formed church was coming to understand about who Jesus really was and what he came to do on this earth.
But this letter is gentle, encouraging, marked by the deep love that Paul felt for these people who lived in a busy, very diverse city, in a place called Macedonia, which is now a part of the country of Greece in southern Europe. In this letter, Paul uses the word 'joy' more times than anywhere else in all his writing – 11 different times. He also uses the name of Jesus a whole lot, something you'll hear as we walk through it. Joy and Jesus — they go together well and they're at the heart of what Paul has to say and what I want to say, too.
We start with a word of greeting. Now letters written 2000 years ago sounded a bit more formal than the emails or texts you guys are used to these days. Listen and you'll see what I mean:
Paul and Timothy, servants of Christ Jesus, To all God's holy people in Christ Jesus at Philippi, together with the overseers and deacons :

Grace and peace to you from God our Father and the Lord Jesus Christ.
 One sentence — a single L O N G sentence — tells us who's writing the letter, who's getting the letter and then offers a special word of blessing, a very specific greeting of grace and peace — and not just any grace and peace, but grace and peace from God our Father and the Lord Jesus Christ.
 Those of you who have been taking sermon notes here during your time as a confirmation student may remember that our former pastor — and your former teacher — Don Johnson, always began his sermons with exactly those words, didn't he? "Grace and peace to you from God our Father and the Lord Jesus Christ." It's a grand greeting, don't you think?
Then Paul goes on to tell these friends how he really feels about them!
I thank my God every time I remember you. In all my prayers for all of you, I always pray with joy because of your partnership in the gospel from the first day until now, being confident of this, that he who began a good work in you will carry it on to completion until the day of Christ Jesus.

 It is right for me to feel this way about all of you, since I have you in my heart and, whether I am in chains or defending and confirming the gospel, all of you share in God's grace with me. God can testify how I long for all of you with the affection of Christ Jesus.
 I hope you have some people in your life for whom you thank God every time you think about them! I hope there are those for whom you pray with joy. As we've grown together this year, you have become those people for me. I thank God for each one of you and I pray for you with joy.
Paul calls his friends 'partners in the gospel,' because of how well they worked together, how tightly knit they were to one another, and how they were caring for one another. This was a church that was really clicking, and learning how to be generous. We know this because they sent money to help the big church in Jerusalem and they sent help to Paul when he was in jail.
But you know the line I really love in this part of the passage is the one that talks about confidence. Did you catch that? ". . . being confident of this, that he who began a good work in you will carry it on to completion until the day of Christ Jesus."
 Now this church in Philippi wasn't perfect — no church is! God chooses human beings to be the church, right? And we humans have this tendency to mess things up from time to time, don't we? And these folks were no exception to that rule.
But . . . BUT . . . Paul has confidence in them. More accurately, Paul has confidence in God, who is at work within them. Even when they make mistakes, even when they trip and stumble, God is alive in them, completing the work that the Holy Spirit began at the moment they first said 'yes' to the gospel of Jesus.
Paul believes in them because Paul believes in the God who is in them.
In his oh-so-good paper, Tyler talked about his experience of being saved at winter camp this year — that's when Tyler said 'yes' to the gospel of Jesus.
Each of you already has or will soon, I hope and pray, say that 'yes' yourself. And like Paul, I believe in the God who hears the 'yes' you offer, so I believe in you.
The work that begins in you at that moment of 'yes' will continue your whole life long and it will be a beautiful thing to see someday. In fact, it already is.
Yesterday, I celebrated with my family and my friends the good work that God did in my mom over her long, long life. Even in her last years, when her mind was so very damaged and her body so frail . . . even then. God was completing the work that had begun in her when she was a teenager, just like you.
God is in the business of finishing what God starts, believe me when I tell you this. And I am confident that the good work God is doing in you, my young friends . . . that work will continue your whole life long, until that day when you see Jesus face to face. Which is exactly where my mom is now. 
Finally, we come to the last few verses of this scripture passage, which get to the heart of it all, and they offer the main point of my charge to each of you today.
Listen to Paul's words:
And this is my prayer: that your love may abound — may overflow — more and more in knowledge and depth of insight, so that you may be able to discern what is best and may be pure and blameless for the day of Christ, filled with the fruit of righteousness that comes through Jesus Christ—to the glory and praise of God.
 That is all one sentences, friends and it is a jam-packed one, too.
It all begins with LOVE. The kind of love that comes only from God, the kind of love that changes hearts and minds, the kind of love that changes churches and cities, the kind of love that can change the world, if we let it loose, if we live it, if we grab hold of it and hang on for dear life.
So the most important thing I can say to you this morning, the most important thing I can ever say to you is this:
GOD LOVES YOU.
Not in spite of all the ways you mess up, not even because you need God's forgiveness and grace. God loves you because you are YOU, a totally unique person created in God's image, gifted with the ability to choose to follow in God's way and the basic equipment to receive the power of the Holy Spirit right now.
Yes, you need God's forgiveness. We all do. But even more basic than that need in you is the truth that God loves you — first, last and always.
It is that love which will make it possible for you to make good choices going forward in your life. It is that love that will gradually — sometimes gently and sometimes not so much — begin to shape you more and more into the image of Jesus himself. It is that love that will work its wondrous way in you, helping you to really learn the difference between right and wrong, good and evil.
Paul prays for his friends that Love will help them to grow in knowledge and in depth of insight. That means head knowledge and heart knowledge, because both are so important if we are to be the kind of people we were designed to be in the first place.
Living life is a process of refinement, like precious metals are refined by fire, like gorgeous gems are carved out of rocks. And when we say yes to God's love, yes to the gospel, yes to Jesus — that process of refinement leads us to a deeper understanding of ourselves and of other people, it helps us to make good choices, it empowers us to extend grace and peace to the people we live with, those we sit in class with, even to those we work with, when you're old enough to have jobs.
Love and knowledge and insight go together, but that order is crucial. Start with love. Always, always start with love.
Don't be afraid of your tenderness, don't be embarrassed by your concern for those who are on the edges, who are being bullied, who are left out. When you feel their pain, you are letting love win. When your heart is open to God, to yourself and to others, that's when the 'fruit of righteousness' Paul talks about in this sentence becomes obvious.
That big word 'righteousness' actually means 'right relationship' as much as it does 'right behavior.' They go together, you see? When you live in a relationship of love with the God who made you, then you'll find it easier and easier to do what is right and good to do. You won't do it perfectly — because, once again — ain't none of us perfect, right?? But you will do it more and more.
My prayer for you, dear Confirmation Class of 2017, is that one day, someone will say of you what I said of my mother yesterday afternoon:
"What rises to the top is her goodness. Her generosity. Her great good humor, her searching intelligence, her love for us. Give me the choice of all the mothers in this world, I'd choose the one I had. In a heartbeat.'"
Let love abound, my friends. Let it overflow.
Let's pray together:

Gracious and loving God,

How I thank you for the gift of this morning. For each child and young adult moving forward in life. For each Confirmation student in this year's class, and especially today, for Tyler, whose kindness and sweet spirit have made our Tuesday afternoons such a lovely experience for all of us.

Will you help these friends — and their parents, and fellow believers around this room — to really take in the power and beauty of Paul's words this morning?

Open our hearts to receive your love anew, remind us when we step outside of that love, and point us again in the direction of righteousness, of right relationship and right behavior.

Help us to look to Jesus, the one who calls us, who names us as his own, who goes before us and who receives us when we pass from this life to the next.

Amen.