Preached at Montecito Covenant Church, Sunday, June 19, 2016, 10:00 a.m.

Have you ever had one of those days when you wonder, "How in the heck did I get here?" Yeah? Well, me, too. In fact, today happens to be one of those days! How in this crazy world do I happen to be standing here, in this pulpit, struggling to find words that might bring both hope and challenge in the midst of the unspeakable pain, fear, and hate that seem to be exploding all around us in recent days?
Despite the fact that words of all kinds have been flying fast and furious — over the airwaves, across the internet, in conversations by the water cooler or on the street corner — very few of those words have been either hopeful or challenging. Gratefully, I discovered that the words set before us this week in the Common Lectionary are exactly those kind of words: ones that bring both hope and challenge,
You've heard three of our four texts already this morning — the beautiful psalm that we sang at the beginning, the one about the longing we sometimes feel for the presence of God; and then the words that Anna Sung so beautifully read for us earlier in the service, those strong words of encouragement in Paul's letter to the Christians at Galatia, contrasting the work of the law with the work of the Gospel; and the narrative from Luke, the story of the man released from a legion of demons and restored to himself.
As sometimes happens in the lectionary design, all of these readings help to point us in the same direction today — the direction of hope, the direction of transformation, the direction of remembering who we are.
 Well, at least they point us in the direction of who we say we are, those of us who show up in this place on Sunday mornings. We claim to be those whose hearts long for God, people who are set free from legalism, women and men released from all kinds of demons, being brought back, day by day by day, to our best selves.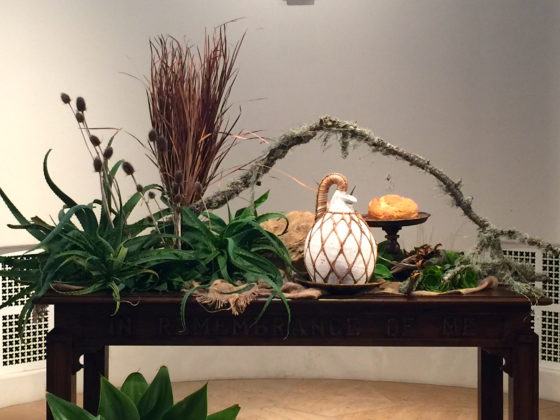 And now, Scripture lesson number four speaks to those things as well. For this reading, we turn to Elijah, that wily, wiry, complicated, faithful, sometimes cranky, always interesting old prophet. Elijah is perhaps second only to Moses in the pantheon of great forerunners in the Old Testament. And like Moses sometimes did, our man Elijah finds himself in a hard place in today's lesson. His world has quite literally gone to hell in a hand basket, and he is feelin' it.
In the chapters just before the one we'll look at today, Elijah has been very, very busy. Busy doing the good and difficult work of a being a prophet, and God has looked out for him in some miraculous ways. But . . . here's the hard truth of this deal: God has also given him a job for which no one is ever thankful. That's the problem with being a prophet, you see. Nobody really wants to hear what you have to say. Yet, what a prophet says is almost always of utmost importance, can sometimes mean the difference between life and death, can sometimes even change the course of history.
I encourage you to read this saga for yourselves sometime later today — all of Elijah's adventures in 1 Kings are found in the two chapters preceding the one before us today, chapters 17 and 18. But before you hear today's passage from chapter 19, I want you to understand this: Elijah is a good guy. His very name means 'faithful to Yahweh,' the very personal self-chosen-title that God had given to Moses, so many centuries earlier.
Also important to remember is that Elijah has just come through an experience of demanding spiritual warfare, up there at the top of Mount Carmel, a place where the God he serves showed up, big-time.
In a perfect world, Elijah should have been celebrating at the beginning of our chapter today. He's experienced some real success as a prophet, working in a dangerous time, with some very dangerous people. But enjoying success is not where the man is. No, not at all.
Listen for yourselves. I've invited some friends to read it for us today — open your Bibles to this text, by all means. But for now, just listen. Take in the story.
Insert here a 3-voice readers' theater version of the morning text.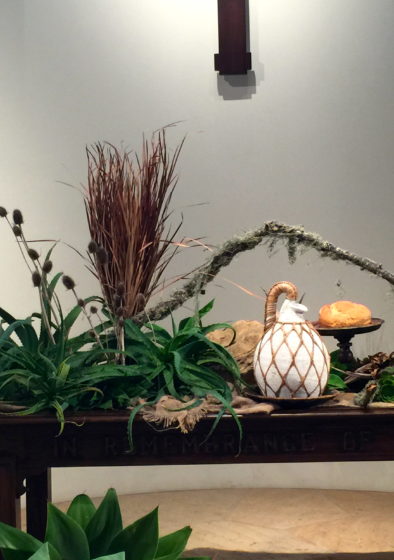 Oh, how I love this story! I really, really do. Why do I love it so? And why do I think it's an important story for us right now, at this moment in time? First of all, I think it's important because of two things that are found in most biblical narratives: this is a story that teaches us about ourselves, and, this is a story that teaches us about God.
Most of all, though, I love this story — and I believe it to be a story that is immediately applicable to the current state of the world and of the church — I love this story because it is TRUE. This is a story that is true in the biggest sense of that word. Whether or not what we have here is marked by incontrovertible, historic and factual accuracy or not, (and I choose to believe that it is), this narrative is one of the truest depictions of the human condition I've ever read anywhere. It speaks profoundly to our deep need for connection — to God, to ourselves, and to one another — and it also speaks to our need for a sense of purpose, especially when life feels overwhelming. This is a story about flight that becomes pilgrimage, of exhaustion transformed by refreshment, of deep discouragement relieved by renewed purpose.
And underneath it all, it is a journey that is at the same time inward, upward and outward — three words which pretty succinctly describe what is of primary importance for this moment in time, as well as for the old prophet on that long ago wilderness trek.
We begin with inward. I think all the best journeys begin this way — AA, in step 4, calls it 'taking a searching and fearless moral inventory' — and it's tough to do. Hitting the wall is not fun, reaching bottom is, quite literally, the pits. But, oh!, it is so important.
Our friend Elijah is just plain done. And he says so, loud and clear. "I have had enough, Lord!" he cries. "Kill me now!" The man has worked hard, hard, hard. He's been faithful and true. He's been obedient to the word of the Lord as he understood it. And Jezebel was one scary queen. She had tremendous power and was viewed as the earthly mouthpiece for mighty Ba'al, the foreign god she and her husband Ahab were encouraging the Israelites to worship. So a threat from her, is a threat indeed. King Ahab didn't seem to phase Elijah much. But Jezebel? He was outta there.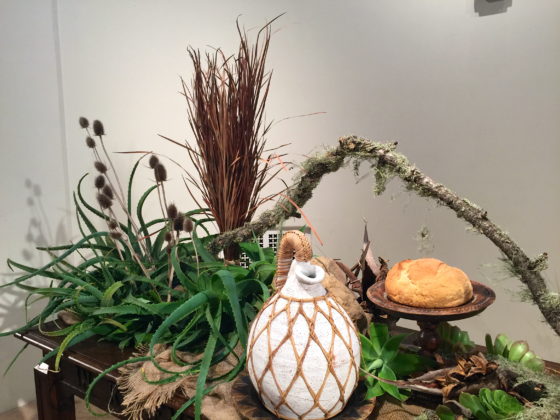 Now intellectually, he must surely have known that Yahweh was greater, right? He'd just seen ample evidence of that on the top of Mt. Carmel, in the great battle of the Dueling Altars. Yet somehow, these words from Jezebel — coming to him through the mouth of a 'messenger,' we're told — these are the words that finish him off.
Elijah is isolated, lonely, undone. So he runs immediately for the border, dumps his faithful servant, and then heads out into the boondocks, more alone at this point in time than he has ever been.
Why is it that when we're feeling most alone, we so often do everything in our power to make sure that we ARE alone? Some scholars see this act as Elijah's way of making a clear statement that he is DONE with the propheting gig. "See, Lord, no servant. Therefore, no work to do, right?" Whatever his reasons, the man who feels alone, is, now, indeed, alone.
Except.
Something quite wonderful happens. The text uses the exact same word here as the word applied to Jezebel's servant — mal'ak — messenger. And because this entire story is told in a favorite Hebraic literary form called a chiasm, the double use of the word fits beautifully. A chiasm is an elegant structure that sets up parallels in a story or a poem from beginning to end, so that if you look at an outline of the entire story you can see how each piece from the beginning is resolved at the end.
So, a messenger — called an 'angel' in most of our English translations — meets Elijah right here, in the middle of that vast wilderness, as he struggles to find a little shade under the scrawny branches of a solitary broom tree.
You know, I've never seen an angel with wings and a halo. But oh-my-word — I've seen lots of angels with flesh on 'em over the years. Just this weekend, a 'messenger' from God spoke to me in a moment of panic and uncertainty. Three times. Three different angels from this congregation sent me single line texts, at exactly the right moment, saying they were praying for me as I worked on this sermon. So no matter what this particular messenger/angel looked like, I believe this person was a divine visitation. And here's what I want us to pay particular attention to: the angel/messenger knew EXACTLY what Elijah needed most at this moment: he needed rest, he needed something to eat, he needed something to drink.
When we or someone we love — or even someone we don't know personally, but care about very much, like all those who have suffered from the latest abominable massacre in our country, this horror in Orlando — when people are suffering and struggling, the very first and best thing that we can do is to see that their immediate physical needs are met. That's why relief agencies step into crises with tangible gifts — water, food, cots to sleep on, counselors to meet with.
What is not needed in that first moment of crisis are words of condemnation, judgment, criticism, or conjecture. Elijah didn't need that messenger to tell him he was acting like a coward. He didn't need a voice labeling him an unforgiven sinner. He didn't need any response other than the one he got: a gentle acceptance of his exhaustion, and the fulfillment of his at-the-moment, most pressing needs.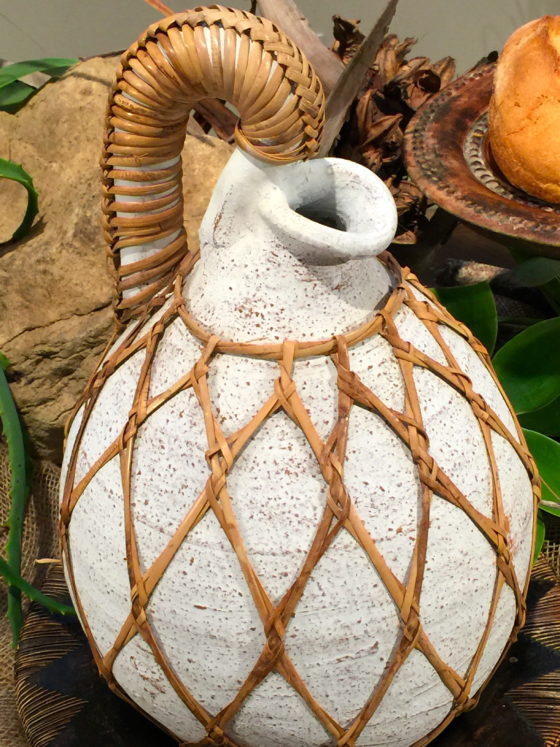 And after those first needs are met, what Elijah received next was of equal importance: he heard kind words. Yes, he heard kind words, laced with empathy and understanding: "Get up and eat some more," the messenger said to him, after he'd had some sleep and some food and some water. "Get up and eat some more, for there is a long journey ahead of you."
Some translations write that last line this way: "For it is too much for you."
Exactly.
"It is too much for you."
What has happened to our LGBT brothers and friends is too much for them. What has happened to our rational, peace-loving Muslim sisters and friends is too much for them. The ugly, hate-filled, side-swiping verbiage happening in our recent political conversation is too much for all of us.
And the best thing we can contribute — after any and all physical needs are met — the best thing we can offer in the midst of exhaustion and hatred is this: kind, sensible, true, loving words.
And only those words. In the immediate aftermath of crisis, we all need to sit down next to the person who is suffering and offer a kind and loving presence. There will be a time for action.There will. But not now.
And so, having slept, eaten, been refreshed by water, our hero sets off across the desert, heading for the Mount of God, called Horeb in this text, an alternate name for Mt. Sinai, that fabled place where Moses met God, and received the tablets of the law.
When I hit the wall at the end of 2001, while I was serving here as Associate Pastor, I took care of my physical needs first. I was exhausted and discovered I was also anemic. So I began to treat that. I was taking some medicines that were making things worse, not better, so I stopped those meds. And there were a few, not a lot, but a few, friends who called or wrote or visited and brought me kind words, too.
But the single most important thing that happened during those months of recovery was that I began to sink into worship, daily worship, using a big red book called "Celtic Daily Prayer" with an accompanying CD. I loved that book — and I used it so often the cover fell off! Experiencing deep periods of worship was what eventually restored me to myself, and to my ministry here.
And that is exactly where our friend Elijah is headed. He is headed to meet God.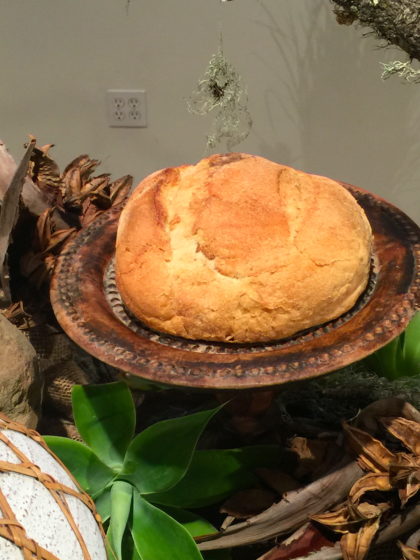 Forty days and forty nights he traveled, which is an old Hebraic way of saying that this trip was perfect, it was complete. And he heads now on the upward part of his journey, both physically and spiritually — up, up, up, he climbs, landing himself inside a cave — maybe the very cleft where Moses had been lovingly placed for his own protection when HE met God on that very mountain.
And then . . . And then we get this remarkable interchange, this wonderful doubly-done conversation. God asks a simple question, "What are you doing here, Elijah?"
Wow. What a question.
What are you doing here, Diana?
What are you doing here, Jon?
What are you doing here, Jim?
What are you doing here, Linda?
What are you doing here???
 Holy mackerel — the question of the ages, right?
What are we doing here? Are we being the church? Are we loving our neighbors? Are we engaging in spiritual warfare, as our pastor as so eloquently instructed us these last four weeks? Are we offering kind words to one another, and to the world around us? Are we living love, all day, every day? Are we open to the very real possibility that God might be doing something new and powerful in us, in the church, in the world?
What are we doing here?
And Elijah gives answer. And boy, it's a pretty self-serving answer, isn't it???
"I've done my job, Lord. I've done what you told me to do. And these people — the ones you sent me to — these people, they're the ones who've messed up. And now I AM ALL ALONE. I'm the only one. Just me. Just little ol' me."
And the Lord is so deeply kind in response: "Go outside your cave, friend," he says. Stand there before me."
But I want you to catch something here. The text says simply that Elijah 'stood there' in verse 11, just as the Lord begins to 'pass by.' But skip over all the drama for a second and look at verse 13. Do you see it there? The wind, and the earthquake, and the fire go by, bringing with them majesty, chaos, destruction, HUGE reminders of the power of God. Yet the text very carefully tells us that God was not in ANY of these. No. After all the bells and whistles, there comes the 'sound of a gentle whisper,' or the 'sound of silence,' as my favorite interpretation puts it. And at THIS, verse 13 tells us, Elijah wrapped himself in his cloak, and THEN, he stepped to the entrance of the cave.
Unlike Moses, whom the Lord placed into the cave for his own protection, God invites Elijah to come out of the cave and to stand before Yahweh. And somehow, Elijah cannot even respond until . . . the silence is as overwhelming as the loneliness. Isn't that interesting?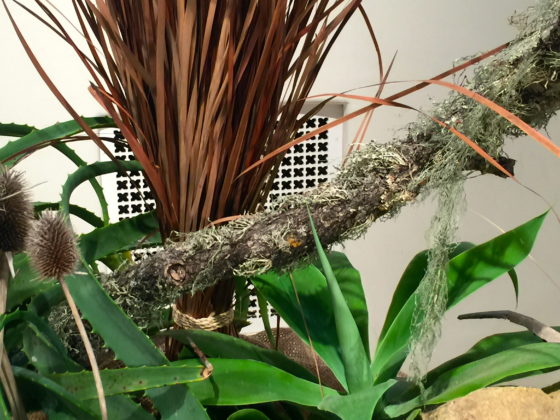 Now whether this is evidence of Elijah's superior and astute judgment about what constitutes the presence of God or yet another example of how truly out of it he was, or a beautifully drawn picture of how deep his need was, I don't pretend to know. The text doesn't tell us those things.
Whatever got him out there on that ledge, Elijah now stands in the very presence of God and hears God ask the very same question Elijah has already answered: "What are you doing here, Elijah?"
And here's the kicker: Elijah gives exactly the same answer.
There is no sudden stab of insight. There is no increasing clarity or sign of intelligence. There is only, and I use this word very carefully, there is only obedience. The Lord says, "Stand here." He's late to respond, but he does it. The Lord asks, "What are you doing here?" And Elijah answers. Again. But I gotta say, something is happening here. I'm not completely sure what it is, but I have a few hunches. Because here is what happens at the very end of our narrative today: the Lord says to Elijah: "Go back the way you came."
Go back the way you came?
Yes! The journey is reversed. The inward and upward journey is now, once again, the outward journey. Much like walking the prayer labyrinth, we walk in, and we walk out. But it is what happens right there at the center that makes the difference.
What we don't see in the text of the morning is what comes next — and it's important, too. God gives Elijah new marching orders — basically, he is re-commissioned as a prophet. BUT, this time, he is to find and anoint his own successor, so Elijah knows there is an end game in view.
And then — and oh, how I love this little add-on — and then, God carefully and clearly says to Elijah, "Oh by the way, you are not alone. You have never been alone. There are 7,000 — count them! — seven zero zero zero others who have been faithfully worshipping me all this time."
How gracious is this whole conversation? One worn-out, burnt-up old prophet, wrapped in his cloak, still feeling old and tired and done. And one remarkable God, who sees Elijah — all of Elijah — and says, "You belong to me, old man. Warts and all, weaknesses and all. And I am not done with you just yet. No way, no how."
God calls Elijah to remember who he is. In the midst of his sorrow, even in the midst of his inability to truly see the goodness that is right around him, in the midst of it all, God says, "You. You right there. I've got work for you. Good work. So, take a deep breath, take a good look at me. And remember who the heck you are, okay?"
Oh friends. When we face days where we wonder how the heck we got here, can we remember this?
Can we remember the goodness of God?
Can we remember the truth that we are NEVER alone?
Can we look for angels in the faces of the people who help us?
Can we go deep into worship, seeking the presence of the Living God?
Can we climb whatever mountain is in front of us, confident that we won't be alone                            there, either?
Can we reach out in love to individuals and groups who are being unjustly treated                              and persecuted?
Can we engage in spiritual warfare with the only real weapon we've got, the ever-                                present, all-inclusive love of God?
Can we be ready to answer that ages-old question: What are you doing here?

Can we remember who we are?
Oh, I hope so. I pray so.
Let's begin by singing, with courage, the powerful words of the song in our bulletins —
             "Through it all, my eyes are on you, through it all, all is well."