I had the privilege of giving the homily and pastoral prayer at the Witness to the Resurrection Service for one of my dearest friends, amazing Lucille.  A mentor to me for 43 years, she lived a full, rich life, using her gifts of leadership, hospitality, generosity, inclusion, encouragement, creativity and joie de vivre. I thank God for her. I am posting this short piece here for anyone who loved her and was unable to travel to Santa Barbara today for the service. I wish I could give you the entire time — the memories, the singing, the piano music, the laughter. Maybe this will give you a tiny piece of the whole.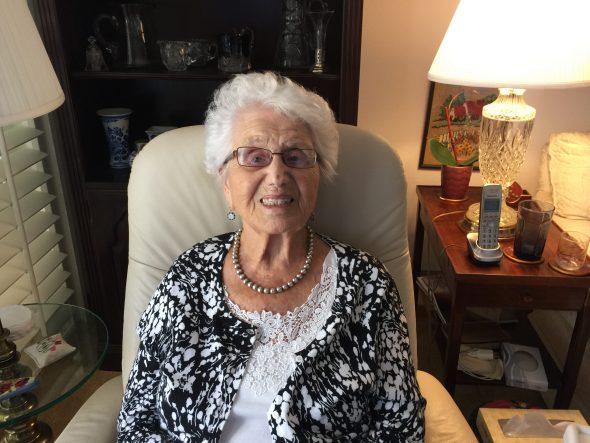 They're all gone now — all of my mothers. My own mom, the one who birthed and raised me, died last year at the age of 95. My husband's mom, the one who welcomed and included me, died in 2014 at the age of 98.
And Lucille, the mom who mentored me, who saw gifts in me I didn't see in myself; the one who challenged me to begin the slow, steady work of becoming a pastor — now she is gone, too, at the amazing age of 102.
And I feel each loss profoundly.There are no substitutes for any of these remarkable women. None. Each one was a gift of God in my life — planting seeds, modeling courage, living a life of faith and faithfulness, fully and well.
So I join with Cindy and Curt and Jim and their families in grieving today. There is a huge hole in the universe that opened last weekend, one that will never be filled in exactly the same way. And it's important to say so, to acknowledge and make room for the tears, to pause and let it sink in that someone with a larger-than-life presence is no longer touchable, no longer filling that unique and particular space in our lives and hearts. And that is painful.
But here is something else that is true, perhaps even more true than the pain: even in death, we have a living hope. That is why, as I stand here and you sit there, we can all link arms and give testimony to this truth:
          our gratitude is wider, deeper and greater than our grief.
And if Lucille were here with us, I'd offer to help her design a needlepoint purse that says exactly that!
            Our gratitude is greater than our grief.
All week long, I have been overwhelmed with the depth of my gratitude — to God for the gift of this woman in my life, to Lucille, for being who she was, and to all of you for sharing her so generously with all of us. There is no one like her — never has been, never will be.
Now we all know, she wasn't perfect. Not one of us is. But I gotta say this — she came really, really close, didn't she? She had strong opinions and she shared them. She liked to be in charge and she was scarily good at it. She never garnered a long list of degrees after her name, but her intelligence was through the roof. And she adored her family — every single member of her family — the ones she bore and the ones some of them married, and the kids they bore and the kids they married, and now the kids the kids had!
And then, there were all those cousins and aunts, her amazing sisters, the two remarkable husbands and an entire step-family. All of you were shining stars in her universe and I hope you know that, way down deep inside you. Because to be loved by Lucille Peterson Johnston — that is a rich gift, one with lasting impact and importance, one that changes you from the inside out.
In the midst of my own remembering, and on the rising tide of my gratitude, I've reflected on why that last point is true. Why is it that the love of a person like Lucille has the power to change us?
I think it's this: Lucille was the embodiment of what it means to live firmly situated in the 'living hope' that Peter talks about in the first chapter of his first epistle. Lucille walked the talk. She knew God, up close and personally. She radiated energy and life and hope, which, if you think about it, is a pretty risky thing to do. Because when we allow ourselves to hope, we open ourselves to the strong possibility — maybe even the likelihood — of massive disappointment. Sometimes, living in hope can feel tenuous, uncertain, even frightening.
But here's the thing about the kind of hope that Peter is talking about here, — this living hope is not your ordinary, run-of-the-mill, "oh, I hope, I hope, I hope I get what I want" kinda deal. No. Peter's kind of hope — God's kind of hope, Lucille's kind of hope — is alive — it has wings and a beating heart and it can move us to do remarkable and world-changing things.
"By his great mercy," Peter wrote to the church, "God has given us a new birth into a living hope through the resurrection of Jesus Christ from the dead and into an inheritance that is imperishable, undefiled, and unfading, kept in heaven for you, who are being protected by the power of God through faith for a salvation ready to be revealed in the last time." (NRSV)
It begins with the mercy of God, and it continues through a life lived in hope, and is brought to completion when we reach the moment of our inheritance. And that is where our dear Lucille is right now, friends. She is experiencing the completion of the living hope that was her life on planet earth. She is enjoying the company of God in ways we can only imagine, and she is surrounded by nothing but love. Nothing.
Harold and Roy are there, of course. And her mom, whom she moved across the country to care for so many years ago. And sweet Drake, who left us way too soon. And her sisters, Doris and Betty, and so many friends, too many to count. And before we know it, we will be there, too — some of us sooner than others.
But between now and then, we have work to do, don't we? We have the remarkable task of carrying on her legacy, of letting that living hope empower us to be the truest, fullest, richest persons we can be. Because here's the wonderful truth — Lucille knew herself. She knew who she was, what her gifts were, whom she loved. And she was the very best Lucille she could be, wasn't she?
That's what the mercy of God can do, you see. That's what living in hope births in us — a growing awareness of who God is, yes, indeed. But also a growing awareness of who WE are, and a deepening desire to live these lives we've been given fully aware and fully awake.
So thank you, Lucille, for being you. For showing us the way to the good life, for calling out the best in us, for reminding us, with that ever-present twinkle, that there is always more to come.
And thank you, God, for giving her to us and for giving us to one another.
Will you pray with me, please?
Loving God, Risen Savior, Gentle Spirit,
How we thank you for the gift of Lucille. For her grace and beauty, for her warm hospitality, for her generous and thoughtful gifts of love and inclusion to so many people. We miss her. And this family misses her most of all. Enliven us with your presence, even as we sit together in grief. Remind us of that hope with wings that Jesus makes possible.
We pray especially today for all these ones in the front rows, the family Lucille loved so dearly. Will you bring the healing balm of tears and of laughter, the soothing comfort of memories, of photographs and family history, of things shared only by them?
And will you bring to all of our hearts and minds our own special and sweet remembrances of Lucille's endless gifts — rich gifts of creativity and hospitality and leadership. And empower each of us, by the work of your Spirit within us, to live our lives as fully as possible. To know ourselves, to deepen our walk with you, to reach out to others with the kind of welcome that Lucille modeled for all of us, the kind of welcome that she experienced because she knew you so very well.
No, there will never be another one like her, Lord. And that is exactly as it should be. Thank you for your loving design, O God, your careful and invigorating breath of life, that Spirit that is uniquely breathed into each and every one of your human creatures. Thank you especially that the Wind you breathed into Lucille blew our way for so many years.
It is all gift.
In the name of Jesus, the one who loves us and walks with us, we pray today. Amen.