WARNING:
THIS IS A MUCH LONGER INTRO THAN USUAL. FEEL FREE TO GLANCE, SKIP OR IGNORE:
This week marks the halfway point in my original layout for this series. I designed Q & A around a set of topics I've been noticing as I read around the Christian blog world; six basic concerns that surface repeatedly and that often feel more than a little bit unsafe and scary to many people. When I wrote the introductory post for Q & A, I solicited additional questions from you. Two of you wrote back with a whole series of questions that crystallized around two main areas, which brought my total topic list to these eight:
1. Why is there so much talk about obedience?                      (January 17)
2. What's with this 'more of Jesus, less of me' stuff?              (January 24)
3. What's with all this talk about 'sin?'                                (January 31)
4. Is there room for my tears here?                                       (February 7)
5. What do we do with our suffering?                                  (February 14)
6. How do I make all the pieces fit?                                       (February 21)
7. Why do bad things happen to good people?                       (February 28)
8. What do I do with all the hard/weird stuff in the Bible?   (March 7)
As you can see, these questions are broad, and fully half of them deal in one way or another with the huge topic of suffering. That is intentional. I don't want to waste time, space or effort by delving into too much detail on any one topic, yet the facets of suffering are many and require careful parsing out. As we work our way through this list, you'll notice that my reflections will always be general in nature, not specific. I don't want to open a can of worms with any of these, but I do want to foster a safe space for discussion and conversation, rather than debate. Disagreement is welcome, as long as it's kind and open. We don't have to agree about all that much, actually, to be connected through the goodness of God made flesh in Jesus of Nazareth. I am ordained in a small, evangelical denomination that I love. (You can meet us here.) We hold only six affirmations:
We affirm the centrality of the word of God.
We affirm the necessity of the new birth.
We affirm a commitment to the whole mission of the church.
We affirm the church as a fellowship of believers.
We affirm a conscious dependence on the Holy Spirit.
We affirm the reality of freedom in Christ.
And it is that last one that I cling to whenever I find myself in disagreement with another Christian on any topic that isn't directly connected to those first five affirmations. There is room to 'agree to disagree,' and for the last 35 years, I have been privileged to be a part of a church family that lives that truth.
This time table for our conversations, our 'delving into the mystery,'  overlaps by two days with the beginning of Lent this year. I am hoping to do another daily devotional series during Lent; the last time I tackled that was 2012. So, after Easter, if there are further questions that you would like to work through, please let me know and we'll have at it during the weeks of Eastertide. I am also open to continuing the Q & A format as an occasional series, so let me know if there is ever a topic you'd like for us to address together after we've finished this series. Thanks so much to everyone for your wonderful contributions to this endeavor.
As you can see from the schedule, the question for next week is:
What do we do with our suffering?
My reflections for this week do not fit the surfing theme! Instead, I am focussing on three treasures of mine, things I have always kept nearby on my pastoral and/or personal desk, things that teach me some important truths every time I look at them.
Treasure Number One: One weekend in early April, nearly thirty-five years ago, we had a brief respite after a huge rainstorm that lasted almost a week. So we piled our three kids in the car and drove an hour west from our home in Altadena, towards the ocean. All of us walked out onto the beach and immediately noticed that there were thousands of tiny shells scattered all over the hard, damp sand left behind by the ebbing tide. We don't get a lot of shells in southern California. Sometimes; after a big storm, we might find a few here and there. But this was just stunning to see — and delightful. We all began to gather as many as we could in the hour we'd set aside for beach-walking.
My middle daughter, who has always had great observational skills, was the champ that day, bringing back several handfuls of these beautiful, delicate things, almost all of them scallop shells. We rinsed and dried them and I kept some of them separate from the several baskets full of shells that have always adorned our homes over the years.
These were special to me. They were small, very small. And they were perfect. Something about them spoke to a deep place in me. Ever since then, I have had this clam shell full of them sitting on my desk(s), either at home or in my office.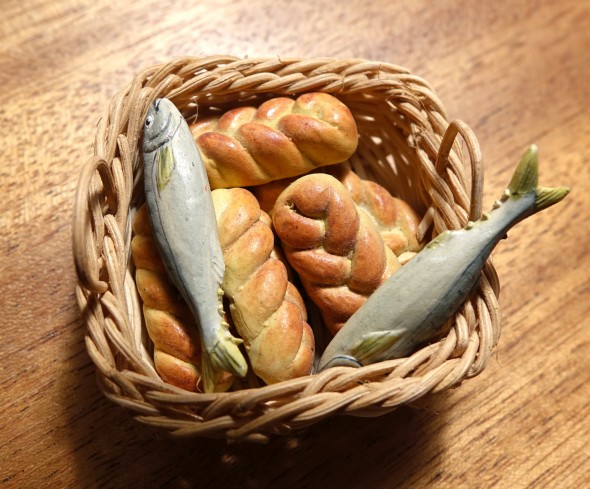 Treasure Number Two: Within the first two weeks of moving to Santa Barbara to begin my very first (and only) paid position on a pastoral staff, I was browsing among some of the quaint shops on State Street in my new hometown. I quickly located a place that remains on my top 10 list to this day, a tiny, crowded shop that features jewelry, brightly colored linens, wonderful seasonal decor, and collections of tiny things. Do you see that basket? It's about an inch and half square. And can you see what's in it? Five tiny loaves of bread and two small fish. Does that sound familiar to you?
Treasure Number Three: The last piece of my favorite trio is this small carving of the weeping Jesus of Lithuania, a gift from a friend who used to be my boss. This is what Wikipedia (yes, I know!!) has to say about this figure:
Wooden carvings of Rūpintojėlis, "The Jesus who cares for us," are often seen at crossroads and in cemeteries. He always rests his head on his right arm, his left hand rests on his knee, a crown of thorns on his head shows drops of blood, and his face is full of solicitude and sorrow.

The pose may represent Jesus' anticipation of his crucifixion, after his scourging and crowning with thorns. It is also said to depict Jesus after his resurrection and before his ascension. One legend has it that Jesus traveled throughout the world wearing his crown of thorns; during his journeys, he sometimes sat on stones near the road and wept.
(italics mine)
At first glance, it might seem to you that this last piece of the three is the one that relates most readily to the question of the week. And, in one way, that is indeed true. This is a small copy of a figure that appears all over the country of Lithuania, a figure that encapsulates the suffering endured during communism's rule, that reminded faithful Catholic believers that Jesus had not forgotten them in the midst of their suffering. His tears made their own more bearable somehow.
In truth, however, it is also the shells, and those tiny reminders of the miracle on the hillside, in combination with the weeping Jesus figure — all of these together — that help me to remember and believe that my own tears are seen by God. Not only are they seen, they are treasured, collected in God's bottle and remembered. I believe that my tears, and your tears, are gifts from God and to God.
And also? Your tears and my tears are gifts to the larger body of Christ. 
Tears are small things, you see. Tiny, actually. Just droplets of water that flow from our eyes when we're feeling deep emotions or when we're enduring physical pain. Did you know that the tears that come when you are peeling onions or blinking at a fierce wind are not a chemical match for the tears you shed in either pain or joy? 'Real' tears carry toxins away from the body, they are a cleansing agent, a release. And part of God's design.
I also believe that they are evidence of the Holy Spirit's good work within us. I believe that tears can be a charism, not unlike tongues or prophecy, wisdom or miracles. No, they're not listed anywhere in scripture. But I believe it nonetheless. For me they are the gift that came when I asked for the gift of tongues, the gift of a special prayer language. I have not received the language, but the tears spring forth, unbidden, many times when I pray, when I counsel others, when I read the Word. And over and over again, I have learned that they are gift.
They are also often sign, providing a 'pay attention to this' inkling that God is up to something in my heart or the heart of another. Yes, they are tiny. But they are perfect — just like the shells. And they represent what God's Spirit can do in and through us when we relinquish what we have, when we let go of our tendency toward too-tight control over our emotions and our thought life. A lesson that I remember whenever I look at the loaves and the fishes.
God, you see, can do miracles with very small things. And sometimes, those very small things are our tears.
So, why then, I wonder, do so many Christians shy away from them? Why is the predominant mood on Sunday morning too often one of incessant good cheer, hail-fellow-well-met, I'm-fine-thank-you-I'm-just-fine? In truth, the Sunday morning good cheer wouldn't bother me so much if I were confident that the tears that I KNOW most people are carrying in their bodies and their spirits were given permission to flow somewhere in the midst of the community, maybe on another day of the week! 
What worries me is that too many Christians simply do not feel safe admitting that they carry those tears, believing instead that they have managed to flunk the primary test of authentic discipleship. Where is the JOY? they wonder. Where is the gratitude? I have Jesus, why am I not 'fine?'
What I want to say — what my beautiful shells and my small reminder of miracles and the figure of our crying Jesus remind me — is that life is not always grand. And that is to be expected.  Injustice abounds. Wars rage. Children die. Health gives way. Minds deteriorate. Relationships break apart. Jobs are lost. Bad habits persist. Doubt looms large. Everything is not just hunky-dory all the time, you know? We are so.not.fine.
And. . . there is this, oh-so-important piece of our story:
Jesus wept.
Hang onto that truth. With all that is in you, hang onto it. Our holy book is laced with the language of lament, fists raised to the heavens, tears streaming down the cheeks. Because tears are a part of what it means to live as human creatures in a broken but beautiful world. Tears are a primary means of release, of communication, of grief, pain, loss and even of joy and gratitude. It all melds together, you see. Mourning and dancing 'kiss each other,' and all of it is part of what it means to live a full, real, human life. 
This is a huge topic, so many layers to be unpacked and wrestled through. But for this week, the most important answer to our weekly question is YES, there is room for your tears here. In fact, they are welcome here. Because if you let me see your tears, then I know you are giving me a gift; you are giving me the truth. You are letting me in, so that I can weep with you, and then together, we can weep with God.
When we offer our tears to one another and to the living, loving God of the universe, we are allowing ourselves to be truth-tellers and image-bearers more powerfully than at almost any other time in our lives for precisely this reason: we know a God who weeps with us. And his name is Jesus.
Thanks be to God.
 Next week's question: What do we do with our suffering?   
Loading InLinkz ...