Welcome to week five in a series of longish reflections on some of life's harder questions. We're having a rich conversation in this space and I am grateful. Last week opened the door to a series-within-the-series, a set of questions that touch on the Big Topic of suffering. This week's question jumps in a little deeper:
What do we do with our suffering?
Next week: How do I make all the pieces fit? 
Valentine's Day has never been a favorite day for me. It's become over-commercialized and too often leads to tiny heartbreaks instead of warm fuzzies. Yet I find it oddly appropriate that this week's question should fall on this day. Why? Because at the heart of all that I've learned by living this particular question is this strong, clear truth:
The greatest task, and the deepest joy, of the human journey is learning to live loved.

Trusting that despite all kinds of evidence that might, at first glance, seem to be to the contrary, we are loved. Loved beyond reason, beyond our ability to comprehend, beyond imagining.
Why are we loved?
Because we are. Because we live. Because we existed in the mind of God before ever we drew breath. Because each and every one of the billions of us who have walked the deserts and jungles of this planet is beautiful, lovable, glorious and a totally unique bearer of the image of God. A Great God, who is both beyond us and with us, who rejoices when we rejoice and weeps when we weep. 
We are loved.
Everything else begins and ends with that statement.
On days when the sun is shining, the sky is clear, and we and our loved ones are busy enjoying the good things this life has to offer — on those days, the whole idea of living loved seems possible. Good feelings overflow, endorphins rush through our brains and bodies, and Life.Is.Good.
Yes, maybe we are loved! Maybe this is what love looks like — happy feelings all around, blue skies wherever my eye lands.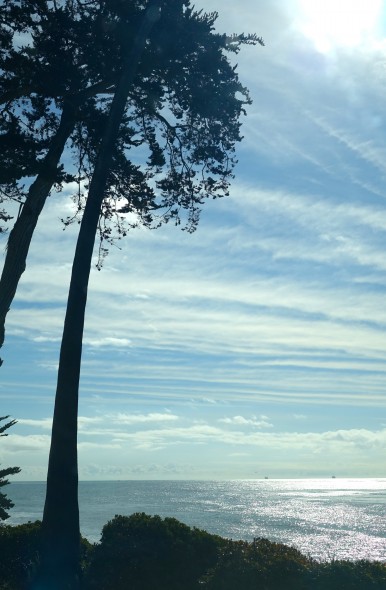 But when the blue begins to fade a bit, and clouds drift by, when harder things hit us, interrupt the good vibes of blue-sky days. . . well, then that whole idea begins to seem a lot more iffy, doesn't it? Something uncomfortable begins to intrude, a physical ailment or a ruptured relationship, job dissatisfaction or not enough money at the end of the month — living loved? Not likely. Living ignored feels more like it.
But here's what I'm coming to believe. I'm not all the way there yet, but I'm getting there, and I'm breathing prayers for grace and patience to live into this truth:
It is when the storm looms large that all the edges of living loved begin to be visible. It is in the storm that we meet God most intimately. And we encounter ourselves there, too. We learn a heckuva lot more about who we are, how we're built, where our strengths and weaknesses are, and what our own personal shadows have to teach us when we're navigating through gale-force winds than when we're enjoying a blue-sky day.
If I'm honest — and I'm trying to be! — I don't like this very much. I prefer sunny days and happy feelings. I'm grateful for loving family and financial stability and good health and the ability to be generous — and it's easy to be grateful for all of that. 
But life is not simply blue-sky days. And when the storms hit, gratitude is much harder to find. Sometimes we can go years without seeing a hint of blue in the scene unfolding around us. Life is complicated, often difficult, sometimes filled with pain. What then? Living loved? 
Now, it feels more like living abandoned.
Last week, we encouraged one another to give ourselves permission for the tears that come with all those feelings, all those stormy days. I believe scripture invites us to lament, giving us words and emotions and stories that underscore the reality of human suffering. Biblical faith is not stoicism and it is not saccharine or cheesy, either.
Biblical faith is muscular, tough, stubborn. Joseph held onto hope despite calamity after calamity. Jacob learned everything the hard way. David was great at music and kingship, but lousy at parenting and integrity. Elijah was aces when the big show demanded it, but fell apart when fatigue overwhelmed. Hannah cried out to God when her life felt empty and bitter and then gave up God's gift when he arrived. Ruth begged and borrowed the very food she and Naomi needed while learning to trust Israel's God. Mary pondered and sang, questioned and grieved. 
Suffering is never minimized in scripture. It is acknowledged on almost every page. We are never told to 'rise above it.' Instead, we are invited to live into it and to learn from it. And to recognize that God is right here with us, in the middle of every sob session, in the heart of every loss, right here in the muck with us. 
Here are some powerful, beautiful words from Fred Buechner that begin to summarize what I want to say today:
 "The world floods in on all of us. The world can be kind, and it can be cruel. It can be beautiful, and it can be appalling. It can give us good reason to hope and good reason to give up all hope. It can strengthen our faith in a loving God, and it can decimate our faith. In our lives in the world, the temptation is always to go where the world takes us, to drift with whatever current happens to be running strongest. When good things happen, we rise to heaven; when bad things happen, we descend to hell. When the world strikes out at us, we strike back, and when one way or another the world blesses us, our spirits soar. I know this to be true of no one as well as I know it to be true of myself. I know how just the weather can affect my whole state of mind for good or ill, how just getting stuck in a traffic jam can ruin an afternoon that in every other way is so beautiful that it dazzles the heart. We are in constant danger of being not actors in the drama of our own lives but reactors. The fragmentary nature of our experience shatters us into fragments. Instead of being whole, most of the time we are in pieces, and we see the world in pieces, full of darkness at one moment and full of light the next.

It is in Jesus, of course, and in the people whose lives have been deeply touched by Jesus, and in ourselves at those moments when we also are deeply touched by him, that we see another way of being human in this world, which is the way of wholeness. When we glimpse that wholeness in others, we recognize it immediately for what it is, and the reason we recognize it, I believe, is that no matter how much the world shatters us to pieces, we carry inside us a vision of wholeness that we sense is our true home and that beckons to us. It is part of what the book of Genesis means by saying that we are made in the image of God. It is part of what Saint Paul means by saying that the deepest undercurrent of all creation is the current that seeks to draw us toward what he calls mature humanhood, to the measure of the stature of the fullness of Christ.
— Frederick Buechner, from a sermon included in the book, "Longing for Home"
Wholeness. Living loved brings us as close to that as we can get this side of heaven. Choosing, every single day, no matter the weather, to believe that God loves us — and to learn to love ourselves because God loves us — this is the only path I know that leads to wholeness, to healing.
That means jettisoning a lot of bad theology along the way. It means choosing to hold the tension of God's sovereignty and God's goodness loosely and humbly. It means choosing to live with unanswered questions. It means letting the tears loose, crying 'uncle,' stomping our feet on occasion or shaking our fists in heaven's direction. And then. . . sitting still long enough to hear the gentle whisper of love echoing in our hearts — right there, in the middle of our frustration, our rage, our impotence.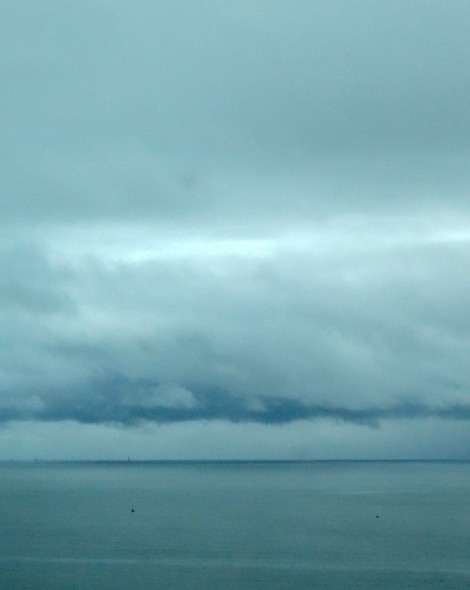 It also means refusing to put suffering on a sliding scale of any kind. If you find yourself in the middle of deep personal pain for any reason — ANY REASON — then you are suffering. Please do not undervalue your own struggle by looking across the aisle, or across the newspaper, or across the world to someone else's struggle. You will always find someone who is 'worse off' than you are. I promise. Instead, fully inhabit your pain, as much as you are able. Release the anguish of it, take it to God and say, "See this? Do you see this? Do you see how hard this is? Are you God or aren't you? Can you fix this or can't you?"
Yes, go ahead. Pour it out.
And then — shut up.
Sit by the side of the road and listen. Listen to what God has been teaching you about love and about yourself. Really listen. "I am with you always," God says. "I collect your tears in a bottle." 
And remember that when these times hit — and they do, they will — that you are in such good company, the author of Lamentations to name one. He rages and sobs. . . and then he remembers. He listens to what he knows:
13 He shot his arrows
    deep into my heart.
14 My own people laugh at me.
    All day long they sing their mocking songs.
15 He has filled me with bitterness
    and given me a bitter cup of sorrow to drink.
16 He has made me chew on gravel.
     He has rolled me in the dust.
17 Peace has been stripped away,
    and I have forgotten what prosperity is.
18 I cry out, "My splendor is gone!
    Everything I had hoped for from the Lord is lost!"
19 The thought of my suffering and homelessness
    is bitter beyond words.
20 I will never forget this awful time,
    as I grieve over my loss.
21 Yet I still dare to hope
    when I remember this:
22 The faithful love of the Lord never ends!
    His mercies never cease.
23 Great is his faithfulness;
    his mercies begin afresh each morning.
24 I say to myself, "The Lord is my inheritance;
    therefore, I will hope in him!"
The LORD is our inheritance.
Can you still 'dare to hope?' No matter what sort of crap life hands you? Do you know how loved you are, even when the s**t hits the fan? Do you know how to love yourself when the pain level rises? Can you release the temptation to write off your own pain because someone else's may be worse? 
And here's the question I need to ask myself right now, in the middle of the muck that we're wading through: can I remember that there is only one Savior and that Savior's name is Jesus? Can I release my need to be the giver of help and begin to receive what I need to get through this round? Can I believe enough in the immensity of God's love for me that I can make good choices, ones that lead to health and healing? 
I'm workin' on it. 
You?
Next week, we'll continue to delve into this enormous and complex topic by asking:
How do I make all the pieces fit?