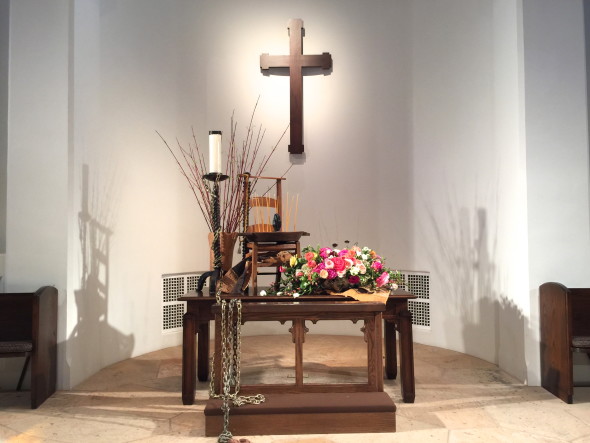 I was invited to participate in worship leadership yesterday, the first time in a while I've been asked, and the first time in a longer while when I felt I could reasonably say 'yes.' We enjoyed a relatively quiet weekend for the first time in too long, so there was space, both on the calendar, and in my spirit, to think creatively about a passage of scripture and attempt to lead God's people in prayer.
The sermon was from a short text in Ephesians 6 — the two verses immediately following that long list of 'armor' that every follow of Jesus needs to live fully, carefully and creatively in this world of ours. The verses that talk about Paul being an 'ambassador in chains,' the ones that talk about being  full-out followers of Jesus, the ones that encourage us all to be people of prayer. . . all-the-time prayer, not just special-event-as-the-needs-build-up prayer.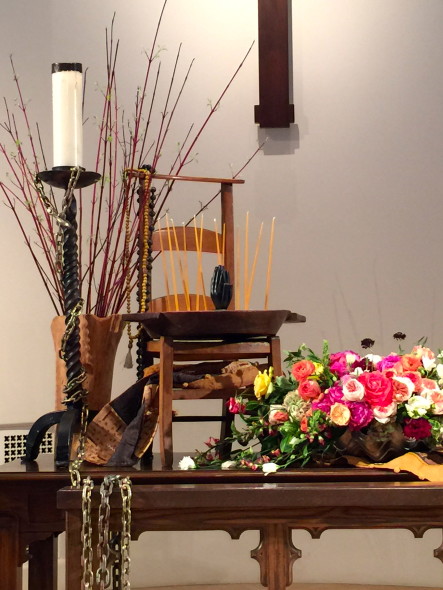 As always, the altarpiece helped us to 'see' the passage, and Pastor Don's sermon unpacked those words very well indeed. After the sermon, the worship team led us through 3 rounds of that wonderful, small Taize chorus, the one that goes:
O Lord, hear my prayer; O Lord, hear my prayer.
When I call, answer me.
O Lord, hear my prayer; O Lord, hear my prayer.
Come and listen to me.
And then we prayed a community prayer in three parts, the first and last from me, the middle one from Don, with the chorus sung liturgically between each part. It was good to lead in prayer again; I'm grateful.
We've heard a word from you today, Lord.
A good word, but also, I must admit,
a hard word.
It's hard because today you're asking us to be 'all in.'

All of us, all the time, everywhere.

Gulp.

Somehow, it's easier for us to be partly in, you know?
Especially on days like today, when we can come here,
to this beautiful space, and specifically focus on you —
on who you are, on who you call us to be.

It seems simpler for us to do that when we gather with your people,
when we sing the songs and pray the prayers and hear the words.

But today, your word is asking something else entirely.
And that something is important, and inclusive,
and — let's be honest here — more than a little bit demanding.
It feels uncomfortable, maybe even disorienting,
because you're asking us to be ambassadors, out there, in the world.

The world we live in, and study in.
The world we shop in, and work in,
the world where we converse with other people, all kinds of other people,
some of them really difficult.
The world where too many problems seem to have no answers,
where ugly things happen — things that scare us and overwhelm us.

But that is the world you made, the world you have set us in, the world you love.
And if we're going to call ourselves your friends, then that's the world where we must be.

Will you help us, please?
Lean in close and whisper words of truth and courage,
remind us of the depths of your love,
tell us the truth of who we are as your called,
and gifted
and empowered
representatives.

We have good news to share, to live, to offer.

Make us bold in our living, wherever we are,
from the kitchen to the boardroom,
from the study hall to the golf course,
from the baby nursery to the retirement home.

Wherever we are, whomever we're with,
help us to radiate your love and grace,
in every conversation,
transaction,
encounter,
and circumstance.

Help us to be all in.
Lord, hear our prayer.

Part Two.

Lord, we confess that we are not always prepared for the battle.
We expect things to be nice and polite and to go our way.
We confess that we get wounded too easily and fight with others too harshly.

And the weapons we use to do battle just don't get the job done.

So today, O God, would you re-arm our lives with your full armor?

Would you belt our lives with your eternal truth?

Would you cover our hearts with your breastplate of righteousness?

Would you put on our feet those fast shoes 

that spread the gospel of peace and reconciliation anywhere and everywhere we go?

Would you put in our hands that strong shield of faith that can absorb and quench the fiery attacks that often undo us?

Would you cover our heads and minds with that strong helmet of our salvation that cannot be taken away?

And give us your sword, your Word, anchored in our hearts, that Word which can fell and undo Satan and all his lies.                                                                     Lord, make us strong.                                                                                                     Hear our prayer.

Part Three

Some of us, Lord, have been doing this discipleship thing for a long time now.
Others of us are newer to the journey.
But all of us still have so much to learn about prayer.

About settling into that place where we do what the epistles call us to do with that impossible sounding phrase: "pray without ceasing."

Maybe we find prayer difficult because we've misunderstood the richness of this gift, this means of communion with you.

Maybe we've been stuck in a rut of list-making,
and detailed itemizing.

Or maybe we think prayer is some strange specialty that's better left
to the pastors and the wordsmiths.

Whatever the reasons, Lord, will you help us, right here and right now,
to just relax?

To sit here, in your presence, and say as little as possible.

Maybe a, 'thank you!'
Or a, 'bless them.'
Or a, 'you're amazing, Lord!'

Because that's at the heart of it all, isn't it?
Moving through our days with an awareness of you,
with a spirit of gratitude,
with an eagerness to find you, already at work in the midst of the details
that fill our time and our minds.

So as we sit here in this quiet space, and as we sing this lovely small song,
will you help us to unkink,
to let go of our need to be 'good' at things,
and just discover the simple joy of
being quiet, with you?

Thank you, Lord.
Bless us, Lord.
Praise you, Lord.

Amen.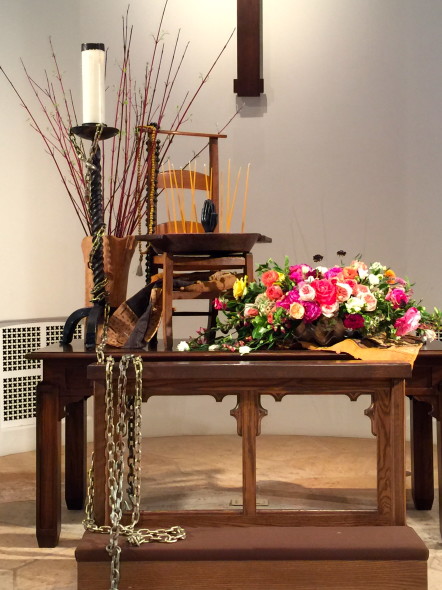 We visited with some old friends and met a few new ones, too; we picked up some mail at our former home, and then we turned the car around, drove further than we're used to on a Sunday morning, and spent the rest of the day enjoying the quiet beauty of our new space. I sat on a chaise lounge, in the sunshine for two hours, just being grateful for the ways in which we have been blessed in this life of ours. Not many words were said. And I was happy to be 'all in,' if only for an afternoon.