Do you all know Seth Haines? He's written one of the best books I read in 2015, "Coming Clean," (reviewed here on this blog) He also writes an occasional Tiny Letter and was one of those who inspired me to begin writing my own version of that. In the last few of those letters, he has begun to do what he once did for a small group of email friends — provide inspiration for writing on a topic. Today's letter inspired these thoughts and THIS  is what I need in my writing life right now. I've been tired, lethargic, uninspired for many months now. I'm sure that enervating fatigue is connected to the stresses of the last eighteen months or so, from foot surgery and recovery to emergency hospital stays, to a major move across town, interwoven with the continuing disappearance of my mother into the mists of dementia and the inevitable toll of a long life on the bodies and psyches of both my husband and myself. But today, his own reflection (which is stunningly gorgeous – go over to his blog and sign up for his letter right this minute!) invited me to just sit and reflect on the presence of God in the ordinary. My response to that invitation: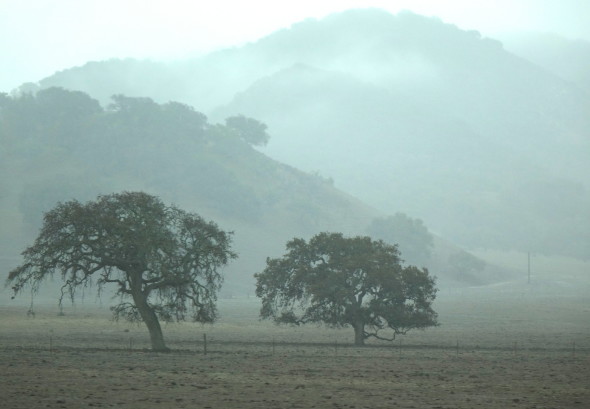 The clouds are low to the ground this week, hovering over our city like a pale gray shawl, hiding the view, softening the noise, slowing my breath. Today's clouds carry water, gentle but steady, trundling its way down the drainpipe behind the bedroom wall, glistening on the ground outside the sliding door.
I've just come from a long lunch with a friend, someone I trust, someone I love. And I heard such sadness, sadness I knew nothing about. And my eyes well with tears for her . . . and for me, because I did not know. And I did not ask. Until today.
The gray dampness of the day seemed appropriate somehow. And the Beauty in the midst of that gray was her lovely face, sincere, concerned, honest, receptive. We talked long past the 90 minutes of free parking and I left a more generous tip than usual. Story-sharing costs us something, you know? It is never cheap.
When I returned home, driving up the winding hill with the wipers going full tilt, I shared the saddest parts with my husband. He, too, was hit hard. He, too, feels that pull to re-commit to friendship, to share the load, to pay something for the privilege of inclusion, even if it costs nothing more than time and empathy. Those are never cheap, either, are they?
I made myself some tea, a new flavor – Peppermint Chocolate – and settled into reading and writing for a while. But my eye was caught by some new blooms on the vine that covers our low-slung back fence, the one over which we usually have a soaring city and mountain view. The wide view is unavailable during this grayness, this shawl-covering season. But the narrow one is always there.
I took my camera out into the gentle rain and aimed it toward those gold and lavender throated cups that were pointing every which way along the rail. The drops of water somehow multiplied their loveliness and I gasped as I gingerly stepped from concrete to grass to flagstone pavers. I snapped the pictures and I remembered a truth I too often neglect or downright forget: there is Beauty everywhere. Everywhere.
Even on a gray day, even when friends are sad, even when I forget to ask.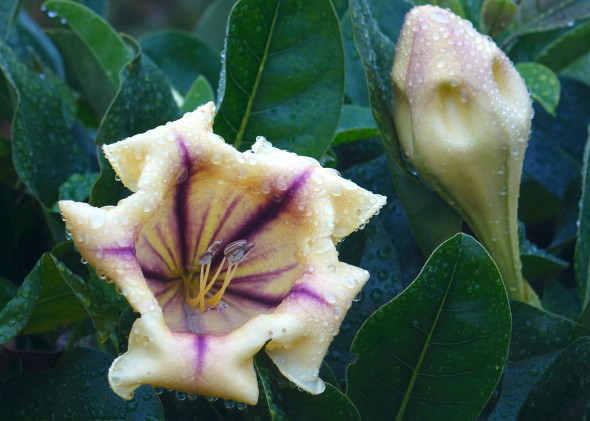 Where are you finding Beauty in the midst of the grayness, in the humdrum of day-to-day life?