Visiting the blog tonight is my middle child, Joy Trautwein Stenzel. Joy is exactly what her name says she is – a joy to us. She and her husband Marcus are raising three good young men in Monrovia CA and are both special education teachers, working with blind students across the age span from pre-school to 22. (Our eldest daughter also does this good work.) Our children grew up with their paternal grandparents less than five minutes away and were often in their home, as you will see. I love the way this piece celebrates what some might call the 'old-fashioned' virtues. To me, there is nothing old-fashioned about any of it — it's a heritage we are humbled and pleased to call our own. Interspersed throughout her lovely words are photos scanned for us today by one of our grandsons, Joel Fischinger. Here's Joy:
Joy, Mama, Lisa – on vacation at Mammoth Lakes, an annual excursion for many years.
Solid, dependable, disciplined, hospitable, thoughtful, committed, consistent. 
My grandmother embodied these qualities.  In an increasingly chaotic and unpredictable world, such characteristics are on the decline.   And for an overly anxious and easily overwhelmed child, the unwavering reliability of my grandmother was a source of familiarity and comfort on which I knew I could rely.
The first in her family to graduate from college, at UCLA in the mid-1930s.
Mama was very steady and measured emotionally—quite the contrast to me.  She rarely (if ever) raised her voice, and I only remember seeing her cry twice—when speaking of a beloved brother who had died too soon, and when her only daughter and her family were pulling out of the driveway to move across the country.   Her level mood created an atmosphere of comfortable predictability for an emotionally volatile child—I knew exactly what to expect when I walked through her door. 
So solid.
Enjoying Crater Lake with Jean and Richard, early 1950s
I knew when I went to Mama's that there would be no surprises in either her temperament or the physical environment.  Almost all of the furniture, toys, games, dishes, and appliances (no new-fangled microwaves for Mama!) stayed the same in their Wagner Street house from the time I was born until they moved to Santa Barbara. I played with my dad's old toys, as did my children after me.  I took great comfort in the familiarity of it all. 
So dependable.
One of the last pictures of both Mama and Papa with all of their grandchildren, late 1990s
If we ever spent the night at Mama and Papa's, we knew what we would find when we walked into the kitchen in the morning:  the two of them seated at their little blue kitchen table, drinking coffee, reading the Bible and praying for family, friends, and missionaries.
So disciplined.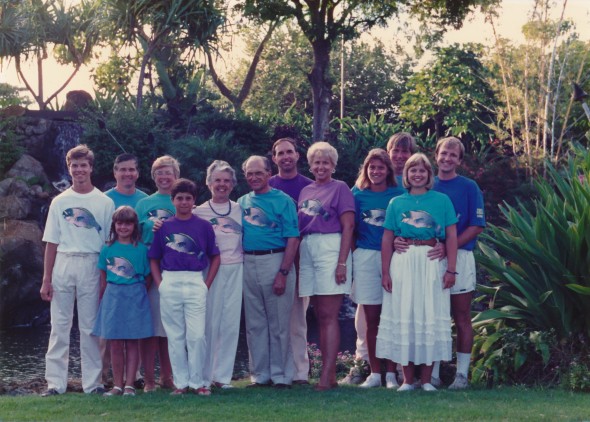 Same grandkids, several years earlier! On Kauai for M & P's 50th Anniversary.
We hope to continue that tradition in the summer of 2015 – can you believe it?
We also knew that we would be well-fed when we entered their home.  Mama was a wonderful cook, and hosted frequent meals for family and friends.  She had a small but delicious repertoire of family favorites:  BBQ short ribs, lemon meringue pie, tapioca, homemade applesauce—terrific food served on the same dining room table with the same china, flatware and crystal goblets year after year.  To ensure that everyone would fit around the table, the piano bench served as a seat for the two smallest family members at one of the short ends of the table—no kids' table at Mama Trautwein's!  Every leaf of that table would emerge from the closet so that we could all be together.  That dining room set now resides in my own home, where I can only hope to entertain perhaps a quarter of the number of people she hosted so warmly over the years. 
So hospitable.
Gathering around that dining room table, about 1979 or 1980.

When birthdays rolled around, we knew there would be a dinner in our honor at Mama and Papa's house.   Mama would let the birthday girl or boy set the menu.  We always picked our favorite dishes (which probably weren't her favorites!):  orange jello packed with pieces of fruit, butter brickle cake topped with toffee pieces and hot fudge.   When we became teenagers, Mama made each of her grandchildren a treasured cookbook filled with handwritten recipes for the family favorites we all loved, complete with personal notes and anecdotes related to certain dishes—a gift we all cherish and use regularly.  My own children have even been fortunate enough to experience the anticipation of an unfailing Mama Trautwein birthday tradition—every year on their birthdays, she has sent them two dollar bills, the same number of bills as their age.  Needless to say, they have amassed an astounding number of two dollar bills! 
So thoughtful.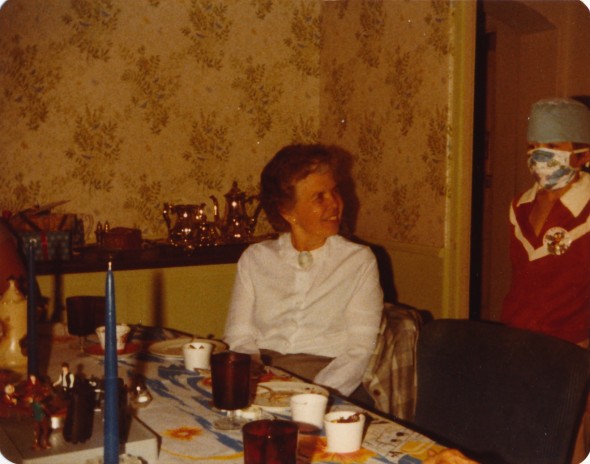 Not only did she host birthday dinners at her house, she also came to birthday dinners at our house.
We did birthdays up right in this family.
This picture cracks me up because the Birthday Boy almost got cut out of it.
And we just noticed tonight, he's wearing doctor gear, of all things! And now he wears the real stuff. Go figure.
Mama established countless family traditions which were joyfully anticipated throughout the year.  Every Easter, we knew we would receive a heaping plate of bunny and lamb cookies decorated with pink icing with chocolate chips for eyes.  We dyed eggs every year at that little blue kitchen table, and Mama took us on annual Easter egg hunts at Descanso Gardens.  Mama decorated a Manzanita tree every Christmas with tiny ornaments, and she gave my sister and me our own manzanita branches when we were in college, with new ornaments for them every year.  Each member of our extended family had a stocking that had been lovingly decorated by Mama, unique to our interests.  Mama found a lot of joy in holiday traditions. 
So consistent.
This woman LOVED Christmas!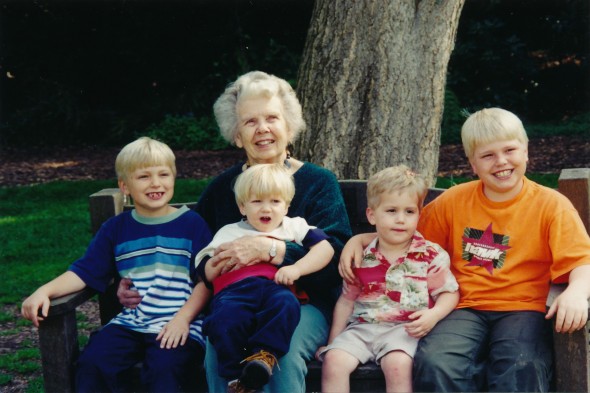 And the Easter egg hunts at Descanso continued with the great-grands, too. The four oldest, about 15 years ago.
Mama and Papa also loved to travel.   They arranged annual extended family trips to Mammoth Lakes.  These vacations gave the cousins a chance to bond, and allowed Mama and Papa to share their love of fishing, jigsaw puzzles, and board games with their offspring.  Mama and Papa took exciting vacations without us as well, and invited us over for slideshows when they returned to share their adventures.  They always brought back trinkets and souvenirs for us and sent us postcards from around the world.  And Mama sent our own family off on road trips with boxes of cookies and wads of dollar bills to purchase souvenirs of our own.  She did these things every summer, without fail. 
So committed. 
Mama, Papa & Jean visiting us in Africa, summer 1967.
I was 4 months pregnant with their first grandchild on this trip.
We will miss Mama, but many of the traditions she established continue in our own families, keeping her memory alive.  We have been blessed indeed to have such an amazing woman so actively involved in our lives, setting an example we all aspire to follow. 
Solid, dependable, disciplined, hospitable, thoughtful, committed, consistent. 
Old-fashioned qualities?  Perhaps.  But never out of style. 
Thanks so much, Joy. Beautifully said and right on target.
Kathryn Trautwein, in the early years at the Samarkand, before dementia.
A truly lovely lady in every way I can think of, a good, good woman.