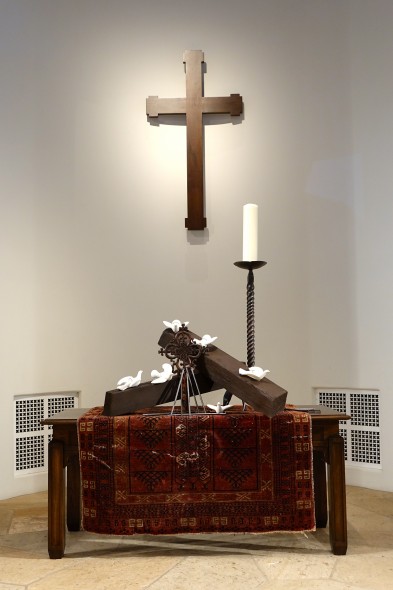 They call this week "Low Sunday." It's the Sunday after the biggest feast in the Christian year, and every associate pastor in the world knows about it. This is a Sunday when associates are often asked to take the pulpit, providing an opportunity for the lead pastor to take a breather after the heavy push of Lent and Easter. And our fine associate stepped right up today.*
On the Orthodox calendar, this Sunday — which comes 8 days after Easter — is also known as the Sunday of St. Thomas, and the usual passage in their lectionary is the very one we used today. We have devised our own lectionary for this past school year, working through the gospel of John, and we are almost to the end. Serendipitously, Pastor Jon worked through these six verses from the end of chapter 20 in this morning's meditation.
Here are John's words, in The Message:
But Thomas, sometimes called the Twin, one of the Twelve, was not with them when Jesus came.


The other disciples told him, "We saw the Master." But he said, "Unless I see the nail holes in his hands, put my finger in the nail holes, and stick my hand in his side, I won't believe it."

Eight days later, his disciples were again in the room. This time Thomas was with them. Jesus came through the locked doors, stood among them, and said, "Peace to you."

Then he focused his attention on Thomas. "Take your finger and examine my hands. Take your hand and stick it in my side. Don't be unbelieving. Believe."

Thomas said, "My Master! My God!"

Jesus said, "So, you believe because you've seen with your own eyes. Even better blessings are in store for those who believe without seeing."
Anyone who's ever been to church knows this passage, right? That infamous stretch of scripture which has given rise to the descriptor, 'doubting Thomas?'  How about 'doubting Diana?' Or 'doubting _______ (fill in your own name?' Because we all struggle with doubt, don't we?
There are days when I not only don't know what to believe, but I don't know IF I believe much of anything at all. And almost everyone I've ever walked with on this following-after-Jesus-journey will admit to similar periods of wrestling, of questioning.
Madeleine L'Engle used to call it viral atheism, like a bout of illness.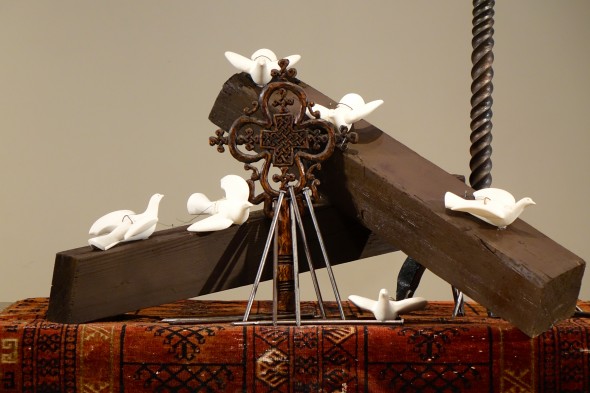 Barbara Brown Taylor's most recent book, 'Learning to Walk in the Dark,' speaks of her wrestling and wondering, of her deep desire to re-define the whole idea of darkness. She asserts that the darkness fairly shimmers with the presence of God Almighty, reminding me that God inhabited the darkness in the opening words of Genesis 1, long before any of the glorious universe we live in was even created.
Yes, there are good things to be discovered in the dark. And maybe, just maybe, doubt is the doorway to some of those good things.
Today, Pastor Jon also referenced Mother Theresa's writings, writings culled from her personal journals, writings in which she, too, talked about doubt and an often overwhelming sense of God's absence.
Interesting, isn't it? My own devotional reading, conversations I've had with a wide variety of people — both IRL and online, and the sermon this morning were all connected, touching on the same basic topic, and providing a week of deep personal encouragement for me.
Why? Because I'm beginning to think that I may be in very good company indeed when I admit to doubt. And now, I find myself wondering what there is to be learned from this particular season of walking in the dark.
Thomas is a fine teacher, that's for sure. He's a toucher, is Thomas. A believer in the flesh, the in-your-face presence of another to confirm what his mind struggles to hang onto. He wants to put those hands on the scars of his Savior. He needs to see with his eyes, and touch with his fingers.
The hard part is that Thomas had to wait a while for his Resurrection experience, didn't he? His friends celebrated right away — they heard and they saw and they touched. But Thomas was absent on that first remarkable day, for some reason, missing in action.
And hearsay was not going to cut it for this man. No way, no how.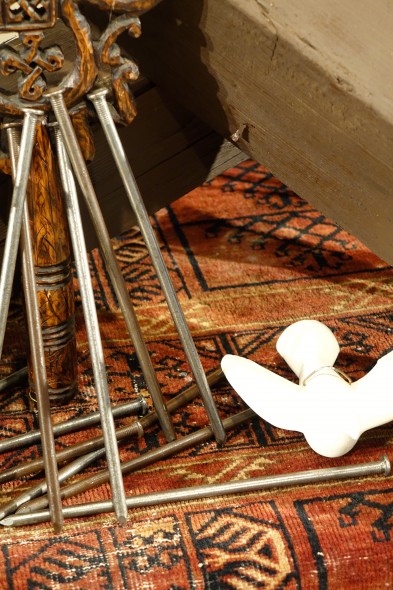 When they gathered again, on that eighth day, Thomas made sure that he was there. And when Jesus appeared — in that mysterious, other-worldly way of his — he turned those laser-like eyes directly in Thomas's direction.
Read that paragraph in the gospel reading one more time.
Do you hear any word of critique in Jesus's invitation to Thomas? I don't. He looks right at him and invites him to come and touch, to come and see for himself.
Caravaggio's depiction of this scene was on our screens this morning. Look at this painting. Do you see how dramatic this encounter must have been? Look at how the hand of Jesus grips the wrist of Thomas so firmly, directing his fingers straight into that scarred chest.
No wonder Thomas cries out, "My Lord and my God!" Here is the proof he longed for, the touch he needed.
And then Jesus says something rather amazing. Amazing because I believe that Jesus was speaking those next words directly to me. And to you. And to any disciple who did not have the gift and the privilege of touching the resurrected body of the Lord:
"Blessings are in store for those who believe without seeing."
I cannot touch that wound in the side of Jesus, nor the nail marks in his wrists. But there are other wounds in this body of his, aren't there?  
So, I wonder where are the scars that need touching today? Because I believe that invitation given to Thomas is wide open for me, right here, right now. "Diana — are you wondering? Are you struggling? Then, come. Touch my side. Touch my hands."
Here is where I am finding the wounds of the Savior these days: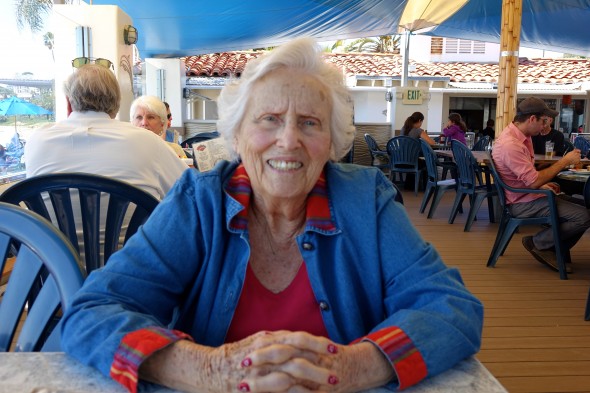 This is the invitation for me right now. She is old. She is frail. She is blind and deaf and increasingly dumb, as words are harder and harder to find. So the touching of the wounds in this place is a primary point of ministry and of obedience these days; not one I chose, but one that is right in front of me, nonetheless.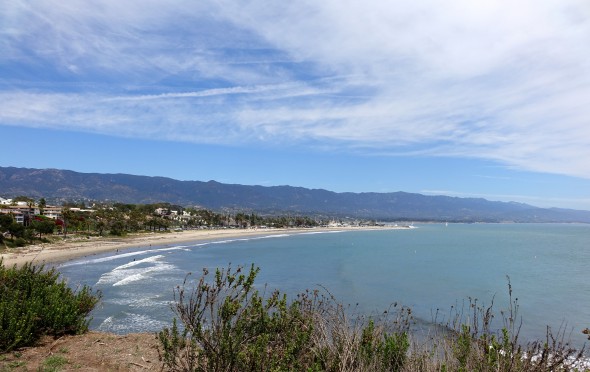 She loves the ocean and she loves to take drives and she enjoys eating pizza once in a while. So today, in the middle of this current bout with doubt, with all this wondering and wrestling, I find myself  looking for the wounds and trying my best to tend them a little.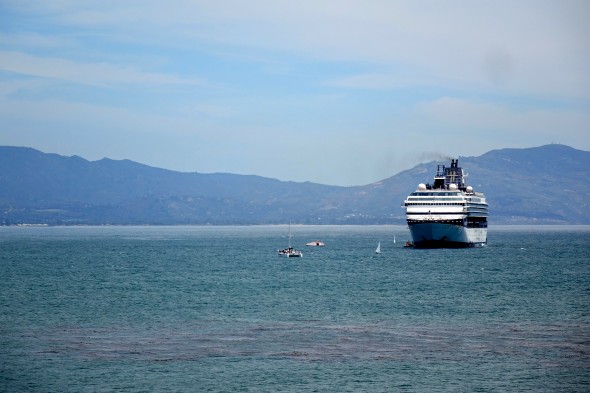 We wrestle the walker into and out of the car and we sit across from one another at California Pizza Kitchen. And slowly, with lots of waiting in between, I hear pieces of her heart. I hear the words of old gospel songs. And I hear the phrases that she latches onto with all her might, phrases to keep her going during this terrible time of confusion and loss:
"The Lord's been good."

"We'll just keep praying and believing."

"Life is like a mountain railway . . . blessed Savior there to guide us." 
And so I am refreshed.
I am reminded that Jesus welcomed Thomas, doubts and all.
And Jesus welcomes me, too. 
You can read the full text of Pastor Jon Lemmond's excellent sermon here.
Joining with Michelle, Jen, Jennifer & Laura this week: